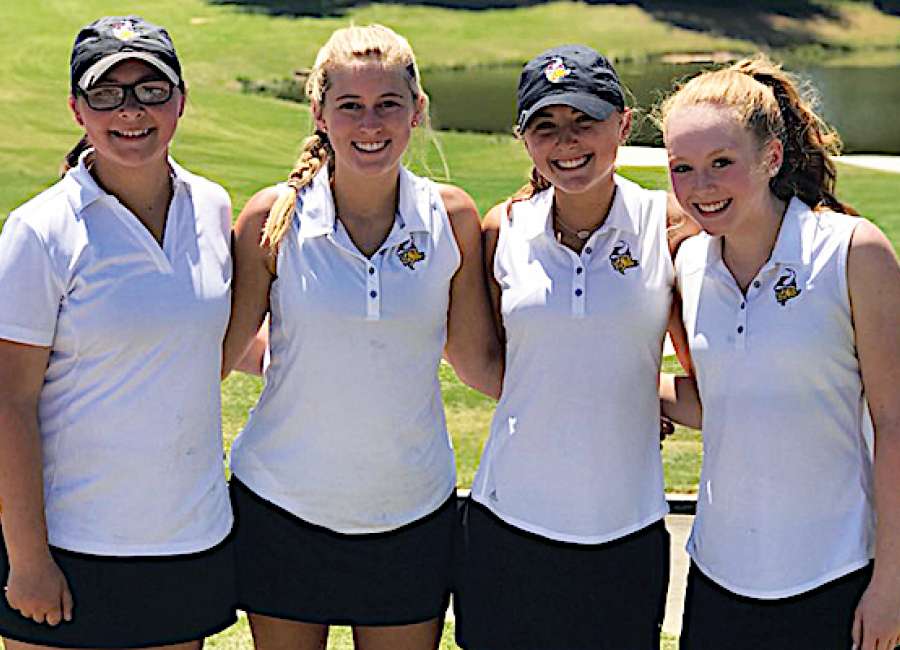 By CHRIS GOLTERMANN, CowetaScore.com
Northgate's girls golf team clinched a return trip to this month's Class 6A state tournament after finishing fourth at the Area 4-6A championship tournament last week.
The Lady Vikings, led by Michelle McGrath's round of 86, finished with a team score of 289 to earn a qualifying score while placing fourth among seven teams.
Maddie Hart and Mackenzie Watt also scored for Northgate's girls with respective efforts of 99 and 104, while finishing just three strokes behind Creekview and a battle for third place. Payton Gaston also added a 110 for the Lady Vikings.
A season that included a repeat of the Coweta Cup trophy will close with a trip to the Class 6A tournament on May 21-22 at Indian Mounds Golf Club on Jekyll Island.
Northgate will also be represented at the boys state tournament at Jekyll's Pine Lakes course by Sam Brummett, who qualified individually with a 77.
The Vikings placed eighth overall with a team score of 354. Along with Brummett, scorers included Patrick Wallace (91), Noah Garner (92) and Nick Carter (94).
Saulton Crow and Trinity Thompson also competed for Northgate's boys.
Dalton and Creekview won respective girls and boys titles in 4-6A. Dalton's girls finished with a 259 led by low medalist Katelyn Skiffen with an 81.
Creekview captured the boys title with a 297, with Harrison (304) and Dalton (305) battling for area runner-up. All three teams were led by a score of 72. Low-medalist honors went to Tri-Cities standout Lorenzo Elbert, who was two strokes ahead of that pace with a 70.
Respective girls and boys lineups at East Coweta also advanced to this year's GHSA State Tournament and will play Class 7A events at Spring Hill Country Club in Tift County and Sunset Country Club in Colquitt County.
TRINITY BOYS FINISH FIFTH AT GISA STATE TOURNAMENT: Trinity's boys golf team close out a historic year for the program by placing fifth at this year's GISA Class AAA state championship at Sapelo Hammock Golf Club.
The Lions, who set a new school record for team score during the regular season, posted a 338 to finish six strokes behind Deerfield-Windsor and three ahead of Valwood.
Frederica Academy repeated as state champions, bettering last year's winning score by two strokes with a 299 that was led by co-low medalists Thomas Hogan and Sarut Vongchaisit, each of whom shot a 71.
Trinity was led by Jackson Noah's round of 82, followed closely by an 83 from Adam Aycock. Paul Sweeney and Mark Grace added respective efforts of 86 and 87 to complete the scoring.
Alex Taylor also competed for the Lions, whose accolades this season were led by a record-setting 305 while winning the annual Cougar Invitational at Newnan Country Club.
Trinity shot a 315 to win this year's Region 1-AAA title.