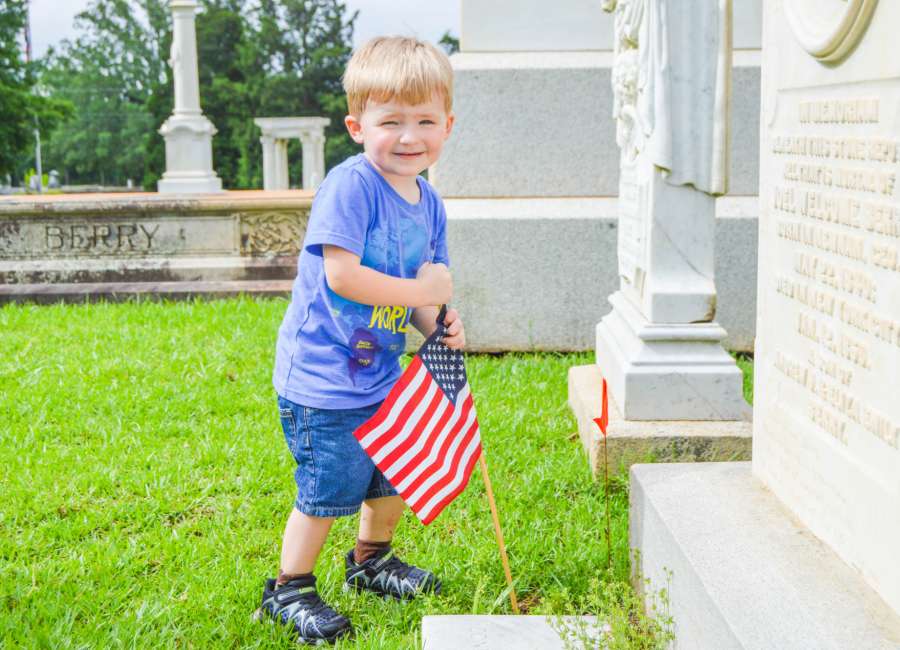 About 50 military veterans and volunteers, young and old, spent early Saturday morning honoring fallen soldiers by placing American flags in front of their final resting place at the Oak Hill and Forest Lawn Cemeteries in Newnan.
The annual tradition commemorates the sacrifices the soldiers made for their country during the Memorial Day weekend.
The group met at Coweta Veterans Club, headquarters of Veterans of Foreign Wars Post 2667. off N. Highway 29 around 8:30 a.m. to pick up hundreds of small flags before heading to the cemeteries. The local VFW post sponsors the flag project each year.
One of the youngest volunteers walking around the Oak Hill Cemetery was two-year-old Alexander Dewitt.
The little boy helped his grandfather, Jim Woolstenhulme, locate soldier's headstones and plant the flags into ground.
When asked what the flag stood for, Alexander stared at the red, white and blue and said with a smile, "The U.S.A."
Woolstenhulme said he enjoyed having his grandson by his side as they honored the dozens of soldiers buried in Oak Hill.
"These are the kinds of things we like to do together. This is good," he said.
Woolstenhulme held Alexander's hand as they walked through the cemetery.
Every so often, Woolstenhulme would stop, point out a headstone and read the inscription to the two-year-old.
More volunteers and their families followed in suit, leaving behind the small, yet powerful symbol of our country in commemoration of the fallen American heroes.
The flags will remain in front of the soldier's headstones through Memorial Day.