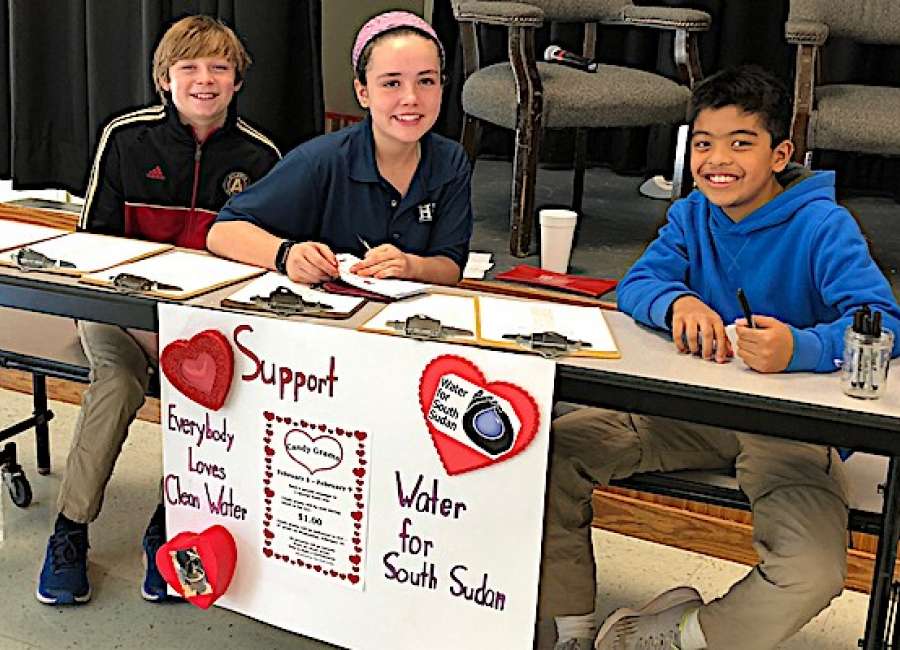 By CONNIE AVERY, The Heritage School

(Editor's Note: Connie Avery is a sixth grade teacher at The Heritage School whose students were involved in the Water for South Sudan project.)
My students recently read A Long Walk to Water by Linda Sue Park. And with this book, a thirst for knowledge, a compassion for others, and a passion for change were born. A fire was ignited.
Based on a true story, the book begins as two stories, told in alternating sections, about two 11-year-olds in Sudan – a girl in 2008 and a boy in 1985. The young girl, Nya, collects water from a pond that is a two-hour walk from her home. She makes two trips to the pond each day to provide water for her family. 
There is no school for Nya. She must spend her days walking to collect water. The young boy, Salva Dut, becomes one of the Lost Boys of Sudan who journeys through Sudan, Ethiopia, Kenya, and ultimately to New York. Salva's journey intersects with Nya's when he starts an organization that digs wells for Sudanese villages. This organization is known as Water for South Sudan. 
As we read Salva's story, the students wanted to know more. What is the country like, the climate, the landscape, the living conditions? As they learned more, their eyes were opened to the harsh living conditions. 
During the dry season, young girls walk eight hours a day carrying large containers called jerry cans on their heads in temperatures that often reach 120 degrees. Like Nya in the story, there is no school for girls. Daily, they must collect water rather than attend school.  
The water that fill these containers are taken from ponds, ditches, marshes, or hand-dug wells and contain a variety of water-borne diseases such as dysentery, cholera, guinea worms and typhoid. Because of such contamination, it is estimated that 4,500 children die per day from water-related diseases. 
In fact, it is estimated that there are about 319 million people living in Africa who don't have regular access to sustainable clean drinking water. Such statistics are staggering. And the irony is that the answer to this terrible situation is right under their feet. 
However, the soil is dry and rocky. Hand-dug wells offer little water and are often contaminated. Rigs are needed in order to drill 300 feet down to reach drinkable water. Each drill costs about $15,000. But thanks to Salva Dut and a group of his friends, Water for South Sudan has become a reality. 
Water for South Sudan creates opportunities for people in remote, rural areas in South Sudan to change their lives. By providing access to clean, safe water and facilitating hygiene education, Water for South Sudan sows the seeds for growth. Once a well is drilled, schools, markets, and clinics spring up, and life changes, especially for women and girls.
 
The students were filled with compassion for the people of South Sudan. They wanted to do more than read a book and move on to a new lesson. They wanted to help. They wanted to make a change. They wanted to take up the Iron Giraffe Challenge that is sponsored by Water for South Sudan. They wanted to pledge $1,000 to help build wells and keep rigs running. 
On a Monday morning, a young student walked into class and announced that he had looked at the challenge and determined that we could raise the money. His enthusiasm was quite contagious and one by one, the students began to agree that yes, it could be done. Their excitement and passion was not to be squelched. 
The students wrote a proposal, designed a presentation, and presented to members of the administrative team. The passion and excitement the children displayed while presenting was invigorating. There was no way anyone could say no to such commitment. The only stipulation was that they would provide community service and work to meet the goal of $1,000. And so their work began. 
The class decided that a T-shirt was needed to wear whenever they were providing community service. One of the students designed a logo with the motto the class had chosen, "Keep Walking, Make a Change." 
The first service project was childcare service for parents attending a lecture at our school. Sixth grade students organized games for approximately 30 children from ages 3-10. This was followed by selling candy grams for seven days prior to Valentine's Day. This proved quite successful. The children assembled and delivered 800 candy grams.
The next service project was at a horse show at Chattahoochee Hills. The children were at the event from 8 a.m. to 5 p.m. selling homemade treats. There were treats for hungry riders and even treats for hungry horses. Additionally, the children sold stall cleaning services for those tired riders that simply wanted to go home at the end of the event. 
The following Monday, the students dressed for a work day in the stables cleaning stalls. Everyone worked. Some shoveled, some swept, some pushed wheelbarrows. There was laughter, there was singing, there was bonding – and there were more than 70 newly cleaned stalls.
As one can imagine, these students easily reached their initial goal. The children raised more than $3,000 in just two weeks.
And to think, it started with a book.