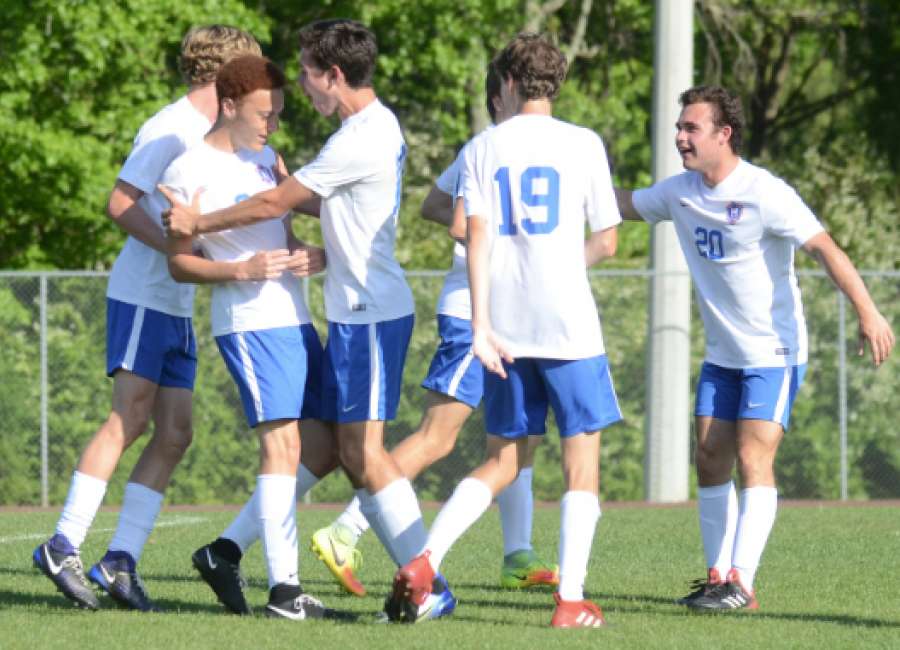 By Chris Goltermann / Coweta Score
Coming off respective soccer seasons where their teams came within a victory of reaching Class AAA state championship games, seniors for The Heritage School's boys and Trinity Christian's girls didn't need any other motivation for a potential return trip to Mercer during opening-round playoff matches on Friday.
They were at the forefront of shutout victories that left both of this year's Region 1-AAA champions needing just one more win from a return trip to the Final Four in Macon.
Heritage School senior midfielder Zach Robinson put together another multi-goal game this year, this time while responsible for all of the Hawks' scoring in a 4-0 effort over visiting Gatewood at home.
Across the county at Trinity Christian, senior Abby Bragg connected for a hat trick of her own in a five-point game that also included a pair of assists in a 6-0 rout over Monsignor Donovan.
Bragg now has 45 goals during the Lady Lions' undefeated season, with Trinity improving to 22-0 overall. Up next is a home game against either Region 2 runner-up Bulloch Academy or Terrell Academy, the No. 3 seed from Region 3.
The Lady Lions also received offensive contributions from some of their young nucleus of players as well, picking up goals from freshmen Olivia Loris and Jenna Wilson along with junior Caitlin Ledford.
Trinity has now outscored opponents by a 150-9 margin after registering its 15th shutout of the season behind senior Cheyenne Teems.
Senior Chandler Hendrix and freshman also had assists to go with Bragg's two helpers.

At Heritage School, Robinson was at the forefront from an offensive push from the opening kickoff against Gatewood in a rematch of last year's quarterfinals matchup, also won by the Hawks.
Unlike a 1-0 thriller, this meeting had Heritage in control by halftime.
Though frustrated a bit early by a couple of foul calls that went the wrong way, the senior took out any potential frustration on Gators keeper Jack Harty.
Harty was at the mercy of two left-footed blasts that produced Robinson's opening two goals in the 11th and 27th minute. The first came when he collected a ball that came across the middle of the field starting from Chandler Geerlings and carrying with a touch from Hays Burns to Robinson in stride.
Without a nearby defender to challenge, he took two touches before ripping a shot under the crossbar for a 1-0 lead.
Just over 16 minutes later, the Birmingham Southern signee connected again on the only insurance the Hawks would need. Two quick taps in the air to himself to keep defenders from gaining control were followed by a final volley to a wide-open right side of the net well out of Hardy's reach.
Heritage now advances to play Trinity-Dublin, the No. 2 seed out of Region 2. The Crusaders reached the quarterfinals with a 7-2 victory over Valwood, the third-place finisher out of Region 3. Trinity-Dublin was knocked out of the first round last season by Coweta's Trinity Christian in an 8-3 loss.
This year's Lions closed out their season with a loss to four-time defending state champion Westminster-Augusta after finishing as the No. 4 seed out of Region 1.