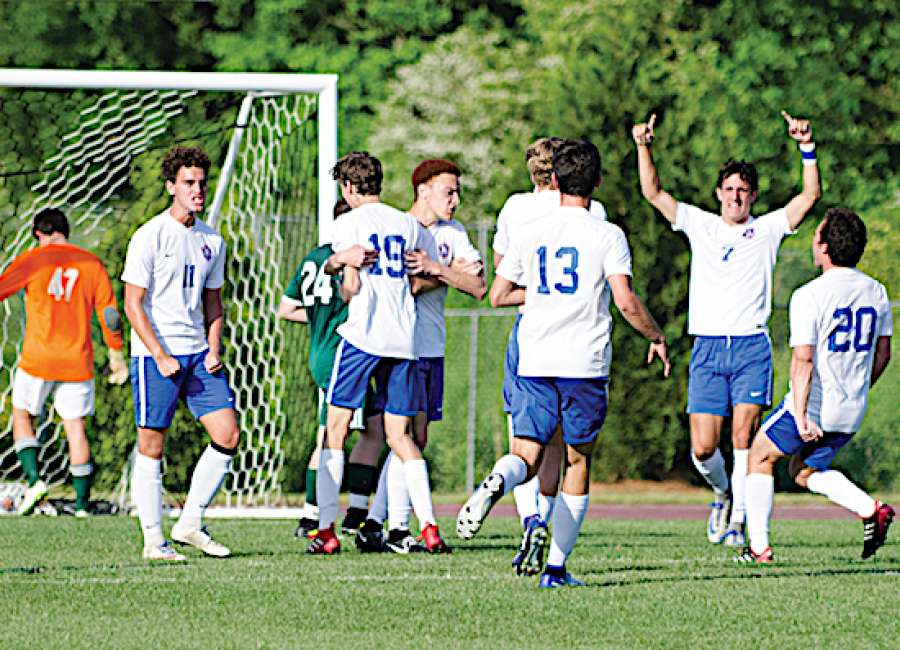 It's been almost 365 days, but the vivid memory of losing to Frederica in the 2017 GISA Final Four at Mercer in Macon still gives members of the Heritage Hawks soccer team nightmares.

Frederica connected on the game-tying goal in the second half on an impressive bicycle kick and then finished off the Hawks on penalty kicks.
That loss fueled the fires for Heritage and has made them hungry to put last year behind them.
Now they are just a victory against visiting Trinity-Dublin away from getting back to the Final Four, where they will play the winner of the Westminster-Bulloch game next week.
Kickoff for the Trinity-Dublin game is set for 5:30 Friday.
The Hawks got past Pinewood 4-0 in last week's first-round game, while Trinity-Dublin beat Valdwood 7-2.
Heritage coach Nathan Watts said the Hawks can't overlook this week's guest.
"They are probably one of the better No. 2 seeds. They have a bunch of seniors, and they have some really good athletes," said Watts said.
After this week, all roads lead to a possible rematch with Frederica in the state title game.
Frederica knocked off Tiftarea in their-first round game to advance to this week's battle against Holy Spirit and the chance to move on to Macon.
Should Frederica beat Holy Spirit, it would play the winner of the the Fugees-Deerfield-Windsor game in the semifinals.
This year's success, started with an offseason promise.
"The guys committed to working out harder than I have ever seen a group workout," Watts said. "It has paid off."
The  Hawks didn't need too much motivation to buy into what Watts was trying to convey once they got back on the field even though at times there were some bumps in the road.
"It's one game at a time now. It started out kind of slow," senior Hays Burns said. "We had to get in the rhythm.  We sort of had a hiccup with our offense in the middle of the season, but we have straightened that out. I think especially last week things kind of opened up for us. Hopefully, we can do that again."
In last week's victory against Pinewood, the Hawks put their offense in overdrive, getting four goals from senior Zach Robinson.
It was a performance that delighted Watts.
"We still haven't seen our best soccer. We feel like last Friday was as close as we have gotten all season. As a coach, that's what you want to see.
We really have been working on somethings to take that next step," Watts said. We have really been working on getting healthy for the playoffs. We are just trying to push through."
Robinson still remembers the heartbreak of last year and wants to close out his high school career on a high note.
"I have been on this team since my eighth grade year, I am a senior and we have really been working on this since then,' Robinson said. "A lot of  kids at school expect us to win state. They have seen us be a successful program, and we are excited about the opportunity. We were right there last  year and lost on penalty kicks."
Heritage began its preparation for the season last summer just a few short weeks after losing in the Final Four when the bulk of the team signed up for a team camp at Birmingham Southern University.
"We had 20 guys sign up and from there we all just kind of bonded," Watts said.
It's that camaraderie on and off the field that has helped Heritage again turn into a GISA power.
"We all get along really well, said junior goaltender Jack Hunt. "We are all working really hard. We all wanted it this year, especially after last season. We want to do it for the seniors and get ourselves a ring. That camp experience really helped bring us all together."
An early-season victory over Fugees served as a confidence booster for the Hawks.
After falling behind 2-0 in the first 10 minutes, Heritage rallied and eventually won the game.
"That was the moment where we started to realize things are looking pretty good, but we still had worked to do," Watts said.
Robinson knows he days as a high school soccer player are numbered and he wants to go out on top.
"This is the last shot for me and all the other seniors," Robinson said.