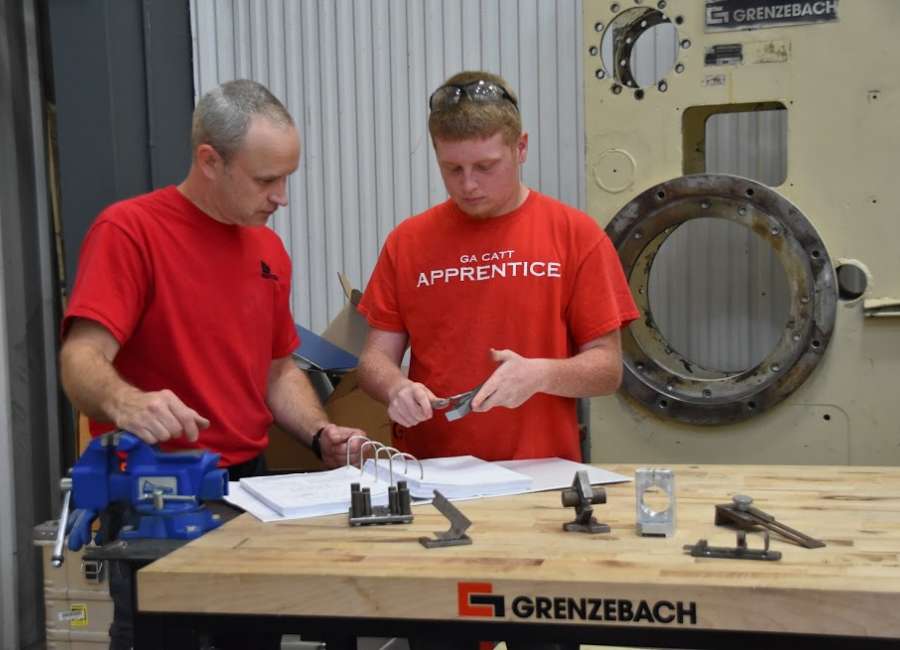 For Levi Coe, the German-style apprenticeship program's appeal was simple – and practical.
"I'll never be looking for a job because there are always job opportunities in this field," said Coe, an industrial mechanic apprentice at Grenzebach Corporation in Newnan. "I can take this education and go anywhere."
The 17-year-old is preparing for his third and final year in the Georgia Consortium for Advanced Technical Training (GA CATT) apprenticeship program, which is based on a century-old German training system.
About 500,000 young people enter the program in Germany each year, producing a sustainable workforce in hundreds of highly skilled trades ranging from mechanics and plumbing to banking and healthcare.
GA CATT's apprenticeship program is the first one of its kind in the U.S., and it started in Coweta County in August of 2016 with eight local manufacturers and a handful of high school sophomores, most of them only 15 years old at the time, who signed on to study industrial mechanics.
Coe was the first candidate chosen by an industry partner in the first-ever class of apprentices. All eight manufacturers interviewed students, and Grenzebach – a German manufacturer of technology and robotics for the building materials industry – got first pick.
Martin Pleyer, the company's chief operating officer and a native of Germany, has played a pivotal role in helping develop and implement the GA CATT program.
Pleyer started out in Germany's apprenticeship program, choosing the manufacturing pathway and working his apprenticeship in a factory that made shopping carts.
While Pleyer's apprenticeship experience sparked an interest in engineering that eventually led him to study mechatronics at university, a majority of apprentices in the German system transition directly into the workforce.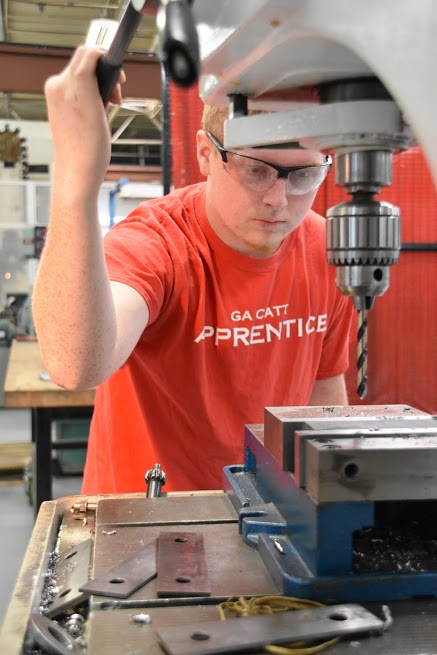 Levi Coe, 17, was the first student chosen by an industry partner for Georgia's German-style apprenticeship program, which was piloted in Coweta County.
And because technical/vocational education doesn't carry the same stigma in Germany as it historically has had attached to it in the U.S., many of those former apprentices work their way through the ranks to become sought-after executives.
Coe learned about Coweta's program through Erin Bass, the ninth-grade guidance counselor at Northgate High School.
He attended an informational meeting in the school's cafeteria and took literature home to his father, Luke, who helped him research industrial mechanics and the opportunities in that job field and then attended a parent meeting for prospective apprentices.
The apprenticeship program offers high school sophomores the opportunity to complete their high school diplomas while at the same time earning credit toward associate degrees and participating in paid training with local manufacturers.
GA CATT allows students to begin their apprenticeships in 10th grade with a combination of traditional high school classes, college-level manufacturing courses, and apprenticeship modules that will pay them $8/hour.
By the 12th grade, students will spend 80 percent of their days learning at the manufacturing site and earning $12/hour.
After three years of training, apprentices will have earned as much as $25,000 in pay, their high school diplomas, college credits and credit toward an associate degree. Apprentices will also have the opportunity to sit for German certification, which is recognized throughout the world.
Georgia's Move on When Ready dual-enrollment program allows participants to complete the apprenticeship program at no cost, opening the doors wide for all students as more career fields add apprenticeship opportunities.
Coe said his parents fully supported his participation.
"My mom has always been supportive of what I've done as long as I've bettered myself, and my dad said, 'You'd better jump on this opportunity,'" said Coe, who has run a lawn care business since he was 14, doing his own equipment maintenance and repair, and fixing up vehicles to resell.
He is on track for an associate degree in precision manufacturing, is on West Georgia Technical College's president's list and has maintained all A's and B's in his high school classes this semester.
Despite the occasional hiccup in the newly established course, Coe is an outspoken advocate for the GA CATT program and often speaks on behalf of apprentices at recruiting events.
Coe said he's honest with younger students, telling them apprenticeships are not just about abbreviated school days and regular paychecks.
"I've told them it's sweat equity, growing up and being an adult," he said. "The shortened schedule and the money aren't really all they need to be interested in. You need to be interested in a job, a degree, an education and experience."
It's something Coe began learning at 15, he said, when his idea of interviewing for an apprenticeship was putting on nice clothes and answering a few questions. His father gave him his first lesson.
"He said, 'If you want to be the best, you have to present yourself as the best,'" Coe said. "He helped me make a resume with the things I've accomplished, and he helped me think about how to interact with the people who would be interviewing me."
Since then, Coe has been steadily working through school and project modules, and managing school and work schedules. He said he feels like he understands more about how to function in a real-life workplace as he spends increasingly more time at Grenzebach.
"This program has taught me a lot about how to start a job, how to carry myself in a workplace, how to be courteous to others," Coe said. "It's a lot of responsibility, and you have to take that seriously. There's a time clock and I have punch in. There's no five-minute bell. You're either on here or you're not."
Coe doesn't participate in extracurriculars like sports or clubs, but the apprenticeship program is set up to accommodate students who do. He said he's made many new friends – both adults and other students – through the program.
And while the schedule has required some tweaking, input from the apprentices is valued, and the students often work as a group to solve their own issues.
"The kids after us don't have to figure as many things out," Coe said. "It does get frustrating at times, but I keep my eye on that end goal, that degree and that job, and work through whatever challenges here and there to get to that goal."
GA CATT, which is comprised of local and state education, business and industry leaders, is currently recruiting rising high school sophomores for its third class of apprentices for the 2018-19 school year.
Interested students should visit their school guidance counselors or visit www.gacatt.com .