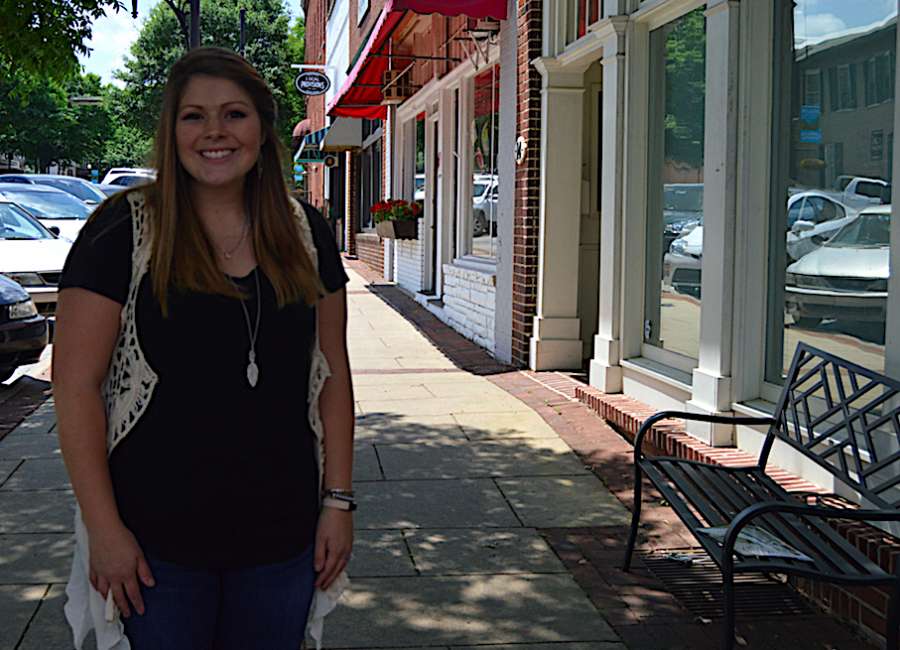 You can smell Courtney Wilbanks and Bob Horner's Kettleworks food stand a block away before you even see it.
The scent of freshly popped popcorn wafts through the air, mixed with a sweet, salty and savory aroma of a variety of snack food toppings.
The father / daughter duo specialize in popcorn and take their food tent on the road to a variety of events such as, Main Street Newnan's Market Day, the Peachtree City Night Market, the Taste of Newnan, the Coweta County Rodeo, plus several more festivities.
Their main staples are kettle corn and caramel popcorn, plus one speciality flavor each month.  
"We go back and forth between a sweet and savory flavor," said Wilbanks. "Last month (April), we had a cookies and cream flavored popcorn. This month, during Market Day, we had buffalo blue cheese popcorn."
Sometimes, Wilbanks will post a poll on the Kettleworks Facebook page and let customers choose the next specialty flavor.
But most of the time, the father / daughter duo come up with their own popcorn concoction.
"We'll sit and wonder, 'What would that taste like on popcorn?' Then we'll go make it," Wilbanks said with a smile. "Sometimes we like what we come up with, and sometimes we say to each other, 'We're never going to make that again.' But finding new flavors is half the fun of it."
When the Kettleworks food tent is at an event, everything is made fresh on site, from the popcorn to the crisp, tart lemonade, Wilbanks added.
Kettleworks started in March 2015 and the concept behind it was simple: both Wilbanks and Horner loved popcorn and wanted to share their favorite snack food with the community.
"My dad and I make a great team, and it was a great way to spend time together, plus make a little money," Wilbanks said.  
While the family has only lived in Newnan five years, they consider the city their home – and they enjoy being a part of the community.  
"I love talking to customers and building a relationship with them. That's just as important as the business itself," said Wilbanks. "We have a lot of faithful customers too.
"One man liked our caramel popcorn, but he wanted more of the caramel coating. So, we put twice as much caramel on the popcorn and named it after him," she added with a laugh. "We're always open to suggestions. If people want something specific, then we'll do it."
While Kettleworks does not have a storefront just yet, the business just bought a concession trailer that will be used during this weekend's "Tucked Away Music Festival" in downtown Newnan and other upcoming events.
Kettleworks also caters events, such as weddings, parties, plus church and school events.
Wilbanks said Kettleworks is just a side business for her and her dad right now, but their future goal is to make it a full time venture.
•••

Pad Thai Popcorn
Ingredients:
teaspoon vegetable oil
1/3 cup unpopped popcorn
1 cup chopped dry-roasted, salted peanuts
1/2 cup packed brown sugar
1/4 cup vegetable oil
1/4 cup corn syrup
2 teaspoons lime juice
1 1/2 tablespoons fish sauce
1 1/2 tablespoons sambal oelek chili paste
1 tablespoon freshly grated lime zest
1/3 teaspoon baking soda
1/4 cup chopped cilantro
Recipe:
Preheat oven to 250 degrees F (120 degrees C).
Line baking sheet with foil brushed with vegetable oil or a silicone baking mat.
Heat 1 teaspoon vegetable oil in a large saucepan. Add popcorn; cover and cook, shaking often, until fully popped, about 5 minutes.
Transfer popcorn to a large bowl using a strainer or your hands, leaving unpopped kernels in the pan. Stir chopped peanuts into popcorn.
Combine brown sugar, 1/4 cup vegetable oil, and corn syrup in a large saucepan over medium heat. Add lime juice and fish sauce. Bring to a boil and cook, stirring occasionally, until thick, about 5 minutes.
Remove from heat and quickly stir in sambal oelek, lime zest, and baking soda.
Pour brown sugar mixture over popcorn, stirring to coat. Spread popcorn out on the prepared baking sheet.
Bake in the preheated oven, tossing every 10 to 15 minutes, until browned and sticky, about 45 minutes. Allow to cool and become crispy. Toss with cilantro before serving.
(Recipe Courtesy: allrecipes.com)
Spicy-Sweet Buffalo Popcorn
Ingredients:
cooking spray
8 cups popped popcorn
1 cup white sugar
1/4 cup water
1/3 cup Buffalo wing sauce
3 tablespoons butter, cut into small cubes
1/2 teaspoon baking soda
1/4 teaspoon cayenne pepper (optional)
Recipe:
Spray a large bowl with cooking spray. Fill with popcorn.
Preheat oven to 300 degrees F (150 degrees C). Line a baking sheet with parchment paper or a silicone pad.
Combine sugar and water in a saucepan and bring to a boil over medium-high heat. Cook, without stirring and swirling pan gently as needed, until sugar has melted and the caramel is a deep amber color, 8 to 12 minutes. Remove from heat.
Stir Buffalo sauce and butter carefully into the caramel; it will spit and bubble and may form a ball. Return to heat; bring to a boil, stirring until caramel is dissolved, about 3 minutes.
Remove from heat and stir in the baking soda and cayenne pepper.
Pour spicy caramel mixture carefully over the popcorn. Toss to completely coat, guarding your hands from the hot caramel. Spread the coated popcorn onto the prepared baking sheet.
Bake in the preheated oven until dry, 15 to 20 minutes. Let cool for 10 minutes; stir.
(Recipe Courtesy: allrecipes.com)
Chocolate - Mint Popcorn
A simple recipe that will have people begging for more!
Ingredients:
1 pkg Junior Mints
2 Tablespoons butter
8 cups popcorn
Recipe:
Melt Junior Mints and butter in small saucepan, stir until smooth.
Pour mixture over popcorn, toss to coat.
Spread popcorn onto wax paper.
Let it set, then break into pieces.
(Recipe Courtesy: TASTEOFHOME.COM)