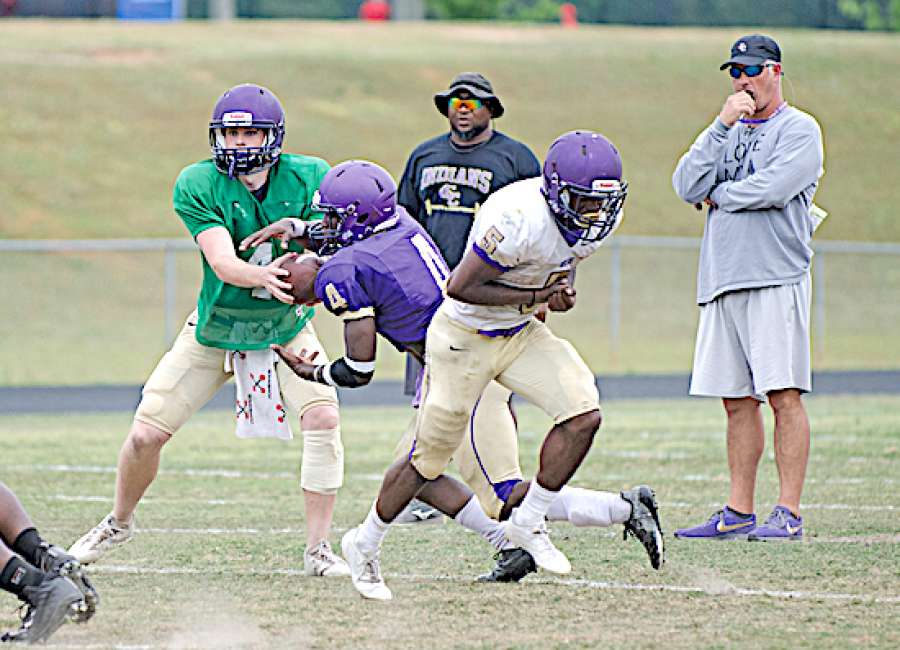 By CHRIS GOLTERMANN, CowetaScore.com 
In the year since he's arrived as East Coweta's head football coach, John Small hasn't shied from showcasing how important faith and family are in his life.
But the mentality toward brotherhood has equally rubbed off on the Indians as well in a short time.
It's what has prevented any potential regression. Instead the Indians have pushed forward heading into the conclusion of East Coweta's second spring practice under Small.
A first season that began with more success in a 4-1 start than how it ended with the Indians losing four of their final five games and becoming the first East Coweta team to miss the postseason since the mid 1990s, wasn't the start Small and his staff could have hoped for on paper.
In a typical high school football program, it could have been kindling to start the fires of panic.
From what Small has witnessed in both the off-season and the cusp of two full weeks of spring, however, has been quite the opposite.
"The kids got into it and competed with each other every day, but they've also created a brotherhood with each other," he said. "We had a tremendous off-season in the weight room with some of the best numbers I've ever seen, kids going up on their maxes. That's a credit to Coach [Jamie] Glover and the weight program."
A 5-5 season that had the Indians on the outside of the postseason picture out of Region 2-7A began with instant success through the non-region schedule with a completely retooled defensive lineup after entering 2017 with- out any starters returning.
Despite struggling at the finish with three consecutive losses to 2-7A opponents, East Coweta's staff remained committed to building depth through last year's sophomore and junior classes, the bulk of which now have playing time under their belt.
In response, Small has seen the Indians buy in after investing in those futures.
"The key to me in running the program is getting the kids to buy into what your selling. The kids also have to know there's a trust factor there and a true concern for the individual athlete as a person. When that feel that and trust that, there is more buy in. It makes a huge difference," he said. "The kids did a great job embracing what we were trying to do. Obviously we played a lot of young kids last year so we have great experience."
Weather permitting, East Coweta will wrap up spring practice Friday with its annual E-Night festivities. It includes a scrimmage game at 7 p.m., against Sandy Creek at Garland Shoemake Stadium in its final football event before a summer makeover that includes artificial turf and new track surfacing.
All five of the Indians' non-region opponents made the state playoffs last season including three in 7A.
Taking on the best in Class 7A, however, isn't a new concept for some. East Coweta's boys track team is coming off a spring campaign where it finished fourth at the GHSA championships, with six football players contributing to the effort including Dantarius "Snook" Chunn and Brayden Carey as well as Rakiyan Moss.
"The best thing that happened to us during the spring was that seven kids missed the first six days of spring because of track. Those guys we've seen them play and they're good players and need practice. But we were able to get a lot of kids a lot of action for six or seven days that their numbers might not have been as high rep wise if those guys are out there so that was a positive," he said. "That's what spring is for, to get everybody reps, get them on film and get them evaluated and go to work."
If Mother Nature coop- erates, the scrimmage it will be a chance for the Indians staff to see three candidates vying for playing time at quarterback, which for the first time since Bryce Gemmel's graduation in 2013 has a newcomer waiting to move into a starting role.
Christian Reid, East Coweta's starter for its last 26 games, finished with 1,373 yards passing over 10 games in his senior season before signing with Charleston Southern.
Nate Cronic, whose father started at the position for East Coweta in the mid 1990s for teams led by his grandfather, Danny, is among the leading candidates while battling with Devin Gelband and rising sophomore Gabe Gray for playing time.
The eventual successor to Reid will have some established weapons along with an offensive line that includes senior returners Riley Jewitt and Ron Pettaway.
Carey and Chunn had just eight combined catches, but three of them went for touchdowns while averaging over 45 yards per play. Upon returning this week from track season, both were getting their share of touches, with Chunn now lining up at running back.
"Snook didn't touch the ball enough last season. When you go and look back last year at what was good, what was bad and what was ugly, it was we've got to get No. 5 more," Small said. "That's a playmaker. He did a great job at corner, but we feel like we've got some guys that can spell him. He's a weapon on the field."
Depth on a defense led by returning starters Devin Holmes and Taylor McCawley at linebacker along with Jalen Whisby in the secondary, should allow Chunn even more snaps on offense.
East Coweta already had an established 1,000-yard rusher heading back this fall in rising senior Gerald Green after emerging as All-County Most Valuable Player in his first season as a starter.
Green already has a host of offers from mid-level Division I programs including Georgia State, Troy and Georgia Southern after rushing for 1,134 yards and 16 touchdowns as a junior while averaging over seven yards per carry.
"[Chunn] and Gerald they are the type of players, anytime they touch it, they can score. They've worked extremely hard in the classroom and in the weightroom. They have worked their butts off this off-season," Small said. "They've both bought into a leadership role. They've got a chance to be even better players than they were last year and that's the goal." 
•••
AN INSIDE LOOK AT EAST COWETA HIGH SPRING FOOTBALL PRACTICE
Changes: While there aren't near as big a transition following the arrival of head coach John Small prior to last season, East Coweta will have a few heading into the fall, most notably among the non-region schedule. Beginning with a trip to Mercedes Benz Stadium on Aug. 17 against Kell, the Indians will face five opponents that all reached the postseason last year.
New territory: This year's Indians lineup is the first to head into the fall since the mid 1990s, after missing the state playoffs after having a string of 21 consecutive trips to the postseason snapped while finishing 5-5 overall in 2017.
New faces behind center: Quarterback Christian Reid, who started 26 consecutive games for the Indians since midway through his sophomore season, moves on after signing with Charleston Southern. His absence brings a battle between rising senior Nate Cronic, rising junior Devin Gelband and rising sophomore Gabe Gray in the spring for the opening. Reid threw for over 1,300 yards as a senior. 
Double trouble: Already returning 1,100-plus yard rusher Gerald Green in the backfield, East Coweta has moved standout Dantarious "Snook" Chunn, a rising senior, to running back in hopes of increasing his offensive touches from last year. In addition to 43 tackles in the secondary, Chunn caught five passes last fall while averaging over 42 yards per catch. Depth at receiver, which includes returning talent in Brayden Carey, Rakiyan Moss and J.J. Freed, as well as the secondary opens those opportunities. 
Scrimmage: Game 
When: Tonight vs. Sandy Creek at Garland Shoemake Stadium, 7 p.m.