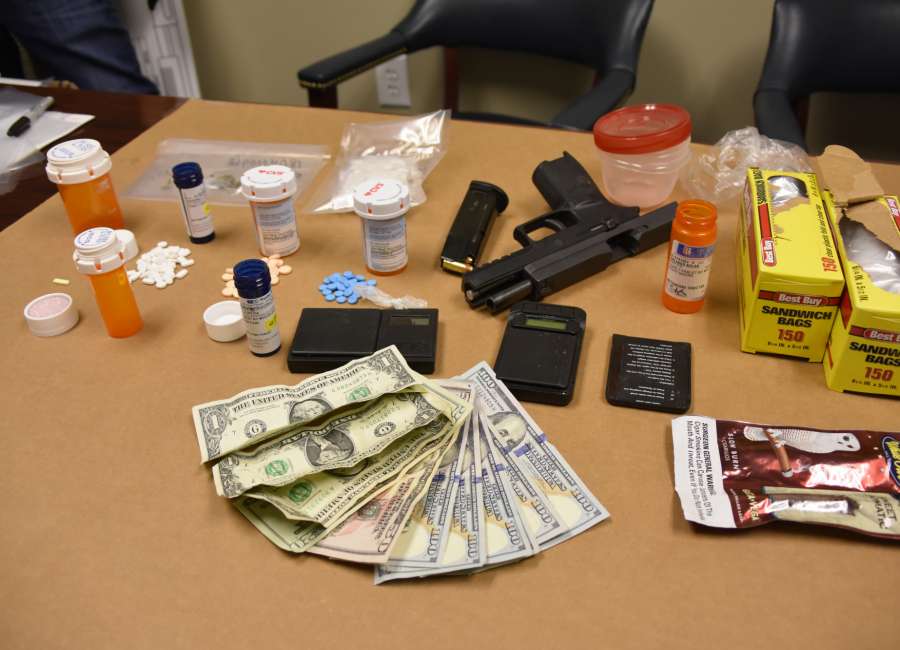 Authorities with the Coweta County Crime Suppression Unit seized an assortment of drugs, guns and cash during raids on two local homes Friday morning.
On 60 Warner Road, investigators located almost 40 grams of methamphetamine, methadone, adderall and small amount of marijuana along with $700 cash inside an abandoned car on the property, according to Chief Deputy James Yarbrough with the Coweta County Sheriff's Office.
Inside the home, a stolen handgun out of Auburn, Alabama was reportedly found in the bedroom of Donelus Montenez Bell. 
Bell was reportedly living in the home of his in-laws and took full responsibility for the contraband found in the car and bedroom, Yarbrough said. 
Bell, 35, is currently charged with theft by receiving stolen property, methamphetamine trafficking, possession of adderall, possession of methadone, and misdemeanor marijuana possession.
Following the raid on Warner Road, the CSU made their way to 69 Roscoe Road.
Acting on information that drug dealing was occurring inside the home, investigators executed a search warrant and took six people into custody. 
Inside a bedroom, investigators recovered suspected methamphetamine, heroin, marijuana along with digital scales, baggies and a Smith and Wesson SD40 handgun, according to Yarbrough. 
Two sawed off shotguns were reportedly located in a back yard shed. 
Inside a vehicle parked in the yard, a small quantity of meth was recovered, along with baggies, and scales, Yarbrough said. 
Antonio Lamont Head, 37, was charged with possession of a firearm by a convicted felon, two counts of violating of the firearms and weapons act, possession of a firearm during the commission of a crime, possession of marijuana with intent to distribute, and two counts of narcotics possession with intent to distribute. 
Melanie C Lofthouse, 30, and David Maurice Sutton, 44, were both charged with possession of marijuana and methamphetamine. 
Willie Fred Head Jr., 67, was charged with possession of a firearm by a convicted felon. 
Aubrey Berry III, 38, was charged with obstruction of officers and methamphetamine with intent to distribute. 
Larry Horton, 41, was charged with violation of probation.
As of Saturday morning, all suspects are currently being held without bond at the Coweta County Jail.