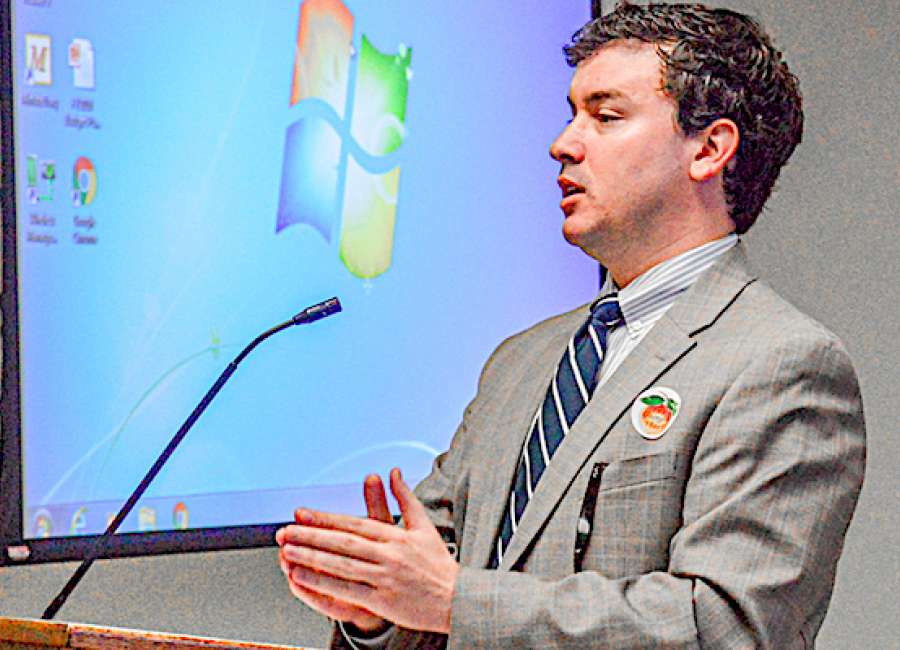 It's the district attorney's job to do justice – and that doesn't always mean convicting someone and getting the harshest sentence. 
"A lot of times it's giving somebody a second chance," said Herb Cranford, new district attorney for the Coweta Judicial Circuit. 
"A lot of times, and people don't appreciate this about our jobs, it's reviewing a case and coming to the conclusion this person did not do it. Or I cannot prove this person did it, so I'm not going to go forward on the charges," he said.
Cranford, who was appointed to the post in January by Gov. Nathan Deal after the retirement of long-time DA Pete Skandalakis, came before the commissioners to discuss his office's budget. The DA's office gets some of its funding from Coweta, but is on the state fiscal year, which begins July 1. Coweta County operates on an October to September fiscal year. 
"Thanks for having me. It's my first time here," he said. 
Last year, Skandalakis requested money for an additional assistant district attorney. That request was granted, and the funding kicked in in April. 
But Cranford said he would rather use that money, and an additional $55,746, for an additional investigator and two part-time legal assistants, instead of a new attorney. 
The requests will help his office "do justice in an efficient and speedy manner," Cranford said. 
Having an additional investigator "allows us to dig into cases," Cranford said. He recently had a case where he wasn't sure the accused was the guilty party. After reviewing the case, he decided not to pursue charges.
"If I had another investigator, I think I could have accomplished that more quickly," he said. "On the flip side, we can shore up a case, and make it stronger. That forces a resolution quicker than it otherwise would have happened."
There's also an economic aspect at play. 
"There is a lot of money spent with people in the jail," Cranford said. Some are awaiting transfer to state prison to begin serving sentences. But others are waiting for their case to be reviewed and don't bond out. 
"When we decide that maybe this isn't a felony and maybe this should go to state court, that often results in them being released," Cranford said. 
The funding the county has approved would only hire an entry-level ADA, who will then have to be trained. 
"For the same amount of money, I can hire an experienced investigator," he said. 
With another investigator and with two legal assistants, cases can be reviewed more quickly, charges can be brought – or dropped –  more quickly, and the cases can be resolved quicker. That will get people out of the jail sooner, saving the county money, according to Cranford. 
Cranford asked the commissioners to strongly consider the additional money for two part-time legal assistants in the upcoming budget. If they can't, he asked that they consider beginning the funding next April.  
The money is less than it would cost to hire one full-time legal assistant, because of personnel costs, including health benefits, he said. With part-time workers, there aren't those costs. 
"I'm trying to be creative. I'm trying to save y'all some money," Cranford said. 
Later in the meeting, County Administrator Michael Fouts said county staff recommended the remaining $44,000 for the additional attorney or investigator, and that the money for the legal assistants be considered during the county's budget process, which is completed in September. 
Mary Ellen Simmons of the Circuit Public Defender's Office also spoke to the commissioners about her budget. Last year, the board approved partial year funding for a new attorney, similar to the approval for the DA's office. Simmons also requested money to give raises to administrative staff. Fouts recommended the county pay for the attorney and consider the money for raises during the county's budget process. 
The commissioners voted to follow staff recommendations.