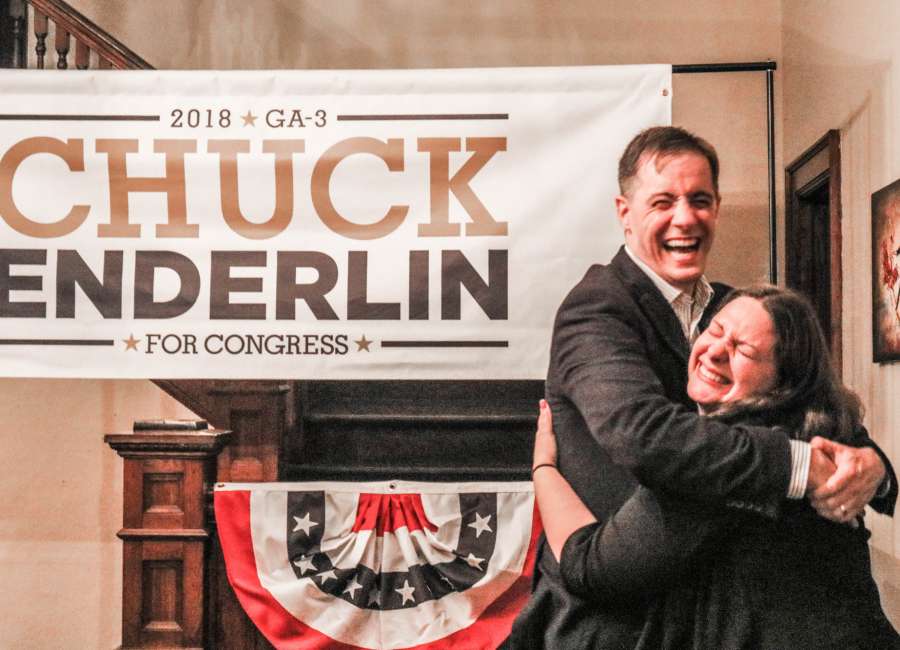 Both of the Democratic candidates for U.S. House of Representatives, District 3, were in Newnan on election night. 
Newnan resident Chuck Enderlin celebrated with family and supporters at his historic home on Greenville Street, and Rusty Oliver came up from Columbus to attend an election night watch party at the Alamo in downtown Newnan.
With 89 percent of precincts reporting, Enderlin had 60.64 percent of votes – 1,872 – to Oliver's 39.36 percent – 1,215.
Enderlin will face incumbent U.S. Rep. Drew Ferguson, who sailed to victory over challenger Philip Singleton, who lives in Sharpsburg. Ferguson is from West Point, although his wife, Buffy, grew up in Newnan.
Coweta County resident and insurance agent Janice Laws claimed a surprise victory over Cindy Zeldin Tuesday, earning 61.56 percent of the vote in the race for Georgia Insurance Commissioner.
With 89 percent of precincts reporting, Laws had 1,938 votes to opponent health advocate Cindy Zeldin's 3,148 – 38.44 percent of the vote.
In the gubernatorial race, Stacey Abrams outpaced Stacey Evans in the Democratic column. Republican Lt. Gov. Casey Cagle appeared headed toward a certain runoff.
At 10 p.m. with 65 percent of the state's precincts reporting, Cagle had 166,040 votes to 112,975 for Secretary of State Brian Kemp and 76,068 for former State Sen. Hunter Hill.