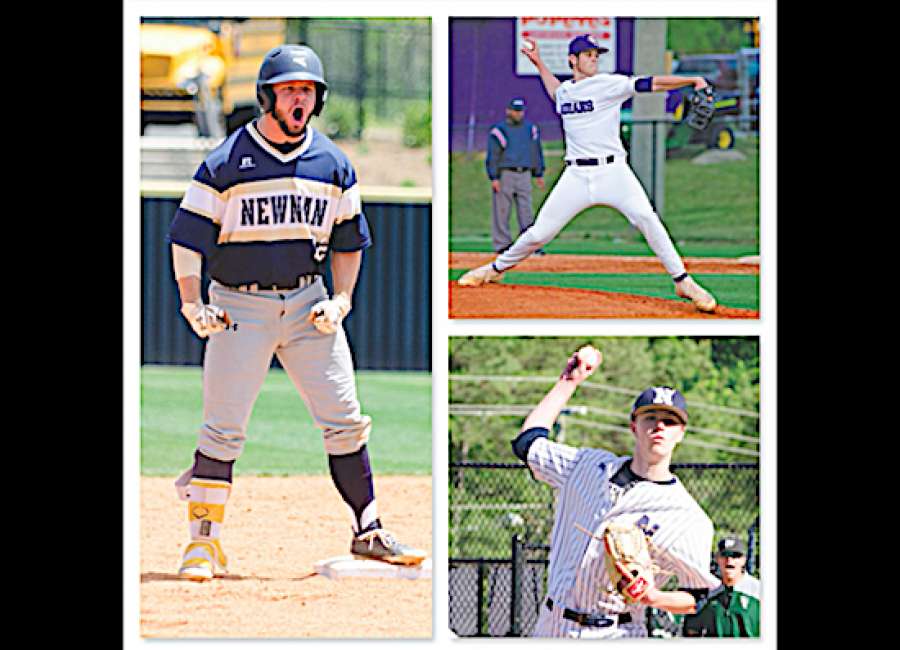 By CHRIS GOLTERMANN, CowetaScore.com

The 2018 All-Region 2-7A Baseball Team reflected Newnan's stranglehold against opponents en route to a perfect record for a roster that included 12 seniors and a pitching staff led by three juniors.
The Cougars finished this season with a 25-11 record while finishing 15-0 against 2-7A programs, producing a teamhigh four All-Region Team selections.
And when it came to Player of the Year honors, another Newnan standout stood out among the rest.
Senior outfielder Will Wilbanks closed out his varsity career by earning the top accolade among a poll of Region 2-7A coaches with his list of credentials including a .435 average in a team-high 108 at bats.
Wilbanks, who signed with Columbus State, also led the Cougars in most offensive categories including hits (30), doubles (11), homers (5) walks (17) and slugging percentage (.694) to go with 50 RBIs over 36 games this season.
The efforts helped pace Newnan to its first region baseball crown since 2011 while also advancing to the Sweet 16 in the GHSA state playoffs after an identical time span.
Wilbanks' heroics this spring were highlighted by a two-out, two-run double in Game 3 of round one helped push the Cougars past Roswell in a 2-0 victory over nine innings. He was also steady defensively while posting a perfect fielding position while manning left field.
Joining him among Newnan All-Region selections were senior shortstop Elliott Schubert and juniors Woody Waters, Jaxon O'Neal and Jake Martin.
Among a pair of shortstops honored, Schubert batted .319 for the Cougars in the leadoff position with an on-base percentage of .480. This year's totals included a team-high 35 runs along with nine stolen bases and 11 RBIs. He was also reached base 17 times while plunked by opposing pitchers.
Waters was just as effective with a team-high .575 on-base percentage. His .484 average also led Newnan to go with 24 runs and a team-high 16 stolen bases.
O'Neal and Martin stepped to the forefront of the Cougars' pitching staff to keep region opponents at bay.
O'Neal posted shutout victories over Campbell and Wheeler while finishing 2-7A with a perfect record. Overall, the junior left-hander went 7-1 with a 1.47 ERA in 62 innings. He struck out a team-high 80 batters and yielded just 13 walks.
Of the junior 's 39 allowed hits, only seven went for extra bases.
Martin's junior year included a 5-2 record and a 2.75 ERA that was highlighted by a no-hit performance against region runner-up East Coweta at home. The right-hander struck out 50 batters in 49 innings and allowed 47 hits, only five of which went for extra bases.
East Coweta had three players earn All-Region selections in repeat honoree Ryan Dyal at catcher and newcomers Tony Player and Austin Bunn.
Dyal was the lone returning position player from the Indians' starting lineup during its 2017 region championship season.
In addition to catcher, the junior also found himself at third base and center field during parts of this spring.
He led East Coweta with seven doubles, five homers and 28 RBIs to go with a .292 batting average. Three triples also tied among leaders for the Indians during an 18-14 season that included a trip to the GHSA state playoffs as Region 2-7A's No. 2 seed.
Player made the most of an opportunity to earn playing time at second base while leading East Coweta with a .347 average in his first year as a starter and moving into the leadoff position by the end of the season. He also led the Indians in on-base percentage (.545), runs (37), walks (27) and stolen bases (24). Bunn completed just his sophomore season but immediately became the Indians' No. 1 starter following the graduation of the team's top-six pitchers from 2017.
He didn't disappoint despite his youth, posting a 1.78 ERA in 58 innings while finishing with a 5-4 record. Bunn recorded 73 strikeouts to go with a save in his varsity debut.
Newnan had eight player s named honorable mention. They included seniors Jacob Blair, James Hawk, Lucas Mapp, Josh Perry and Hamilton Schubert; juniors Logan Hudson and Max Wilson; and sophomore Thomas Collins.