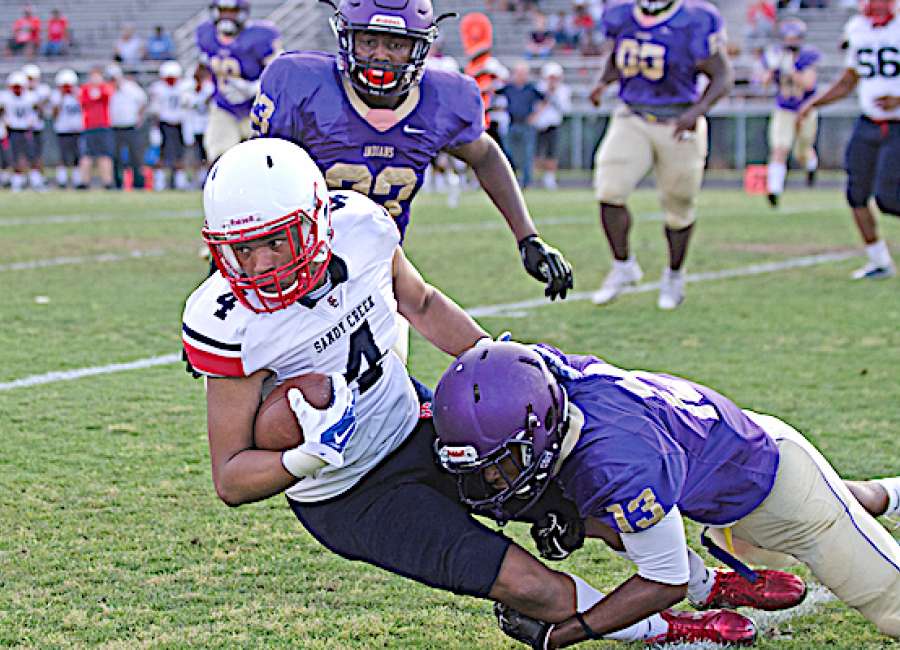 By CHRIS GOLTERMANN, CowetaScore.com
Football scores were kept Friday, even in spring scrimmage games, and even when there wasn't a place to keep it.
Such as the case at Drake Stadium, where the scoreboard had been removed and construction under way on some much needed - and welcomed - upgrades to the track and turf that are coming not just at Newnan High, but all three of Coweta County's public high schools this summer.
The victory that seemed to matter most, however, at the conclusion of the 10-day spring practice period was the one over Mother Nature's wrath this week that allowed local programs to conquer a steady stream of wet weather.
Rain clouds were a mere tease at Newnan, dropping an inconvenient shower, but nothing near the downpour of the previous night that came about an hour after the Cougars had left the practice field.
Along with a break in the weather at East Coweta's Garland Shoemake Stadium, it allowed both the Cougars and Indians to see some live action against an opponent wearing a different colored jersey.
The final effort on grass surfaces at both stadiums provided just as much anticipation for the fall for respective lineups, both of which held the upper hand on opponents for large portions of four quarters.
Newnan immediately jumped ahead on Troup 7-0 and proceeded to take another sevenpoint lead into the final period before teams ended in a 14-14 tie.
At East Coweta, the Indians held the upper hand through the majority of the opening half, building a 14-3
lead against Sandy Creek and getting a pair of touchdowns from rising senior running back Gerald Green on opposite sides of the break.
Both programs will have top rushers returning including Green for the Indians after a 1,300-plus yard campaign last fall. East Coweta, however, equally gave rising juniors Chris Moore and Corey Bridges carries, the latter resulting in a touchdown run that pushed the Indians ahead 14-0.
Newnan equally had to like what it saw from Bryson Moss on Friday while coming off a freshman debut in 2017 as the Cougars were able to move the ball against a Troup lineup that should be among the contenders in Region 5-4A among a competitive group of schools including Sandy Creek.
But much of the focus from well attended scrimmages were on vacancies at quarterback heading into 2018.
Both Newnan and East Coweta spent the first half rotating between a pair of candidates, neither of which disappointed.
The Cougars rotated between rising sophomore Michael Maginnis and rising senior lefthander Logan Hudson. Newnan immediately caught Troup with a long pass that led to its first score before the Tigers answered with a touchdown on a drive led by running backs Tyree Carlisle and Trey Williams as well as Auburn commit Kobe Hudson at wide receiver.
At East Coweta, a similar vacancy by a soon to be graduate next week at quarterback, saw potential successors Nate Cronic and Devin Gelband each lead scoring drives in the first half against Sandy Creek.
Cronic, a rising senior, seemed ready to continue the line of successes for his family in purple in gold during his first major action at the school where his father also played quarterback and grandfather led the program to 148 victories in 18 seasons.
The young Cronic completed a pair of passes to both Rakiyan Moss and David Sanchez including a one-handed grab by the latter on drives.
Cronic also was able to get Sandy Creek to bite on a false start at least twice with a hard count. The latter came after picking up a first down with his legs by tucking his head down and plowing into a Patriots defender on a six-yard gain facing third-and-2 from Sandy Creek's 22-yard line.
Gelband also looked poised while equally getting the Patriots to jump offsides on a drive that led to Green's opening touchdown. Nick Walker and Dylan Lewis, each battling for an opening at kicker left by Peter Walker, connected on PATs.
Defensively both locals had its share of victories as well.
Newnan held Troup on downs at least twice in the first half including one series that ended with the Tigers facing fourth and goal.
Rising senior Tristan Escoe, coming off a year where he posted four interceptions,
one of which was returned for a score, closed it by getting in front of a fourth-down pass attempt after Troup was pushed backwards on a holding penalty and a tackle for loss by the Cougars on third down.
East Coweta had at least three sacks from rising seniors in the first half against Sandy Creek, two from Rayshaud Brown and another from Alex Derico who came untouched off one end to produce a whistle on an unabated rush toward the Patriots' quarterback.
Both Newnan and East Coweta open the season on the third weekend of August starting with the Cougars' opener on Friday, Aug. 17, at home against Chapel Hill.
East Coweta begins its season the morning of Saturday, Aug. 18, as part of the annual Corky Kell Classic. The Indians face Kell in Mercedes Benz Stadium in a 9 a.m., kickoff.
Northgate, which held an intersquad scrimmage on Friday to close its first spring practice under new head coach Mike McDonald, opens the 2018 season on Friday, Aug. 24 at Newnan.