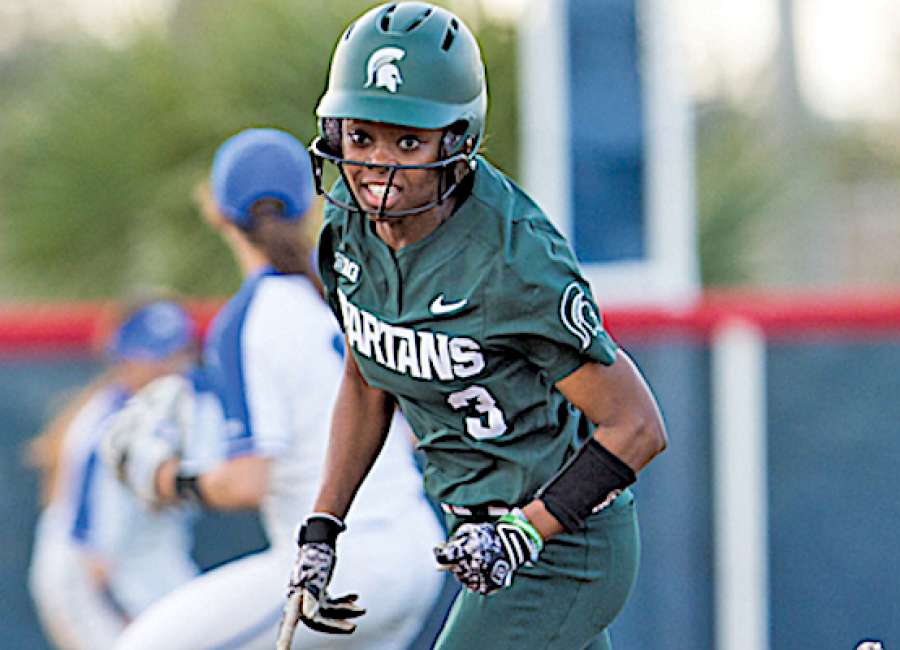 Former Northgate softball player Ebonee Echols will help led the Michigan State Lady Spartans into the Big Ten softball tournament after sweeping Maryland this past weekend to close out the season.

In the first contest against Maryland, Echols blasted a grand slam to help pace the Lady Spartans to the victory.
Echols started all 48 regular season games for Michigan State, and finished with a .308 batting average and 21 RBIs.
Michigan State will open  the Big Ten tournament against Nebraska on Friday.
SANCHEZ LEADS LSU INTO SEC TOURNAMENT: Former East Coweta softball player Shemiah Sanchez and the LSU Tigers will head to SEC tournament ranked 13th in the NCAA Division I poll.
The Tigers (40-13 overall and 13-10 in the SEC) closed out the regular season with a sweep of Arkansas.
Sanchez went 1-for-3 in the series finale.
Sanchez finished the regular season with a .245 batting average, with 26 RBIs and six homers.
LSU opens the SEC tournament today against Ole Miss. The Tigers won two out of three against the Rebels during the regular season.
LOCAL PLAYERS TO APPEAR ON ESPN TODAY IN SUNBELT TOURNAMENT: Four players who played high school softball in Coweta County will appear on ESPN today when their teams take part in the Sun Belt Conference tournament.
Mekhia Freeman and Hannah Scarbrough will help lead Georgia Southern into a contest with South Alabama, while Georgia's State's Brenna Skalski, and Arden Jobe will wait to play either Georgia Southern or South Alabama later in the day.
Georgia State won two out of three games to close out the regular season against Georgia Southern this past weekend.
Freeman, who played at East Coweta, finished the regular season with a .331 batting average, including 25 RBIs and two homers.
Scarbrough, who played at Newnan, batted .250 in limited appears, but pinch ran in several games for the Eagles.
The game begins at 1 p.m.
Skalski, who played at Northgate, batted .277 during the regular season and finished with 12 RBIs for the Panthers.
Jobe, who played at Newnan, finished the regular season with a .262 average, 22 RBIs and three homers.
KIA SMITH NAMED TO ALL-PEACH BELT FIRST TEAM: Former East Coweta softball player Kia Smith was named a first-team All-Peach Belt Conference selection while helping Columbus State reach the championship game against North Georgia.
Smith had her team's only hit in a 4-0 shutout loss that left the Cougars on the outside of the NCAA Division II Tournament while unable to pick up an at-large bid.
The senior closed her final collegiate season with a .382 average. Smith finished with 22 RBIs, and used her speed to reach on nine doubles and three triples.
Columbus State ended its year with a 33-19 record.
North Georgia, whose roster includes freshman Kara Groover, improved to an impressive 56-2 and will host a Southeast Regional.
Groover has appeared in 13 games in her collegiate debut, while also playing for North Georgia's women's basketball team, appearing in 34 games