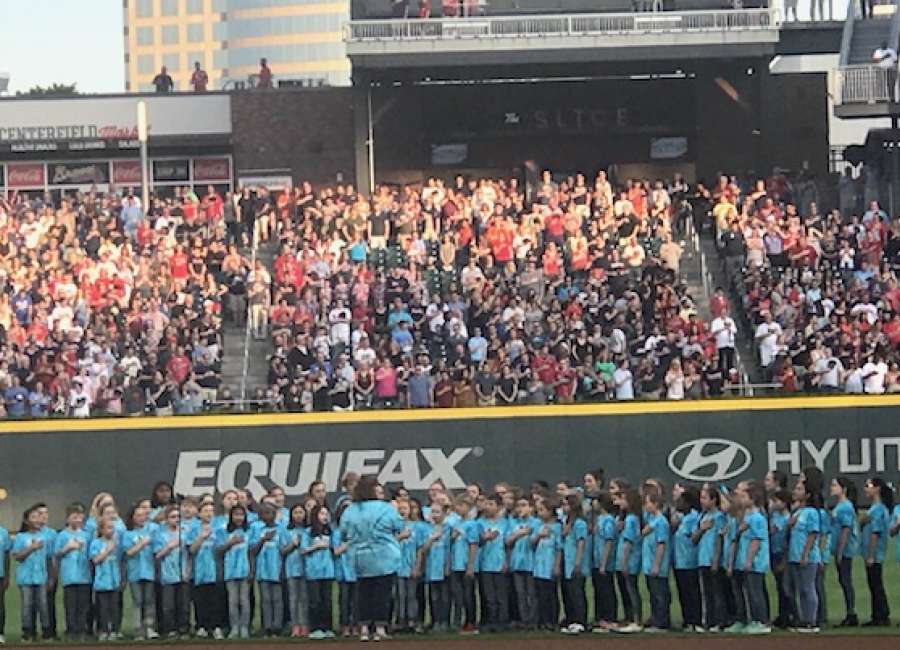 Canongate Elementary School's chorus performed the National Anthem at the Atlanta Braves' May 4 game against the San Francisco Giants.
The Canongate Chorus is an auditioned group comprised of fourth- and fifth-graders under the direction of Andrea Chitwood. Lisa Wilson is assistant director.
"I am beyond proud of these students," Chitwood said. "They are hard-working and represented our school and county with excellence."
A video audition of the students singing the National Anthem was sent to the Braves, according to Chitwood.
"When we were notified that we were accepted, the students were beyond thrilled," Chitwood said. "We were even more excited when we realized we were chosen to sing on May 4 – Star Wars Theme night."
Chitwood expressed her thanks to Principal Betty Archie and Assistant Principal Valerie Dean, as well as the more than 550-member Canongate "fan club" that was in attendance at the performance and game.
"I am beyond blessed to work at a school with such a supportive administration and parents who continually support the arts in a big way," Chitwood said.
The chorus was accompanied onto the field to perform the National Anthem by Blooper, the new Braves mascot, who led the way in his spaceship. Because it was Star Wars Night the first 20,000 fans received Ozzie Calrissian bobbleheads, and Star Wars characters made appearances as well. The Friday night fireworks were "amazing," Chitwood said.
The 84-member chorus performed for a record crowd at the new Suntrust Park, where more than 41,000 people were in attendance to watch San Francisco snap the Braves' five-game winning streak with a 9-4 victory.
"It was a great night for all," she said. "The only thing that would have made it better would have been for the Braves to pull out a win."