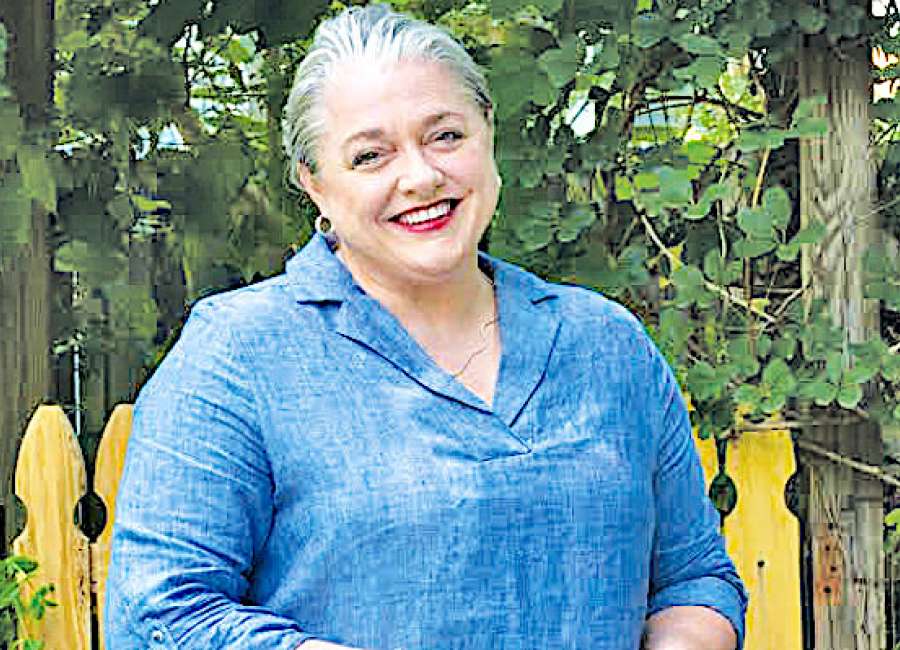 Renowned chef Virginia Willis will return to the Carnegie Library on Saturday, May 5, for a Derby Day-themed presentation featuring the best of Southern cooking.

The recipes are part of Willis' new cookbook, "Secrets of the Southern Table: A Food Lover's Tour of the Global South."
The James Beard Award-winning chef will showcase select recipes for guests through entertaining demonstrations which include samples to savor.
Willis also will discuss more about this mission behind her cookbook.
The Georgia-born chef teamed up with renowned photographer Angie Mosier and traveled to 11 states in eight months.
The duo interviewed and photographed a wide variety of Southerners.
Willis spoke about agriculture with area farmers, sustainable fishing with fishermen in Florida and South Carolina, and bluegrass and barbacoa with local Kentuckians.
The chef also explored time-honored traditions, like preserving fruits and vegetables, harvesting rice and curing country ham.
Willis said the cookbook captures the beauty of the South and all of its people, and will showcase the heart and soul of the region.
"The food of the South is biscuits and burritos, catfish and chapatti and 'hoecakes' and hummus," she said. "This assorted collection of recipes and stories features the familiar, as well as the unexpected. I strongly believe Southern cuisine is a living, breathing, growing thing and have included recipes that reflect the rich diversity."
The book explores more adventuresome dishes like catfish tacos with avocado crema, Mississippi-style char siu pork, Greek okra and tomatoes.
"Secrets of the Southern Table" will also feature Willis' well-known classic recipes such as pimento cheese tomato pie and whole-grain parmesan cheese grits with spinach and shrimp.
Willis is a French-trained chef and has authored five previous cookbooks, including the James Beard Award-winning "Lighten Up, Y'all."
She has also appeared on popular TV shows such as the Food Network's "Chopped," "Martha Stewart Living," "Paula Deen's Best Dishes," "In the Kitchen with David" on QVC and as judge on "Throwdown with Bobby Flay."
Willis is author of Southern Kitchen's popular column "Cooking with Virginia" and an editor-at-large for Southern Living magazine.
Willis will hold a book signing following the presentation.
•••
RECIPES
Here is a sneak peek of some of the recipes featured in Virginia Willis' new cookbook, "Secrets of the Southern Table." 
 
DULCE DE LECHE PECAN SWEET ROLLS
(Dulce de Leche Pecan Sweet Rolls is excerpted from SECRETS OF THE SOUTHERN TABLE © 2018 by Virginia Willis. Reproduced by permission of Houghton Mifflin Harcourt. All rights reserved.)
Dulce de leche is caramelized sweet milk. My friend and colleague Von Diaz, a writer, radio producer, and self-taught cook who explores Puerto Rican food and culture in her work, calls dulce de leche a "rich, decadent, and sweet concentrated burst of caramel in your mouth." 
Loosely translated, it means "sweet jam of milk" and I can pretty much guarantee it would improve the flavor of shoe leather. 
This recipe makes about 11/2 cups, a little more than is needed for the rolls, but I promise you will put the leftovers to good use. It will keep in a resealable container in the refrigerator for up to 2 weeks.
My grandmother used to make quick bread rolls instead of yeast-based rolls, which speeds up the time it takes to get the rolls on the table—this dough is very user-friendly and can be thrown together quickly on a Saturday morning. 
The dulce de leche, however, does take more time and patience; I suggest
making it the night before. If you want the rolls without the dulce de leche, you can simply use caramel sauce or the glaze from Apple Stack Cake (page 294).
Ingredients: Dulce de Leche
4 cups 2 percent or whole milk
1¼ cups granulated sugar
¼ teaspoon baking soda
1 teaspoon pure vanilla extract
Pinch of fine sea salt
Dough:
3 cups all-purpose flour, plus more for rolling and shaping the dough
3 tablespoons granulated sugar
1½ teaspoons baking powder
½ teaspoon baking soda
½ teaspoon fine sea salt
1½ cups buttermilk
6 tablespoons unsalted butter, melted
1 teaspoon pure vanilla extract
¼ cup firmly packed dark brown sugar
½ cup coarsely chopped pecans
Recipe: Dulce de Leche
Combine the milk, granulated sugar, and baking soda in a heavy-bottomed medium saucepan. 
Bring to a boil, then reduce the heat to medium-low and simmer, uncovered, stirring occasionally, until caramelized and thickened, 1 1/2 to 1 3/4 hours. (After about 1 hour, stir more often as the milk caramelizes to avoid burning.)
 
Stir in the vanilla and a small pinch of salt. Transfer to a bowl to cool. (This can be made ahead and refrigerated overnight to ensure a smooth start to the next day.)
Dough
Heat the oven to 400°F. Line a rimmed baking sheet with a silicone baking mat.
To make the dough, stir together the flour, granulated sugar, baking powder, baking soda, and salt. Combine the buttermilk, 5 tablespoons of the butter, and the vanilla in a bowl or measuring cup. Add the buttermilk mixture to the dry ingredients and stir to combine. 
Transfer the dough to a well-floured surface and roll it into a 12-inch square just under 1/2 inch thick. Brush the dough with the remaining 1 tablespoon butter. Sprinkle evenly with the brown sugar and 1/4 cup of the pecans. Roll the dough into a log, starting with a longer edge. Pinch the seam closed as well as you can; it'll be a bit messy, with filling spilling out. That's okay. It might also stretch out a bit when you roll it, so push it back together at both ends to return it as close to 12 inches as possible.
Using dental floss or a serrated knife, cut the log into 1-inch slices (see sidebar). Transfer the slices to the prepared baking sheet. Bake the buns until they're golden brown, 25 to 30 minutes, covering them with foil near the end of baking if the exposed pecans start to darken too much.
Drizzle over the cooled dulce de leche and top with the remaining 1/4 cup pecans. Serve immediately. These are best served the same day that you make them.
One challenge with any sweet roll or cinnamon roll recipe is cutting the log of rolled-up dough into individual buns without squeezing out the filling in the process! Unflavored, unwaxed dental floss solves this problem. Section off a 10-inch length of floss and slide it under the roll where it needs to be cut. Grab both ends of the floss in each hand, crossing over the top of the roll, moving your hands in opposite directions. Pull it taut to cut through the roll and form a slice.
SPICY ASIAN CAJUN BBQ SHRIMP WITH GRILLED BAGUETTE
(Spicy Asian Cajun Bbq Shrimp With Grilled Baguette is excerpted from "Secrets of The Southern Table," © 2018 by Virginia Willis. Reproduced by permission of Houghton Mifflin Harcourt. All rights reserved.)
Barbecue shrimp in New Orleans has nothing to do with a grill, a pit or even barbecue sauce. 
Barbecue shrimp in New Orleans is a dish of butter-poached shrimp flavored with dried spices and herbs. It's what happened to shrimp scampi as it traversed the Atlantic and crossed the levies of the mighty Mississippi. 
In the 19th century, trade routes opened between Sicily and New Orleans and thousands of Italians migrated to New Orleans. 
By 1870, New Orleans claimed the largest Italian-born population in the United States—even greater than the New York City area. A more recent immigration trend in the region has been the Vietnamese, leading to the introduction of new flavors into this Southern dish.
Ingredients: 
1 baguette, cut into thirds and halved lengthwise
1½ pounds extra-large (16/20-count) shrimp
1 tablespoon Homemade Creole Seasoning, or to taste
8 tablespoons (½ cup) unsalted butter, cut into cubes
6 garlic cloves, finely chopped
½ jalapeño, or to taste, seeded and chopped
1 tablespoon finely chopped fresh ginger
1 tablespoon finely chopped lemongrass
Juice of 1 lemon
1 tablespoon hot sauce, or to taste
1 teaspoon fish sauce
Coarse kosher salt and freshly ground black pepper
Recipe: 
Heat a grill pan or skillet over medium-high heat. Working with a few pieces at a time, cook the bread until browned and toasted, 2 to 3 minutes. (Alternatively, heat the oven to broil and broil the bread until toasted, about 2 minutes, depending on the strength of your broiler.) Set aside and keep warm.
Place the shrimp in a bowl. Add the Creole seasoning and toss to coat. Melt the butter in a large skillet over medium-low heat. Add the garlic, jalapeño, ginger, and lemongrass. Cook until fragrant, 45 to 60 seconds. Add the shrimp and increase the heat to medium-high. Add the lemon juice, hot sauce, and fish sauce. Cook, turning once or twice, until the shrimp are firm and pink, 1 to 2 minutes per side. Taste and adjust for seasoning with salt and pepper.
Spoon the shrimp and juices atop the grilled bread. Serve immediately, with lots of napkins. 
HOMEMADE CREOLE SEASONING
This is a handy blend of herbs and spices that can easily be doubled or tripled. It's great for turkey and chicken cutlets or to give some kick to pot roast, as I've done here. This will keep in an airtight resealable container for about 6 months.
Ingredients: 
2 tablespoons freshly ground white pepper
2 tablespoons cayenne pepper, or to taste
1 tablespoon coarse kosher salt
1 tablespoon dried thyme
2 teaspoons freshly ground black pepper
2 teaspoons paprika
1 teaspoon dried sage
½ teaspoon onion powder
½ teaspoon garlic powder
Recipe: 
Combine all the ingredients in a small airtight container or mason jar. Shake to combine.
Store in a cool, dry place.
TOMATO-GINGER GREEN BEANS
(Tomato-Ginger Green Beans is excerpted from "Secrets  © 2018 by Virginia Willis. Reproduced by permission of Houghton Mifflin Harcourt. All rights reserved.)
Green beans are also known as string beans or snap beans and are traditionally simmered for a long time with a hunk of some kind of pork—bacon, fat back, or hog jowl. 
My grandfather could eat a mountain of green beans and planted his garden accordingly. 
My grandmother would cook them in her pressure cooker, which would transform them from a bright green, crisp vegetable into soft-as-silk, army-green vegetable noodles. 
I remember the safety valve emitting little bursts of steam and the meaty, vegetal aroma that filled the air. There's always going to be a place in my heart and at my table for those old-fashioned Southern recipes, even as I appreciate the influences on Southern food and cooking from different cuisines and cultures.
Tomatoes are actually a fruit, not a vegetable and marry particularly well with spicy ginger in this dish. 
While most ginger is imported, the sandy soil and hot climate of the Southeast is conducive to growing ginger and a number of farmers are adding both it and turmeric to their crop rotation. And no, it's not a typo. 
I'm suggesting ¼ cup chopped ginger in this Southeast Asian–inspired side dish.
Ingredients:
1 pound string beans (French-style haricots verts work especially well), stem ends trimmed
1 tablespoon canola oil
1 shallot, finely chopped
¼ cup very finely chopped fresh ginger
4 garlic cloves, finely chopped
2 tomatoes, cored, seeded, and chopped
½ jalapeño, or to taste, seeded and chopped
¼ cup chopped fresh cilantro
Coarse kosher salt and freshly ground black pepper
Recipe: 
Bring a large pot of salted water to a rolling boil over high heat. Fill a large bowl with ice and water and set it nearby. Line a plate with paper towels.
Add the beans to the boiling water and cook until crisp-tender, about 3 minutes. Drain well in a colander and then set the colander with the beans in the ice-water bath to set the color and stop the cooking, making sure the beans are submerged. Once chilled, transfer the beans to the prepared plate. Pat dry with paper towels and then transfer to a bowl.
Heat the oil in a large skillet over medium-high heat. Add the shallot and cook until tender, about 3 minutes. Add the ginger and garlic and cook until fragrant, 45 to 60 seconds. Add the tomatoes and jalapeño and cook until warmed through, 5 minutes.
Add the cooked green beans and toss to coat and combine. Cook, tossing and stirring, until the green beans are heated through, 3 to 5 minutes. Add the cilantro; taste and adjust for seasoning with salt and pepper. 
This dish is delicious served hot, warm, room temperature, or cold. If served cold, make sure to taste and adjust for seasoning with salt and pepper, as chilling a dish dulls the seasoning.