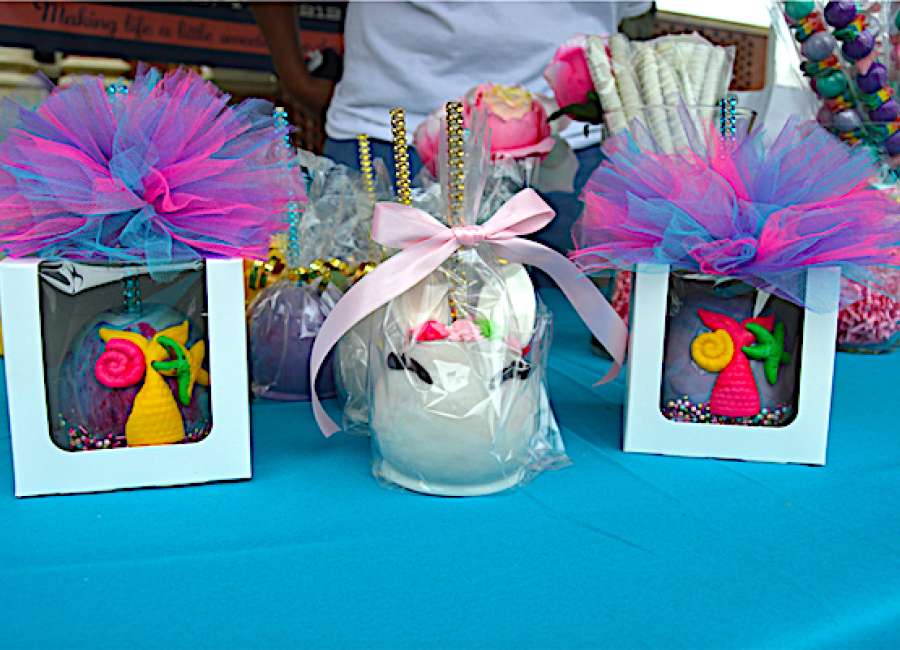 Carla White's kitchen on nights and weekends looks like almost every child's nighttime fantasy.

Countertops and tables are lined with delectable cupcakes and cookies, chocolate-covered strawberries and Oreos, candy-covered apples, cake pops and pretzels, and succulent, full-flavored desserts.
White is the owner and founder of Carla's Creations561.
Though White has called Newnan "home" for the past 13 years, the last three numbers on the business are a nod to her roots and the area code in Palm Beach County, Florida.
Some of her time in the Sunshine State is intricately designed onto White's edible sweet treats, such as fun and colorful candied apples coated in a tasty "under the sea" water adventure.
White also constructs candy-coated apples in the shape of unicorns, crafts bright and sparkly cake pops, regal and refined decorated wedding cookies, and everything in between.
White caters to her customers' whimsical ideas and dreams.
"Everything I do is custom-ordered; the candied apples, chocolate-covered Oreos and cake pops – it's all customized," she said. "I meet with every client and talk with them to make it as personal as they get. You can choose what you want and the flavor you want, in more than one item."
White makes everything from scratch out of her own kitchen.
Currently, she only takes orders through her Facebook page and at her food booth during local festivals and events.
"The most popular right now are my red velvet and strawberry cake pops, plus my unicorn candied apples," White said. "They're all so intricate. If I control how many orders I receive at once, the more time I have to make the sweets as detailed as I can."
White's elite baking skills and creative talent happened by accident, she said.
While recovering from major surgery at home in November 2016, the Newnan mother decided to find a hobby and discovered the decorative desserts on Pinterest.
She started handing out the treats to family and friends, then turned it into a side business in December 2016.
That year and into early 2017, White created her unique, designer desserts for Christmas gatherings, Falcons Super Bowl parties and Valentine's Day events.
Now, she bakes for bigger crowds at events, such as the Gingerlily Festival, Taste of Newnan and Main Street Newnan's Market Day, just to name a few.
White remains surprised at how her skills have evolved and her business has grown, while she's maintained a full-time job – including being a full-time wife and mother.  
"It's funny how God works," she said, "If you had asked me three years ago if I would be baking, I would have said, 'You're crazy.' I have three kids and husband. But this was all God's plan.
"Just to see the look of joy on peoples faces when they eat a Carla's Creations561 makes me happy," White added. "The baking and design work is therapeutic to me. I love it. If I could stop my full-time job and just do this, I would do it."
Word of White's business is quickly spreading – she is currently booked up every weekend into early June.
She's expanding her catering business into weddings, baby showers, engagement parties, conferences and similar events.
But White's real dream is to sell her creations all over the world.
"I would love to have some of my products in some of the well-known stores in Newnan and overseas," she said "If you go to Nordstroms in Argentina, I want you to see Carla's Cake Pops in there. That's my dream."
•••
CREATIVE CAKE POPS
Cake pops are an innovative way to neatly enjoy the delectable dessert without overindulging. The creative treat is also fun to eat as it sits atop the  end of a lollipop stick. 

The cake batter, icing and designs can vary each time, leaving guests with a sweet surprise in every bite. 
Here are a few unique and delicious cake pops to try at your next event. 
Red Velvet Cake Pops
Ingredients:
1 box red velvet cake mix (cook as directed on box for 13 X 9 cake)
1 can cream cheese frosting
1 package chocolate bark (regular or white chocolate)
Wax paper
Recipe: 
After cake is cooked and cooled completely, crumble into large bowl.
Mix thoroughly with 1 can cream cheese frosting. 
Roll mixture into quarter size balls and lay on cookie sheet. (Should make 45-50. You can get even more if you use a mini ice cream scooper.)
Chill for several hours. 
Melt chocolate in microwave.
Once the cake pops are chilled, place a lollipop stick in each cake pop and dip them individually into the melted chocolate. 
(Recipe Courtesy: bakerella.com)
Salted Caramel Cake Pops
Ingredients:
1 3/4 cups sugar
2 cups sour cream
1 ½ tablespoons vanilla
2 large eggs
2 cups wheat flour
2/3 cup cocoa
2 teaspoon baking soda
1/2 teaspoon salt
1/3 cup butter
3/4 cup light brown sugar, packed
4 tablespoons milk
1 teaspoon vanilla extract
1 1/2 cups confectioners sugar
2 cups milk chocolate (for melting)
Sea salt
Recipe: 
Preheat the oven to 325 F. Grease and flour a 9 x 13 baking pan.
In a small bowl, mix the sugar, sour cream, vanilla and eggs.
In a separate bowl, mix the flour, cocoa, baking soda and salt.
Gradually add the flour mixture to the wet ingredients; mix until smooth.
Bake for 25-30 minutes or until a knife comes out clean when inserted into the center of the cake.
In a small saucepan over low heat, combine the butter, brown sugar, milk and vanilla. Stir continuously while the butter melts and the sugar dissolves. Increase heat to medium and continue to cook, without stirring, until the sugar syrup becomes amber in color. Approximately 3 – 6 minutes.
Pour the sugar syrup into a small bowl and cool to room temperature, reserving 1/8 cup of caramel syrup to drizzle on finished cake pops.
Add confectioners sugar 1 cup at a time to the remaining caramel syrup, beating until smooth after each addition. Add milk, if necessary, 1 tablespoon at a time, to achieve the desired consistency.
Using a food processor, pulse the chocolate cake until it is becomes crumbly.
In a large bowl, combine the chocolate cake crumbs with 1 cup of caramel frosting. Stir until well-combined. Add additional frosting, if necessary, until you have reached a consistency that is moist enough to hold a ball shape. Reserve ½ cup of caramel frosting to top off the cake pops once completed.
Shape the cake pops by rolling about 2 tablespoons of the cake/frosting mixture in your hands until you have a 1 ½ inch ball.
Place the formed balls onto a cookie sheet lined with parchment paper. Chill in the refrigerator or freezer for 5 – 10 minutes.
While the cake pops are chilling, prepare the chocolate coating by melting milk chocolate either in a double boiler on the stove or in the microwave.
Once the cake pops are chilled, place a lollipop stick in each cake pop and dip them individually into the melted chocolate. Once the chocolate has hardened, top off each cake pop with a dollop of caramel frosting and sprinkle with sea salt.
(Recipe: copycatrecipeguide.com)