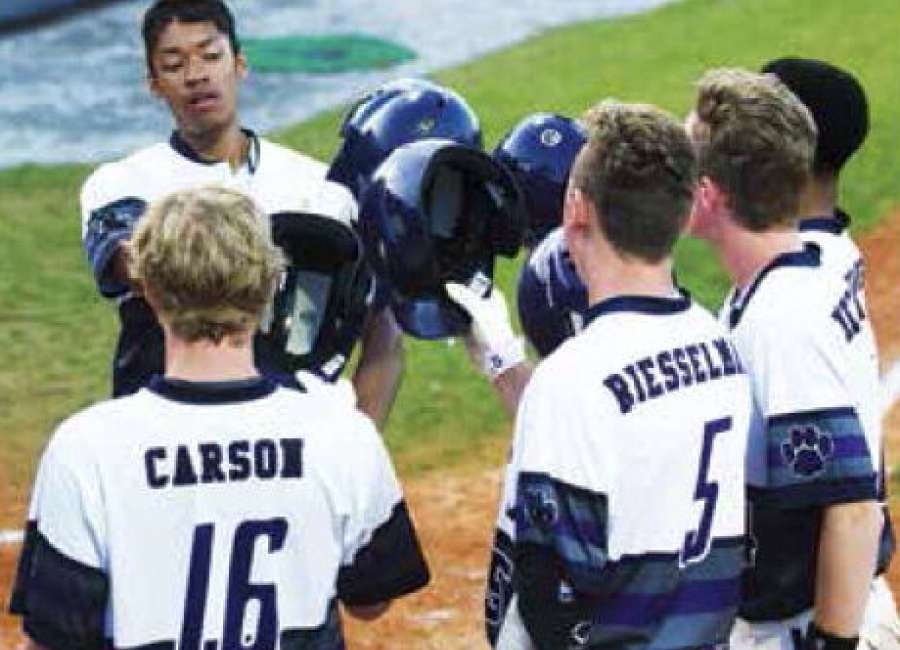 By Chris Goltermann / Coweta Score
For a playoff 'first-timer' as a head varsity baseball coach, Trinity Christian's Blake Austin seemed to admittingly be having as much 'fun' as his players during Friday's first-round sweep in the GISA Class AAA tournament.
When your team launches six homers in two games, including a grand slam in two lopsided victories, it's easy to get excited about the Lions potential for making a secondconsecutive state finals appearance.
Even with some minor hiccups in Game 1 against Westminster-Augusta that erased Cal Smith's initial grand slam, Trinity returned to the quarterfinals without any sort of scare, never trailing in consecutive 17-5 and 10-0 wins, neither of which went the full seven innings.
'I love this time of year. Playoff baseball,' Austin said.
By the end of the night, Trinity was already the final team remaining out of Region 1, with defending champion John Milledge knocking 1-AAA's No. 2 seed, DominionChristian, out in a sweep.
So far, Dominion has been the only team to get the better of the Lions while improving to 17-1-1 overall. But since a 9-8 loss in Marietta on April 10, Trinity has won nine straight games while scoring 10 or more runs.
Even with five in Game 1 while aided by 10 walks and three errors from the Lions, Westminster simply couldn't keep up offensively, managing three hits in the opener and just two more in Game 2 with sophomore Shep Hancock cruising through three perfect innings while striking out seven of the 10 Wildcat batters he faced.
'We both walked 13 guys tonight in the first game and had three errors. That's 16 additional at bats,' Austin said of a 5-5 after two innings of Game 1. 'They know what they need to do. They're still kids, 16, 17, 18 year-olds. Everything's a little different with the playoffs. You just have to get things moving in the right direction and we did.'
Tr i n ity immediately responded with a four-run outburst in the third inning to pull away for good.
By the third-inning of Game 2, Brenan Burks had belted his second and third homers of the doubleheader
in consecutive at bats, joining Smith among Trinity players with at least one in each game.
Charles Fuller put the series out of reach with a pinch-hit grand slam in the top of the third after connecting on his first pitch.
Trinity has now hit 46 home runs as a team this season.
'There's only one newcomer in the lineup. It's a philosophy change to let the kids go,' Austin said. 'So we changed mechanics to fit my approach. We spent probably the first three weeks just trying to get the kids to buy in to what we're doing.'
Burks' final blast came over a seven-pitch at-bat that ended with the junior sending the last offering beyond the left-field fence.
Burks finished with five hits and 10 RBIs for the series while continuing a late tear at the plate that has carried since the team's only loss to Dominion.
'That was the turning point. Since then, it was what can I do to help the team. It was two feet in,' Austin said. 'The failures got the kids to buy in more.'
Eight Trinity players had hits in Game 1, with
Smith and Burks each leading the way with three and finishing with five and six RBIs, respectively.
Smith's two homers gave him 11 for the season, tying him with teammate Kyle Riesselmann for the team lead. Over the two games, Smith finished 5-for-6 with 7 RBIs.
Riesselmann still managed two hits in Game 1 including one Trinity's four doubles.