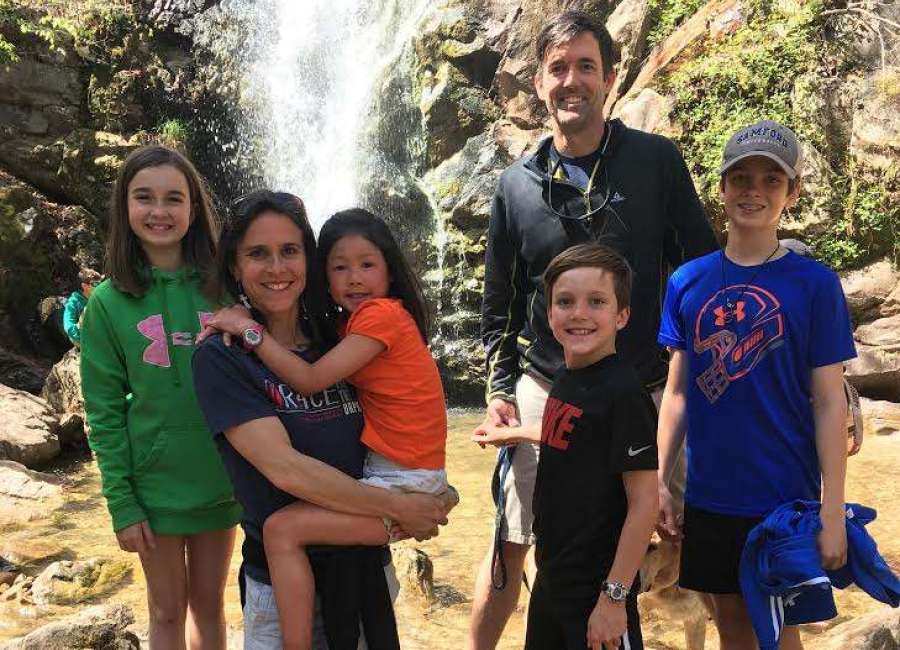 The sounds of hammers, saws and construction equipment will soon be heard at Nick and Kate Hayes' Sharpsburg home.
The couple is renovating their garage into a family room, plus redecorating bedrooms as they prepare to welcome a new member into their home.
The Hayes are in the process of adopting a 10-year-old girl from the Philippines.
Since the adoption is not complete, the Hayes did not want to use her name is the article and instead referred to their new daughter as "M."
The 10-year-old was born without hands, feet or a mouth opening, but the Hayes said they fell in love with her the instant they saw her picture online.
"It was the first time she had been on the adoption list in six months, but we knew immediately we wanted her," said Nick. "She had an operation to repair her mouth and despite not having hands or feet, she's thriving. 'M' can write, draw and paint. She's very inspirational."
"M" will join the Hayes' two other children, Jude, 5 and Bethany, 2.
Nick said he and his wife thought they were done having children, and even moved into a smaller house. God changed their minds.
"We felt the Lord calling us to adopt, so we prayed about it," Nick said. "One night I was sitting in the backyard with the kids and thought if God has given me to heart to adopt and resources to do it, I have to at least try."
The Hayes started the adoption process in July 2017 and decided to find a young child in need of a family from the Philippines.
According to Kelly Preston, co-founder of the RACE for the Orphans, there are 150 million orphans worldwide.
She and her husband Jason have also been through the adoption process.
"We're Christians and feel that God adopted us into his family, so we should do the same," Kelly said. "We wanted to spread the love of Christ to another child. We just had it in our hearts to adopt a child."
The couple, who have three other children, decided adopt a baby from China. Their journey began in June 2012.
Similar to the Hayes' experience, the Prestons fell in love with their daughter as soon as they saw her.
"On March 23, 2013, we got an email with this little girls picture. I looked at it and just started crying. I told my husband, 'Jason, I think we found our little girl,'" Kelly said.  
The couple brought 2 ½-year-old Jenna Jean Preston home in November 2013.
Kelly admitted the first few months presented a rough transition for the little girl and the family.
Jenna was born with ichthyosis, a skin condition where dead cells accumulate. She also doesn't sweat and can get overheated quickly, said Kelly.
Jenna didn't speak English and had a hard time adjusting to her new family.
"My daughter was scared to death of my husband for the first six months she was here. I would go for a run, and she would freak out," Kelly said. "We had to work through it, and now she's smitten with him. Our youngest son, Andrew, took it hard because he was the baby of the family. But now they're very close. It's just beautiful to see. Our children don't think of Jenna as being adopted. They tell people that's their sister. They stick up for Jenna and make sure she's having a good day."
While the Prestons' process with Jenna was fairly smooth, the couple are aware of the challenges and heartbreak of adoption, too.
Every country, including the United States, has different requirements and procedures for adopting children.
Some international agencies require the adopting parents to live in country for six months to one year before they're allowed to bring the child back to the United States, said Kelly.
For some families, it may take years before they are matched with a child and then another year or more before they can bring the child home.
Adoption is also expensive, and can cost couples between $30,000 - $50,000.
The Prestons wanted to help offset the cost for other local families going through the adoption process.
The couple started the RACE for the Orphans 5K in April 2013 – just two weeks after they were matched with Jenna.

The mission behind the event is "Raising Awareness, Compassion and Education (RACE) about the needs of orphans in America and around the world," according to their website.
The event continues to grow. In 2017, the group raised $33,000.
Each year, the nonprofit organization uses that money to help four families, also known as grant recipients, in Coweta and the surrounding counties. Kelly said.
"For families who want to adopt, we don't want the dollar sign to distract them," she added. "Our role is to encourage others, create a community for those who are going through adoption and raise awareness. We want to keep it local. We want to keep in touch with these families and see them year after year."
Kelly said since the RACE for the Orphans began, the organization has raised more than $95,000 in grant money and helped a total of 16 families.
This year, one of those grant recipients will be the Hayes family.  
"We thought the biggest barrier for us would be the financial aspect," Nick said. "But we put our faith and trust in God. He showed us so many things, his faithfulness and support. By the end of the RACE for the Orphans on Saturday, we should be fully funded.
"I had so much faith 'M' was going to be ours that for Christmas, I bought my wife a ring with our two biological children's birthstones in it – and 'M's'  birthstone too," he added.
The Hayes received final approval on their new daughter's adoption last week and are preparing the necessary paperwork to finally bring her home.
"We're a little nervous because we haven't had a preteen before. She didn't grow up with us, so it's a little intimidating," Nick admitted. "But we've gotten to Skype with her, and it's been great experience. When we read her medical reports, despite her disabilities, they said she was 'joyous.'
"I have an autistic brother and showed her a picture of him. 'M' said she just wanted to give him a hug," Nick added. "There's an innocence and sweetness about her, and she has compassion, too. She's absolutely gorgeous inside and out."
The Hayes hope to bring "M" to her new home by fall.