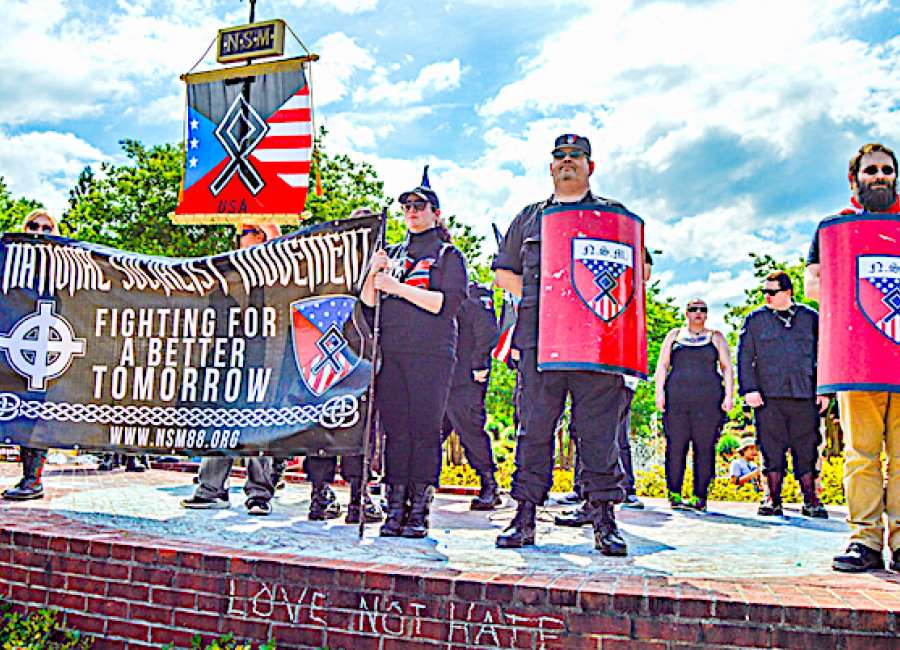 Members of the National Socialist Movement filed out of Newnan the same way they marched into the Greenville Street Park on Saturday afternoon – quickly and somewhat quietly.  

Members of the neo-nazi organization wearing all black military uniforms and carrying banners, flags and shields, were led down LaGrange Street and into the park by NSM Commander Jeff Schoep.
The group reached the park more than an hour late – and were swiftly ushered out of the area by law enforcement officers at 5 p.m.
As the NSM members made their way to the brick stage, they were promptly greeted by shouting from counter-protesters behind the fences along Greenville Street.
The hollering did little to stop Schoep from speaking to a small group of people – mainly other NSM organizers and members of the media.
Schoep firmly stated NSM is not a hate group, despite some members yelling "white power" and saluting the commander.
"We love all people and our country," he said from the stage. "Hate burns you up inside and harms your body."
Schoep also addressed the Charlottesville, Virginia incident and said his group, "acted in self defense … we are not the ones creating the violence."
But he made sure the crowd and counter-protesters knew their opposition would not stop or silence the organization.
"The more you push and try to oppress us, the more momentum we gain," Schoep yelled from the stage inside Greenville Street Park. "You will not defeat us today. You will not defeat us tomorrow and you will not defeat us into the future.
"We stand together. We will not back down. We will not be silenced," he added.
Schoep addressed several national issues, such as the opioid epidemic, removal of confederate monuments, sending troops overseas and illegal immigration, just to name a few.
"We are in defiance of any tyranny," he stated. "If you're a proud American, you should have an issue with those trying to erase white American history. If the forefathers of our nation were still here, they'd be standing up here with us."
Schoep spoke directly with the media during a brief break during the rally.
He said Newnan was just one stop of many on their "tour" across the nation.
"We don't expect everyone to agree with us," he stated. "But every group has the right to freedom of speech. Some people tried to silence us and stop us from coming to Newnan, but this is part of our American rights. If this rally was so 'ridiculous,' then why not ignore us? Everyone is making a big spectacle and helping us promote our message even further."
Schoep said the Newnan rally was a way to spread NSM's message of "standing up for their own race" and recruit new members.
He said the counter-protest scene "was pretty typical and what we're used to in other cities."
Schoep praised law enforcement officers for keeping the opposing groups separated during the rally.
He also said he wouldn't rule out a return visit to Newnan in the future.