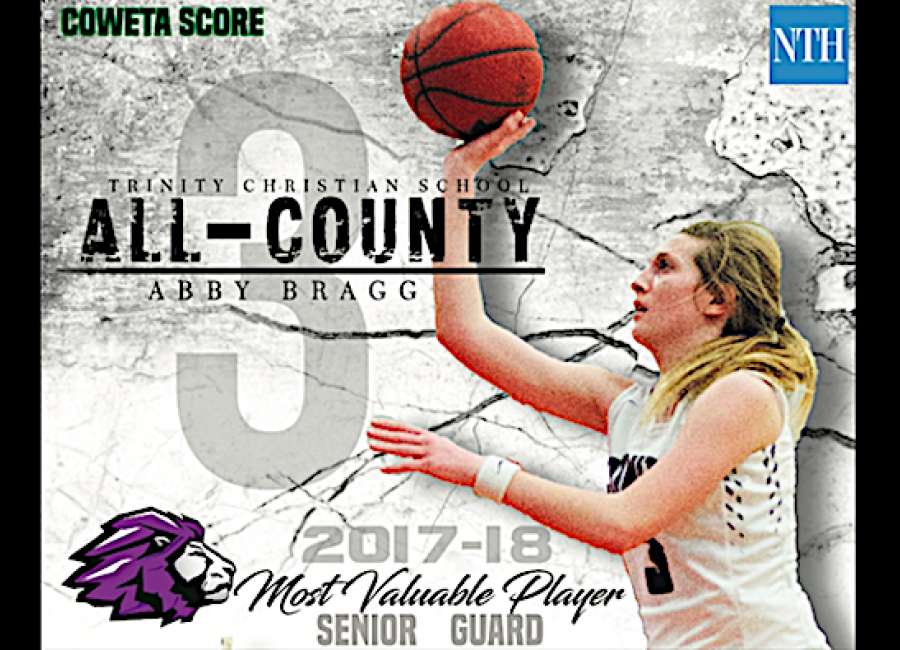 Some high school basketball coaches will tell you the success of their team comes and goes with how well their guards play.

Based on what happened this year locally, they might be right.
When it came time to pick the 2017-18 Newnan Times Herald/Coweta Score Girls All-County basketball team, guards dominated the local high school landscape.
This year's All-County MVP and all five First-Team All-County selections play the guard position.
Two guards from Trinity and Newnan and one player from Northgate, and Heritage earned this year's top honors.
Leading the way on this year's All-County team is MVP Abby Bragg, a senior from Trinity Christian.
Bragg finished her career with 1,741 points  and helped guide her team to a second-place finish in the GISA Region 1-AAA standings during the 2017-18 season, including a trip the state tournament before falling to Gatewood 42-41 in the first round.
This year, Bragg averaged 20.6 points per game up from last year's 17.5 points per game average.
She also finished the season with seven rebounds per contest and 4.4 assist per game.
Bragg also showed she could rebound on both the offensive and defensive side of the court, finishing with seven per game. Those stats also earned her her first-team  GISA All-Region 1-AAA honors.
Bragg had two of her better performances against rival Heritage during the regular season, scoring 19 points per game in the first meeting between the the Lady Lions and the Lady Hawks, and 31 in the second contest.
Her basketball career isn't over yet.
Bragg will sign a  scholarship next week to play basketball at Welch College in Gallatin, Tennessee.
Welch College is a four-year college affiliated with the National Christian College Athletic Association.
Joining Bragg on the All-County First-Team from Trinity is junior guard Catherine Skebo, who finished the year averaging 17 points per game. Skebo also earned first-team all-region honors.
Skebo showed she could score from anywhere on the court for the Lady Lions.
In the first game against Heritage, Skebo hit her season average, tossing down 17 points in the Lady Lions' victory.
In the second game between Trinity and Heritage, Skebo had three straight 3-pointers in the Lady Lions' victory.
Skebo will return to the Trinity lineup next year and will be counted on to help the squad transition from GISA to GHSA Class A private school classification.
Newnan finished the season with an 8-17 record, with senior guards Janyah Stargell and Jekeria Strickland each earning first-team All-County honors.
Strickland finished the season as the team's leading scorer, averaging 10.4 points per game.
Stargell was an important part of the Lady Cougars' offense during the 2017-18 season, assisting on or scoring 70 percent of Newnan's offense. The Lady Cougars' senior  finished the season with a 9.2 points and 8.3 assist per game.
Both Strickland and Stargell were also named to the Region 2-7A second team.
The Cougars pair led Newnan to a sweep this year against East Coweta, winning the first game 69-36 and the second game 50-30.
2017-18 All-County Girls Basketball Team
Most Valuable Player — Abby Bragg, Trinity Christian, Sr.
First Team
G Chasidhe Godfrey Northgate Sr.
G Catherine Skebo Trinity Christian Jr.
G Janyah Stargell Newnan Sr.
G Jekeria Strickland Newnan Sr.
G Carissa Vasquez Heritage School Jr.
Second Team
F Olivia Ayers Heritage School Jr.
F London Fowler East Coweta Jr
C Chandler Hendrix Trinity Christian Sr.
C Miranda Hill Newnan Sr.
G Ivy Shepherd Central Christian Sr.
G Alexa Wilder Northgate Sr.
Honorable Mention
East Coweta — Mia Berry, Sr.; Katie Morganroth, Sr.; Alex Colton, Sr.;
Heritage School — Cate Yancey, Jr.; Newnan — Kaylen Madrey, Fr.; Deyja Melson, So;
Northgate — Leia Robinson, Sr.; Kailey Katzfey, Sr.; Trinity Christian — Kelly Fourman