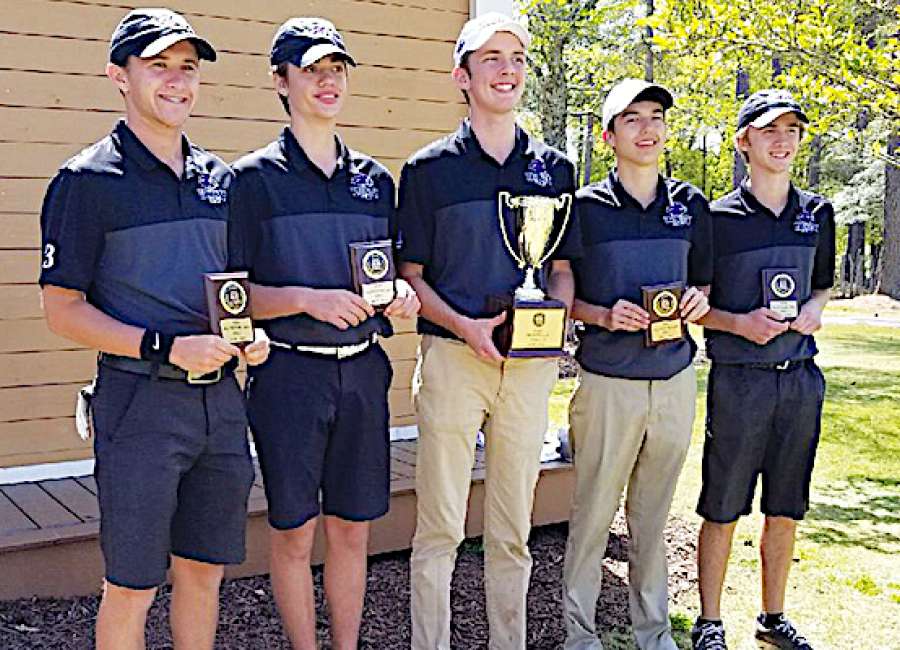 Trinity Christian's golf team continued a record-setting season by adding a GISA Region 1-AAA championship to its list of accolades in 2018.
The Lions weren't challenged while posting a team score of 315 that was right on par previous efforts this year. They've included a 313 at the Lanier Invitational and a 305 during their victory at last month's Newnan Cougar Invitational featuring 12 schools including all three of the county's GHSA programs.
County players made up all five All-Region 1-AAA honorees from Wednesday's efforts, led by low medalist Adam Aycock of Trinity.
Aycock's 75 was four strokes ahead of Lions teammates Mark Grace and Jackson Noah, who shared runner-up honors. Paul Sweeney closed out Trinity's scoring with an 82 to match Heritage School eighth-grader Andrew Garger for the third best score of the tournament.
The Hawks were limited to three players led by Garger's 82. Wright Arnall and Patrick Griffies also competed for Heritage. Alex Taylor was Trinity Christian's fifth scorer.
GIRLS LACROSSE
East Coweta was able to keep pace in Area 2-7A/6A play on Wednesday by dominating Wheeler 16-5 on the road to stay tied for second place with North Atlanta and Newnan in the state playoff race.
The Lady Indians, who have set a new school record for victories in a single season, improved to 8-5 overall and 2-1 in the area.
An East Coweta lineup that has included at least 11 players who have scored at least five goals this season continued to receive balance on offense.
Anna Robbins, Caitlyn Moore and Maura Ray each scored four goals in the victory over Wheeler (0-5), with Ray dominating draw
controls at center and adding an interception.
Both Adelyn Ryan and Kaitlynn Alford also added a pair of goals while Katie Owens, Ansley Gunter and Maddie Kreher made saves while rotating in net for East Coweta.
Braylee Marston finished with two assists and Katie Morgenroth and Sarah McCullough each added one.
TRACK
Northgate track teams participated at Johns Creek on Wednesday.
In boys action, Hunter Frederick finished third in the 100-meters after finishing the race in a time of 11.51. Gerald Harris was fifth in the 200 in 23.56.
Williams Stephens was seventh in the 1600 meters with a time of 4:53.39 and Michael Nelson.
Chandler Cao was third in the boys long jump with a distance of 20-feet, 5 inches and fourth in the the triple jump with a distance of 40-05.
Two Northgate athletes finished in the top 10 in the discus with Luke Vega finishing eight with a throw of 99-7 and Kolby Broussard taking ninth 97-9.
The Lady Vikings did not score as a team, but had several athletes perform well. Miya Camisky and Rhaynae Lloyd finished eighth and ninth, respectively, in the 100 hurdles, while Guya Farmer was ninth in the 100.
In long distance runs, Delaney Shaw was 12th in the 1,600 just ahead of teammates Dalia Gibson and Meagan Ryan. Meredith Rielly was 13th in the 800.