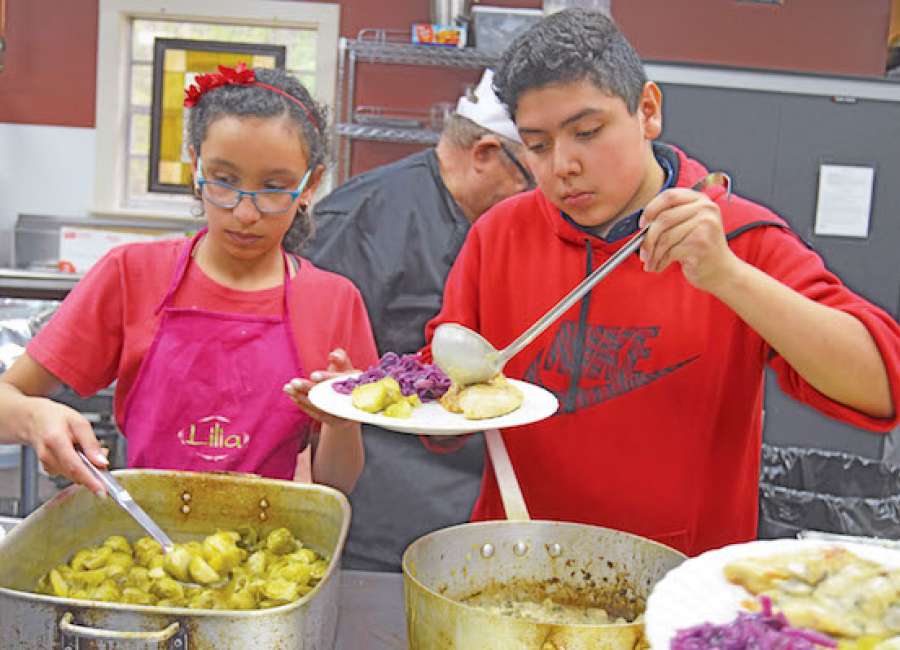 Some local middle and high school students can now add the title of "Chef" to their names.

Around 10 children "graduated" on Saturday after they completed a 12 week cooking class with the St. George Catholic Church Culinary Ministry.
But students had one final task to accomplish before the awards ceremony - prepare an entire meal, plus dessert, for at least 50 people.  
The kids were to complete most of the cooking on their own - though the ministry's lead teachers, Scott and Donna Eldred, plus a few volunteers were on hand to step in, if needed.
For more than two hours Saturday morning, the students seasoned and baked chicken breasts, cut vegetables and potatoes, combined and stirred together savory ingredients, plus baked and decorated decadent desserts.
By noon, the young chefs were plating a hearty meal that included, baked chicken covered with sage and mushroom sauce, sweet and sour cabbage, creamy mash potatoes with parsley and buttery brussel sprouts.
For dessert, guests enjoyed bite-size fudge brownies topped with cream, half a strawberry and drizzled with chocolate - plus a bowl of fresh, fried ice cream.
Students, like Ashley Diaz, 12, were proud to show off their culinary skills to her friends and family.
"It makes me really happy. I really feel good about myself," she said.
This was Ashley's second time through the Culinary Ministry at St. George Catholic Church.
"I like to bake and cook with other people," she explained. "Sometimes, I'll take the recipes and make them at home. My favorite is pie filled with vegetables, beef and potatoes."
For 12 weeks, the Eldreds' teach students basic knife skills, as well as how to read and comprehend a recipe.
The couple said they enjoy teaching the class.
"They're a great bunch of kids and so enthusiastic about cooking," Scott stated. "They all bring different skill sets to the table and that's what makes it work. I can't say it enough, but we're all one big family."
The Eldreds' will host another, shorter culinary course during two weeks in July.
For more information about the summer classes or the St. George Culinary Ministry, visit www.stgeorgenewnan.org/culinary.
Quintessential cuisine created by the Culinary Ministry
The young graduates of St. George Catholic Church's Culinary Ministry created and executed the perfect meal to serve their family and friends during the awards banquet.
The students designed a simple, but savory meal beginning with seasoned baked chicken. The side dishes and sauce were unique in taste, but paired well with everything on the plate.
The desserts topped off the meal with a refreshing and decadent sweetness, a distinct contrast from the creamy and tangy richness of the main course.
The students used some recipes from the "Feast of Saint George" cookbook on sale at the church.
BEST BRUSSELS SPROUTS
Ingredients:

1 ¼ lb. Brussels sprouts, trimmed and cut in half
1 ½ T. Margarine or butter
1 Shallot, finely chopped, salt and peppered
1 tsp. Sugar
2 T. White wine vinegar
½ c. low sodium chicken broth
1 T. snipped fresh chives
Recipe:   
Heat water to cover brussels sprouts in large saucepan and bring to boil.
Fill large bowl with ice and water.
Add brussels sprouts to a saucepan, cook 5 minutes or until bright green and tender.
Drain pan and transfer brussels sprouts to ice water.
When cooled, drain again.
In a large saucepan, melt butter or margarine.
Add shallot and ⅛ teaspoon of salt, cook 2-5 minutes, stirring frequently.
Add sugar and vinegar, stir well and cook until liquid evaporates.
Stir in broth, boil until mixture is almost dry.
Reduce heat and stir in remaining margarine or butter, ¼ teaspoon of salt and ⅛ teaspoon of freshly ground black pepper.
Return brussels sprouts to pot
Cook until heated thoroughly, stirring frequently.
Top with chives, then serve.
(Recipe Courtesy: Culinary Ministry, "Feast of Saint George" Cookbook)
FRIED ICE CREAM
This is one fried dish most won't be able to resist! Easy to make and the perfect, cool treat for those upcoming hot summer nights.
Ingredients:
1 quart vanilla ice cream
3 cups crushed cornflakes cereal
1 teaspoon ground cinnamon
3 egg whites
2 quarts oil for frying
Recipe:
Scoop ice cream into 8 - 1/2 cup sized balls. Place on baking sheet and freeze until firm, about 1 hour.
In a shallow dish, combine cornflakes and cinnamon.
In a separate dish, beat egg whites until foamy.
Roll ice cream balls in egg whites, then in cornflakes, covering ice cream completely. Repeat if necessary. Freeze again until firm, about 3 hours.
Heat oil to 375 degrees F (190 degrees C) in a deep fryer or large, heavy saucepan.
Using a basket or slotted spoon, fry ice cream balls 1 or 2 at a time, for 10 to 15 seconds, until golden.
Drain quickly on paper towels and serve immediately.
(Recipe Courtesy: allrecipes.com)