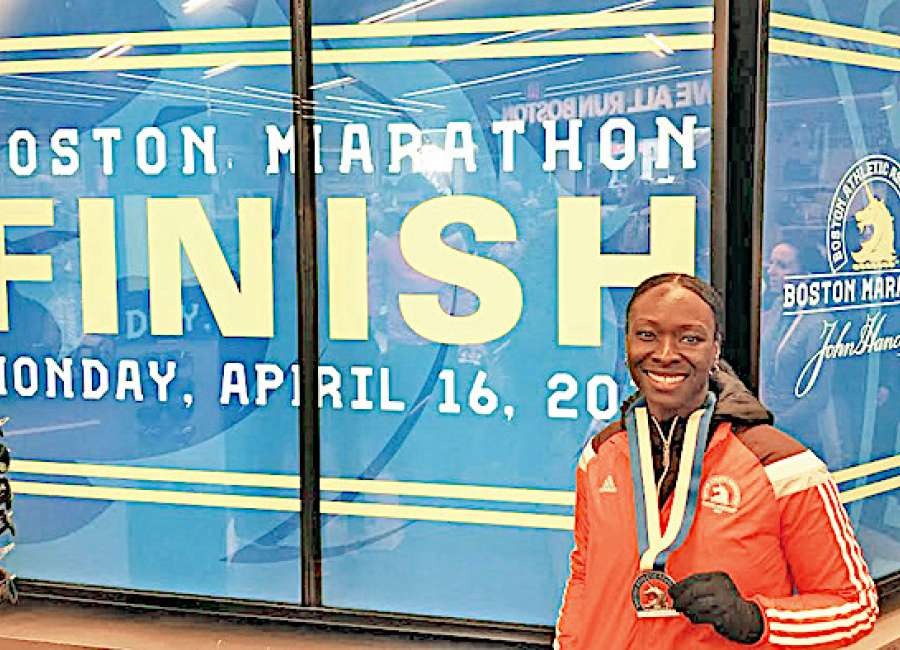 Doctor and local resident Latoya Stephens competed in the 122nd Boston Marathon.

Her experience last Monday, however, was no walk in the park. During the race, the town of Hopkinton, Mass. was plagued with heavy rains.
"It was pouring down raining," said Stephens. "So we were soaking wet before the race even started. It was rough. The winds were about 25 mph and were blowing the rain. So it was pretty challenging to say the least, but we finally got started and got through the entire race. It was one of my better marathons."
Stephens ran a time of 3:37:53 despite the wet conditions. Although her goal was to run below a 3:35, she still qualified to run the Boston Marathon again for next year. Stephens is "very happy" with the time she ended up with. This year's Boston Marathon is the 12th marathon she has run. Out of 25,746 people who ran in the race, Stephens finished at No. 10,122.
"Having to complete the marathon under those conditions just reaffirmed to me what can be done when you're mentally prepared and when you have faith and believe," said Stephens, reflecting on what she took away from her Boston experience. "So it's just a testament to my life of never giving up. When you're presented with an obstacle you can either sit there and get discouraged about the obstacle or you can look past it and accomplish the goal. I've been practicing to run this race for years, and I wasn't going to let some rain and wind destroy that and keep me from running."
According to Stephens, last week's marathon was comparable to a lot of things in her life.
"If I was going to do something I was going to have to do it in some of the toughest conditions," said Stephens. "And this is one of the worst (weather) conditions of the Boston Marathon since 2007."
Two close friends accompanied Stephens to Boston, and Stephens' colleagues gifted her with a symbolic shirt at her sendoff party  that read, "My father gave me the greatest gift anyone could give another person. He believed in me."
Those were words said at the funeral of Stephens' father, Earnest Stephens Jr., in 2016. Stephens said she wore her shirt with pride after the race was done.
According to Stephens, it was sleeting and raining at the beginning of the race and the wind-chill was about 10 degrees lower than the actual 37-degree temperature. Upon arriving in Hopkinton, the Newnan doctor prepared as much as possible – buying running- and weather-friendly clothing items.
Clothing that kept her warm was a wise decision, according to Stephens. Some runners did not finish the race and others ended up getting hypothermia.
"I made it this far," said Stephens as she recalled her thoughts during the race. "I came here to run so I had to figure out a way to get through it because there was no way I wasn't going to do it. I had to mentally prepare myself."
As far as Stephens' five-day trip, she said she enjoyed herself and the community.
"It was fantastic," said Stephens. "Boston is a runner's dream. It was everything that people said it was and more. From the time I was there, the community just welcomed the runners with open arms. They made you feel like they wanted you to be there. The community came out during the race, even though it was raining. They were out there cheering and supporting. It seemed like when it rained harder, they would cheer louder. They were very involved."
When it comes to next year, Stephens will be prepared for "all kinds of weather."
"I pray the weather is better," said Stephens about next year's race. "I am looking forward to experiencing the whole Boston tradition again, and I can see why it has been so meaningful to people. It has been a life changing and emotional experience."