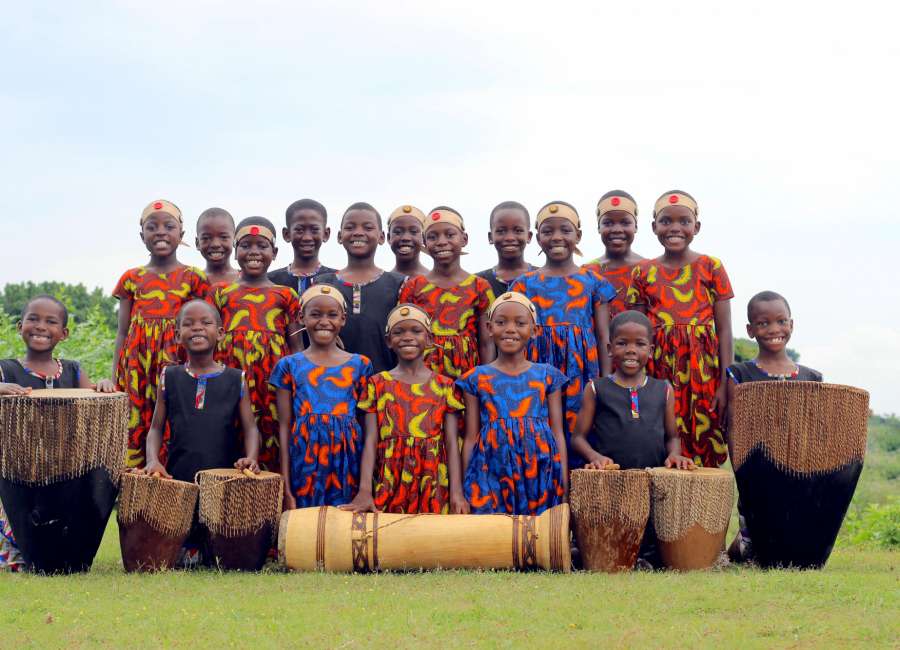 Eighteen young Ugandan children will soon bring expressions of their culture and songs of praise to two different churches in Coweta County.
The kids, all ages 8-10, are members of the African Children's Choir.
The group is currently on tour throughout the United States and will perform at Trinity Fellowship Assembly in Sharpsburg on April 22 and Calvary Chapel in Newnan on April 24.
"The program is mix of contemporary Christian music, gospel, inspirational worship and traditional African drumming," said the choir's manager, Tina Sipps. "The performance is very energetic. These children are amazing performers and have amazing spirits. They bring joy, hope, smiles and a lot of energy. They're magnetic and the show is super fun."
For most of the children, a lively spirit and enthusiasm outshine their previous, often destitute lives before they joined the choir.
According to Sipps, almost all the youths are considered orphans in Uganda, meaning that although at least one parent is still alive, the children grow up being shuffled between relatives and/or neighbors.  
The children typically have no access to education, no stability in their lives and little sustenance to keep them alive.
But the youths have a thirst for knowledge, a heart full of hope and astonishing willpower to persevere over any obstacle, Sipps said.
"They're amazingly bright," she said. "These children are some of the richest people you'll ever meet  – not by monetary standards, but in spirit. They've really completed my life."
The African Children's Choir is run by the parent organization "Music For Life," a nonprofit humanitarian and relief organization dedicated to helping Africa's most vulnerable children.
The first choir was started in 1984 and raised enough funds for organizers to build an orphanage in Uganda.
The group does more than offer African children the chance to sing and showcase their talents. The program provides the children an opportunity for a better life and the prospect of helping out their own communities.
According to Sipps, each year organizers visit Ugandan villages, seeking out families with the biggest needs.
"We're not looking for talent," Sipps said. "We're looking for the families we can have a positive effect on –  the ones we can help the most, though almost all of the families are in need."
Once a child is selected for the choir, he or she travels to the "training academy" in the Ugandan capital of Kampala.
The youths stay there for six months to learn songs and practice dance routines.
The children will then go out on tour for nine months, traveling and performing throughout the United States, Canada and the United Kingdom.
But Music For Life's involvement with the children doesn't stop when the tour comes to an end, said Sipps.
After the youths return to Africa, they are enrolled in the organization's boarding school.
"Education is these childrens' ticket out of poverty," Sipps said. "Boarding schools are the norm in Africa. Families hope their children get into a boarding school because, sadly, it's one less mouth to feed at home.
"We have a high placement rate into secondary schools. It's a very unique program," Sipps added. "We mentor the children, disciple them and support them all the way through university. Many come back and help us with the choir."
While the young singers in the African Children's Choir may be considered "orphans," they are not placed for adoption.
"We want children to affect change in their own communities. We don't want them to sever ties with their families or villages," Sipps said. "During school breaks, they go back to their communities and help out. We want them to be compelled by leadership and raise them to give back to their community. We want them to be fruitful. If we don't invest in the children today, they won't be able to help effect change in their country in the future."
According to Music for Life, the organization has educated 52,000 children and impacted the lives of more than 100,000 people through its relief and development programs since 1984.
The group also works with children in Kenya, Rwanda and South Africa.
While the African Children's Choir performs for free, donations are accepted, said Sipps.
The money supports other programs within the choir, such as education, care, and relief and development groups.
The African Children's Choir will perform at Trinity Fellowship Assembly off Hwy. 54 in Sharpsburg twice on Sunday, April 22, at 9:30 a.m. and 11:30 a.m.
The youths will also perform at Calvary Chapel Newnan off Old Atlanta Highway on Tuesday, April 24 at 6:30 p.m.
All performances are free and open to the public.
For more information about the African Children's Choir, visit www.africanchildrenschoir.com .