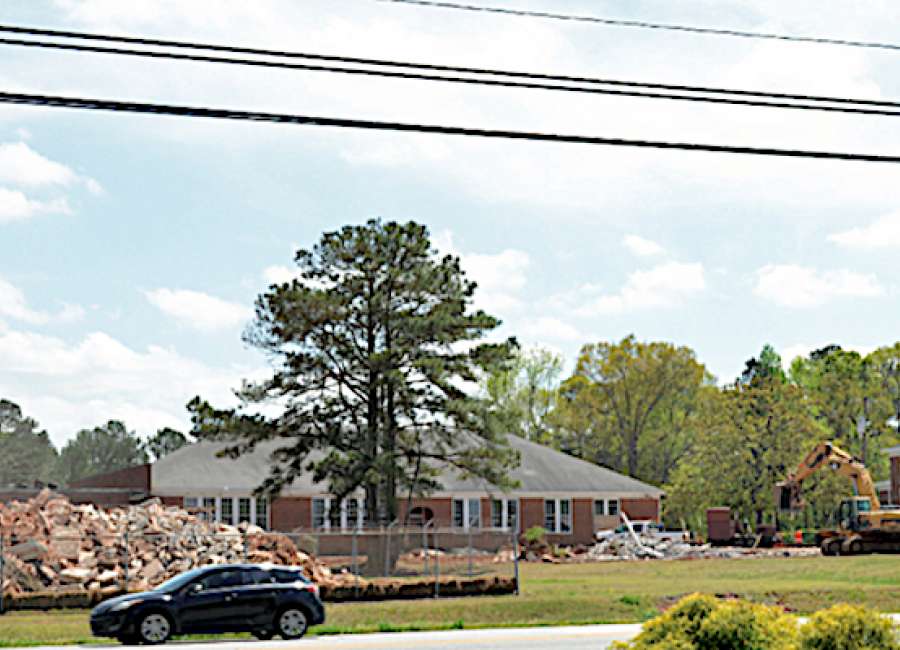 Selective demolition of portions of the historic Madras School have been going on for weeks, but the work has become more visible in the past few days.
Most of the non-original portions of the school have now been demolished. The original main building, as well as the gym, will be restored for use as a community center.
Tuesday night, the Coweta County Board of Commissioners approved a contract with Integrated Science and Engineering for engineering and site plan work for the project. A new entrance will be built directly across from Edgeworth Road to access the community center as well as Faith Creek United Methodist Church.
Turn lanes will be built on U.S. 29, and a larger parking lot will be constructed in front of the school. Plans are to build a two-lane drive through the property, between the main building and the gym, with hopes of creating a second entrance along Herring Road.
Tentative plans for the rest of the site include a walking trail, basketball courts, tennis courts and a playground.
"There's been talk of having a dog park and having this be a canine friendly facility – we don't have any of those," said Associate Coweta County Administrator Eddie Whitlock.
The community is excited about the project, said Commissioner Bob Blackburn.
"I think we're going to get a lot of input on what to put on the site," he said.
Blackburn requested engineers be asked to put together three different possible scenarios for the site plan, and for those scenarios to be put online for public comment.
"We'll announce it for the public to vote for the plan they like best," he said.
"We can certainly do that," said County Administrator Michael Fouts.
After the demolition work of the past several days, the only non-original potion of the school that remains, other than the gym, is a two-story addition to the main building, located between the main building and the gym.
Because the addition is connected to the main building, that demolition work will be more involved. The county will be consulting with a structural engineer to plan that demolition, Whitlock said.
The Madras Community Center project is being funded with the Special Purpose Local Option Sales Tax. The county has designated $2.5 million in the 2019-2025 Special Purpose Local Option Sales Tax for the project. The demolition and stabilization work is being funded through the county's general fund, but additional work won't take place until the sales tax funds begin coming in next year.
The school opened in 1935 and closed at the end of the 1988 school year.