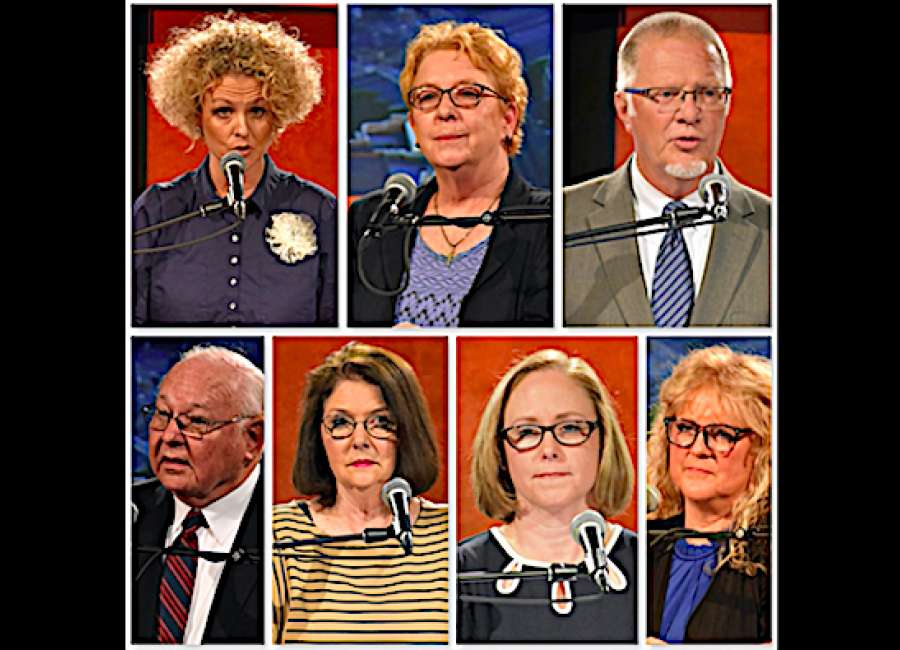 A missing candidate, calls for more involvement on the state level and criticism aimed at both incumbents and challengers marked a Coweta County Board of Education forum.

Sponsored by the Newnan-Coweta Chamber of Commerce, the forum was held at the Central Educational Center Monday.
CLICK HERE FOR A VIDEO OF THE EVENT
In the District 1 race, challenger Sandi Haner did not attend the forum, citing a previously scheduled mission trip, and instead submitted a pre-recorded opening statement.
In her video, Haner said she is seeking a seat on the board because she "absolutely loves education and being involved in many aspects of education." She said children are a gift.
"It is our responsibility to put our input into them," she said.
Incumbent Amy Dees expressed disappointment in Haner's absence.
"I take pride in my seat and I welcome a challenge," Dees said. "I understand everyone is busy and there was a pre-commitment to a mission trip, but part of this job is attending graduations and meetings and community involvement and ceremonies."
Haner also was absent from the local candidate forum in 2016, when she ran against at-large board member Frank Farmer.
"She has missed two opportunities to let her voice be heard," Dees said. "If she's interested in this seat, I ask her to come and challenge me."
Two of Dees' children have graduated from East Coweta High School and two currently are students in local public schools. Dees said she respects Haner's decision to homeschool her children but  questioned whether that would prevent her from effectively serving the Coweta County School System.
"If my public school system was not your first choice to educate your own children, then why should my voters let you lead this district?" Dees said.
District 3 incumbent Beth Barnett is a graduate of Newnan High School with one child who graduated from Coweta schools and one who is still a student in the school system.
District 3 challenger Jan Horne moved to Coweta County from Fayetteville five years ago and has grandchildren in Coweta schools. Both candidates are business owners, and both expressed their desire to support teachers in their classroom efforts, but they differed on where that support should be focused.
"We need to have people at the (state) capitol who can see what's going on," said Horne, who expressed concern over mandates handed down by state legislators without input from local educators. "Legislators get things wrong sometimes, and this would give us a chance to correct things when we can see that it would directly affect our community."
Horne said she plans to be at the capitol to bring back information from Atlanta to Cowetans.
"There's a lot of things that, once they've happened, you can't really go back and fix them," she said. "If you're in there during the process, you have a chance to do that."
Barnett said that while Coweta schools will follow the mandates set by the state, she believes she can have the most impact as a board member by playing an active role locally.
"I plan to be here in Coweta County," Barnett said. "While the things that happen at the capitol do affect us… I believe my time is best served on the local level. If we're serving on the local county board of education, our primary focus needs to be the students of the county, and the school system."
Barnett said the board manages a large school system well, providing many opportunities to students in Coweta schools.
"I think we do a great job with a very large task," Barnett said.
Horne objected to the board's expenditure of special sales tax funds, particularly its recent green-lighting of synthetic turf installation at the county's three public high schools.
"When we spend $5.5 million of SPLOST money to redo the football fields, then we're saying our teachers are paid enough, they have enough in their classroom, and that we have enough security at our schools and our bus drivers are paid enough," Horne said.
Barnett pointed out that SPLOST funds can only be used for certain projects.
"The SPLOST dollars are specifically for certain capital projects, so those are not going to be able to be used to pay for teachers' salaries or utilities or those type of expenses. Our bus drivers just recently received a pay raise. I believe we're competitive with our teacher salaries. I can appreciate that facilities are something that may not be thought of as a high priority, but I do believe we have to maintain the facilities and improve the ones that we have."
District 4 incumbent Linda Menk, who has lived in Coweta County for 14 years, has grandchildren in the local school system and one who has graduated from Coweta schools. Her challenger, Norman Lundin, has lived in Coweta for 26 years.
Lundin said that if elected, he plans to attend graduations and other ceremonies to show his support for students.
"They really want to have the support of the board members, to know that we support them not only financially and policy-wise, but to be there on that very important day when they graduate or have other things that happen to them in their school life," he said.
Menk said she has only missed six meetings since joining the board in 2014 and does not plan to increase her attendance at school system functions.
"I've taken a lot of flak from other board members for not being at every function," Menk said. "Those honors that go out, whether it be a graduation or special event, are earned by the students and the teachers and the parents who worked to help this child. I want 150 percent of the focus to be on the parents, teachers and students who did the achieving, not me."
Menk advocated for school choice, saying Coweta County is poised to grow and education needs to diversify, which will reduce the cost of public education.
"Instead of putting all the burden on our public school system, what I'm talking about is creating diverse methods that parents can choose to best meet the needs of their child," Menk said.
Lundin disagreed.
"I think we need to concentrate on what we're doing," Lundin said. "It's working."
At-large incumbent Larry Robertson, a lifelong resident of Coweta County whose children graduated from Coweta schools, is being challenged by retiree Loreli Scott. Scott said she has the time and passion to visit schools and bring back what she learns to help the board make decisions. Robertson said he serves as a voice for the administrators and parents in the school system.
"We see students as volunteers in their learning and treat them accordingly," said Robertson, who added that positive role models help build a solid foundation for schools.
Both candidates say the school system's students are doing well academically. Robertson said statistics show Coweta students outpacing state averages in areas like ACT scores and graduation rates.
"Coweta County is in a very good position academically," Scott said. "Graduation rates are high…it's a phenomenal place. They're just doing a wonderful job, I think."
The nonpartisan election for the Coweta County Board of Education is May 22.