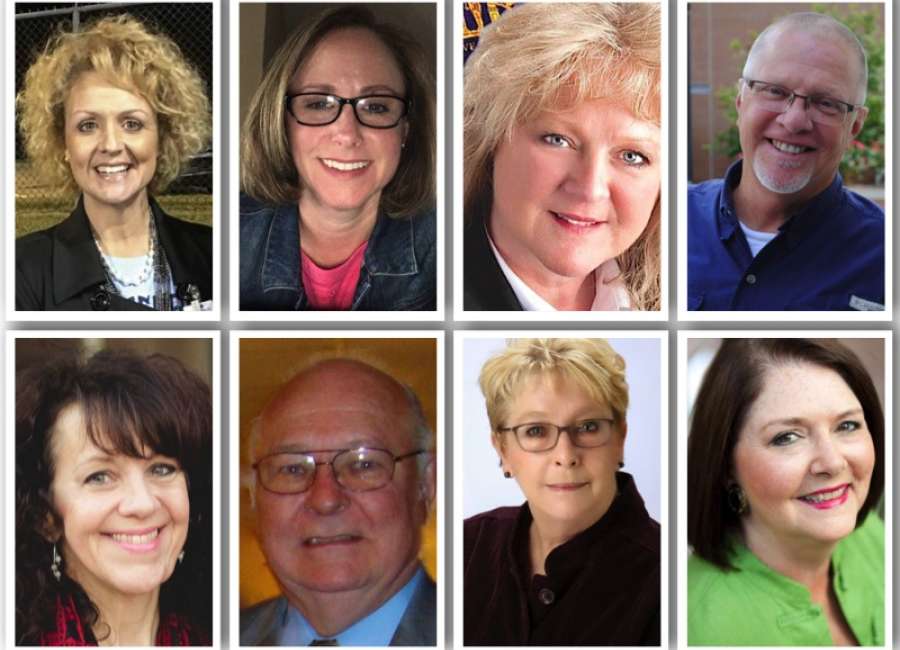 Four incumbents are set to face four challengers in what may turn out to be a hotly contested race for seats on the Coweta County Board of Education.
The nonpartisan election is May 22.
District 1 – Southeastern Coweta
(Eastside Elementary School, Thomas Crossroads Elementary School, Willis Road Elementary School, East Coweta Middle School, Lee Middle School and East Coweta High School.)
Amy Dees (incumbent) is an author whose children have attended and graduated from Coweta County schools.
First elected to the board in 2010, Dees said her priorities will remain student achievement, fiscal responsibility and good communication with the people of her district.
"I believe one cannot make decisions at the board level when one does not walk the hallways of the schools in which they serve," Dees said. "Making decisions that affect students and teachers requires communication between the classroom and the board room. I believed that eight years ago, and I still believe it."
Dees said schools are no place for political games.
"In today's hotbed of political firestorms, I believe it is very important to keep politics out of our school system," Dees said. "A small minority of folks in Coweta wish to control the local tax digest. I will fight to keep my seat and honor the majority of parents who choose public school here in Coweta. We are a democracy in America and the majority has spoken."
Students should remain the board's top priority, Dees said.
"The local school board should remain under the leadership of those of those who keep our students their main focus," she said. "Our nation's greatest natural resource is our children. I will continue to uphold the integrity of this district and support the students and staff in this county."
Sandra "Sandi" Haner, an educator, has been a Coweta County resident for 23 years.
On her Facebook campaign site, Haner writes that she is ready to "hear the voice of parents, caretakers and teachers in our community and empower them by partnering together, doing what's necessary to take back our educational system…for the sake of our children."
Haner unsuccessfully challenged incumbent Frank Farmer in a four-way 2016 race to unseat him from one of two at-large posts on the board.
"As we have watched the development of Coweta County over the years, we have been very pleased and impressed that our county has kept a family-friendly focus with ideals that mirror our own," Haner wrote.
At-Large
Larry Robertson (incumbent), a safety manager, is a lifelong resident of Coweta County. He, his wife and his children are all products of the local school system.
Originally appointed to fill the unexpired term of board member April Parker, who resigned in 2012 Robertson said he's always been involved in a lot of school activities, including serving as the public announcer at sports events, which allows him to get to know his constituents.
"I'm very approachable, and I'm a voice for them," Robertson said. "I know a lot of these people not only on a professional level, but personally. I'm proud to be associated with the entire school system."
Robertson, who ran unopposed in 2014, said school security is a "hot topic" right now, and and security upgrades, following GEMA recommendations and approving additional school resource officers are just a few measures the board has supported. Robertson said he is not opposed to tax exemptions for seniors, but wants measures in place to ensure schools don't lose any funding as a result of those exemptions.
He said he fully supports ESPLOST, which will fund a new middle school on Shaw Road to relieve overcrowding, and that the system is carefully planning for current and future enrollment on all levels.
"We are aware of growth, and we're going to act accordingly," he said.
Collaboration is key for a well-functioning school board, Robertson said, as is a lack of politics when working to ensure student success.
"We act as a board and work as a board," he said. "We try to keep politics out of the decision-making process. It's all geared toward the success of our students and building good citizens for our county."
Loreli Scott, a retiree, has lived in Coweta County for 15 years.
"It's a great place to live, and it's a great place to educate our children," she said. "However, our success doesn't minimize the multifaceted challenges that our students, parents, educators, administrators and citizens face every day. It takes vision, leadership and collective thoughts and ideas as a team to address the challenges, and I believe that I have that vision and leadership ability."
Scott said, if elected, she will advocate for phasing out the school tax obligations for seniors and repealing Common Core, support school choice vouchers and reduce the "cumbersome" administrative tasks assigned to teachers to help them spend more time teaching students.
"I will work collectively with fellow board members, citizens and administrators to ensure security in our schools and that our students and educators needs are fully funded within the Board of Education budget," Scott said. "I will encourage and seek ways to reduce the expenses while still meeting the needs of the students, the teachers, transportation and school facilities.
"If elected I will always seek to be the best informed member that I can be when casting votes," added Scott, who in 2016 unsuccessfully ran against incumbent Frank Farmer for the other at-large seat.
District 3 –  Northwestern and north central Coweta
(Arnco-Sargent Elementary School, Arbor Springs Elementary School, Brooks Elementary School, Elm Street Elementary School, Northside Elementary School, Evans Middle School, Madras Middle School and Maggie Brown School.)
Beth Barnett (incumbent) was appointed to serve out the unexpired term of board member Harry Mullins, who stepped down in 2015.
Barnett, a business owner, is a Newnan High School graduate whose children attended Coweta County schools. She has served on several parent and education councils at the county and state levels.
"I believe we have a wonderful school system because of exceptional teachers, administrators and support staff," Barnett said. "As a member of the board, it is my goal to support students in their educational experiences. To that end, the board, whose authority rests as a whole and not in individual members, sets policy, approves a budget and assists with the system's strategic plan, as our board actions are tied to the plan. Additionally, and most importantly, the board hires a superintendent and holds that person accountable for the day-to-day operations of the school system."
Student success will remain her priority if re-elected, Barnett said.
"My continued goal as a member of the school board is the same as the vision of the Coweta County School System: To ensure the success of each student," she said "I believe that the goal is obtained by supporting teachers and administrators and by giving them the tools they need to perform their jobs.'
Jan Horne, a video editor, was a write-in candidate for the Georgia Senate District 28 seat in 2016, losing to Matt Brass. She unsuccessfully challenged Mullins for his seat on the board of education in 2014.
Horne, who has grandchildren in the Coweta County School System, said students are her priority.
"I have every intention of working to support what's in the best interest of the students," Horne said. "I spend a lot of time at the capitol, and I realize how important it is to have people on the school board who know what's going on so we can know what to do in Coweta County."
District 4 – Northeastern Coweta
(Canongate Elementary School, White Oak Elementary School, Arnall Middle School and Northgate High School.)
Linda Menk (incumbent) was elected to the board in 2014, defeating incumbent Graylin Ward. Menk, a loan officer, has lived in Coweta County since 2004.
"Moving to Coweta was one of the best decisions I've ever made," Menk wrote on her Facebook campaign page. "I love the people here, my neighbors are wonderful, local business owners are great to work with, and I've met so many people who share my gratitude for our military and the sacrifice they make to keep our great nation free.
"Volunteering to support the protection of our Constitution and keeping the federal government in check within the scope of their enumerated powers is just one small way I can give back to Coweta, Georgia and our great nation," she wrote about serving on the board of education.
Norman Lundin, a retired architect, moved to Coweta County in 1992. He said a military career and a background in city planning give him valuable experience in working in support of elected officials, as well as involvement with many school systems.
"Coweta County has one of the finest school systems in the country," Lundin said. "If elected, I will use my skill sets to come on board and help them continue doing what they're doing, to give my undivided support to making sure they have to fiscal policies and financial support to keep their great programs going."
Lundin said he has read the school system's current strategic plan and supports everything he's seen so far.
"I want to see every student graduate and improve our community," he said, adding that the variety of learning experiences for students through programs like the Central Educational Center enhance the community. "Coweta County is in an outstanding position for our kids."