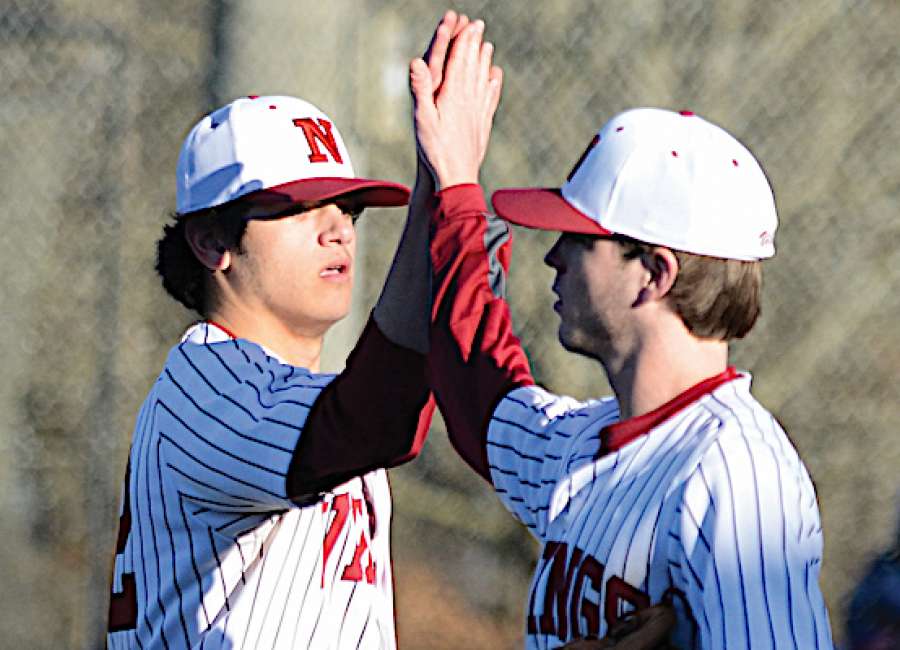 DOUGLASVILLE—It wasn't always pretty on Wednesday, but Northgate's baseball team came on strong at the finish for a 16-5 comeback win over Douglas County to clinch a state playoff berth from Region 5-6A.
The Vikings fell behind 5-0 after two innings, but closed with a flourish that led to a mercy-rule victory after six following a 12-run marathon rally that gave Northgate a lead for good.
At 22-7 overall and 11-4 in the region, the Vikings can clinch the No. 3 seed behind Alexander and South Paulding with a final victory over Douglas County today at home while celebrating Senior Night prior to a 5:55 p.m. first pitch.
Northgate's comeback began with a four-run surge in the top of the third. From there, sophomore Ryder Willard equally found a groove on the mound before giving way to closer Andrew Washington with two outs in the sixth for a game-ending strikeout.
Willard gave up 12 hits, but allowed just three earned runs with 10 strikeouts in 5 2/3 innings.
The Vikings still hold a one-game lead on Creekside (9-5) for third place. Northgate still needs a win or a Creekside loss to 1-12 Tri-Cities to clinch the No. 3 seed due to a head-to-head tiebreaker held by the Seminoles, who swept both games against the Vikings during the regular season.
Those hopes were dwindling early Wednesday after Douglas County scored three times in the first and twice in the second for a 5-0 lead.
But Northgate found its offense just in time. Four Vikings each connected for a pair of hits led by senior Will Queen's 2-for-3 effort with two walks and 3 RBIs. Andrew Baldwin, Robert Smith and Christian Dyer also had two hits while Shawn Ragan matched Queen to lead the run production by also adding 3 RBIs.
Leadoff hitter Connor Mask drove in two runs in an effort that included a hit and two walks.
The team also took advantage of 10 walks surrendered by Tigers pitchers including a pair to Mask, Queen, Christian Dyer and Chase Bevil.
After the slow start, the Vikings spread the offensive wealth throughout their lineup and finished the game with 12 hits.
The Vikings began their comeback when Mask and Will Queen  scored on a passed ball for two of the runs in the third inning.
Ragan drove in Dyer on a sacrifice fly and Baldwin followed with an RBI double that scored Smith to cut  the lead to 5-4.
Northgate then sent 17 to the plate to complete the comeback in the sixth, scoring 12 times. A passed ball tied the score before the Vikings scored five times.
Queen's bases-loaded walk plated the go-ahead run before Smith and Ragan followed with RBI hits to break the game open in Northgate's favor.
The Vikings continued to take advantage of mistakes by Douglas County to add to their side of the scoreboard as Smith scored on an error and Ragan came home with the bases loaded to increase the lead to 11-5.
Mask increased the score to 13-5 with a two-run single.
After a wild pitch scored Bevil, Queen drove in two more runs with an RBI single.
Vikings 16, Tigers 5, six innings
Northgate   004 00(12) —  16 12 2
Douglas Co.    230 000 — 5 12  3
W—Ryder Willard
L—Parker Ball
2B -- Andrew Baldwin