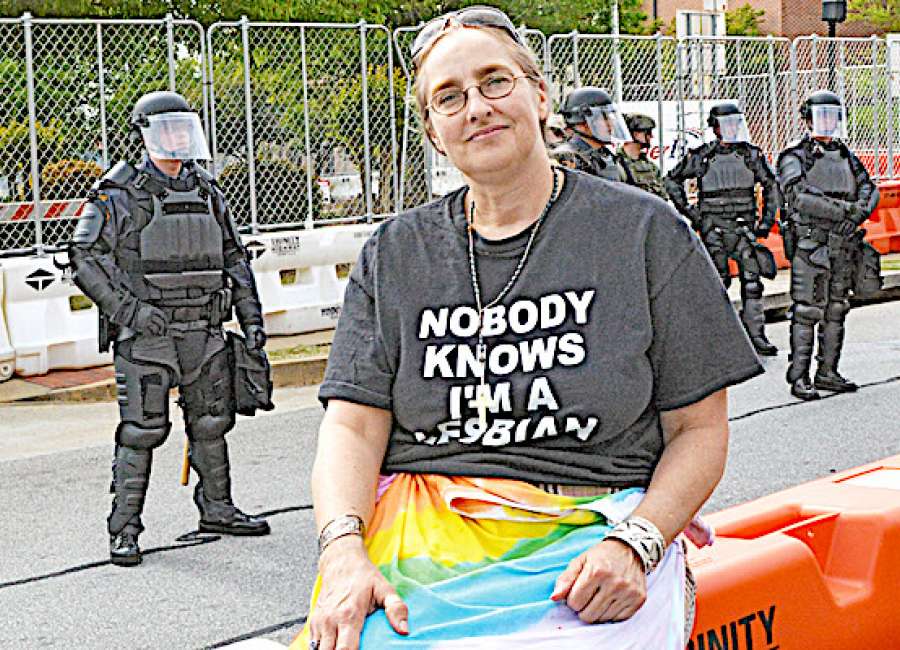 Though locals were asked to stay away from downtown Newnan while the National Socialist Movement rallied – and many agreed that staying away was the best way to show their distaste for white supremacists – some Cowetans wanted to go downtown and make their opposition to the group known.

Lisa Steffes said that a close friend of hers was strongly urging people to stay away from downtown. But staying home wasn't for her.
She said she understands that, for some people, the neo-Nazi rally didn't directly affect them. But as a lesbian, she said it does affect her. NSM claims that homosexuals, as well as anyone who isn't white, cannot be citizens.
Steffes said she had to go and take a stand.
Her friend "chose the way of peace and prayer. I chose this confrontation," she said.
Her friend, and many others, chose to express their love and unity in chalk at Greenville Street Park on Friday night.
Steffes said both ways – sending prayers and staying home, and coming to peacefully protest, are valid.
"I respect her decision and she respects mine," she said.
Steffes said ignoring white supremacists won't make them go away.
"They just infiltrate even further if you let them," she said.
With only a few dozen NSM members attending the rally, "they kind of wasted their time coming," said Martez Hayes-Zentarious, who marched outside the secured area with the NoNaziNewnan Coalition and protested inside the secured area.
"Believe it or not, they only helped Newnan come stronger together, versus thinking it was going to conquer and divide us," Zentarious said of the rally.
Markus Wilkerson was standing on the corner outside Oz Cutlery Saturday afternoon as the protest and rally were winding down. The day was mostly peaceful, with no damage and no injures. Wilkerson attributes that to the large law enforcement presence.
"I think this was a good day to see law enforcement out," he said. "Taxpayers this day will be proud of where their tax dollars went. Maybe not every day, but today."
Steffes said she wasn't worried about her safety downtown. She said she knew the city of Newnan and local law enforcement were ready to handle whatever might happen.
"This is not Charlottesville," Steffes said, referring to last summer's "Unite the Right" Rally that turned deadly when white supremacists and counter-protesters clashed.
"That . . . is not going to happen here," she added. "I am so proud of Newnan standing up – standing against bigotry. It's great."
During the events on Saturday, a group of military veterans kept a low-key watch over the Veterans Plaza and Temple Avenue Park, concerned that Antifa or other counter-protesters might try to cause damage in the park.
Ten counter-protesters were arrested in downtown Newnan, and various items were seized. Only two of those arrested were local. No injuries or property damage were reported, and there were no arrests or issues inside the designated protest area, which included security checkpoints.
"I have a feeling that if the people of Munich in 1923 stood up the way the people of Newnan did in 2018, an obscure art student with the name of Adolph Hitler would've just gone about his way," Cole McSpadden wrote in a Facebook post Tuesday.
McSpadden wrote it was an honor to witness the history that was made.
"I witnessed stories that will form the foundation of my children's history – stories that will forever be woven into the fabric of this great town," he said.
He wrote he appreciated those who organized all the events surrounding the NSM visit – prayer rallies, unity services, the #NewnanStrong event and the chalk art.
"Who can forget those beautiful children and their parents of all different colors and backgrounds playing together and leaving behind such colorful words of love and inspiration?" McSpadden wrote. "There is something satisfying watching those poor Nazis trying to spew their hatred while being surrounded by phrases such as 'Love Not Hate.'"
Followers of the Newnan Times-Herald Facebook page were asked to share their thoughts.
"It was very moving to see our town come together and create a magnificent display of peace, love and unity that literally made the ground infertile for their seeds of hate," wrote Michael Hoerger, referring to the chalk art.
Amy Payne said she was moved by the support of residents on Friday, but couldn't help but notice "how very little people of color were present."
"I think this event made a lot of people realize how much work needs to be done to diversify our town," Payne wrote.
There was much praise for the handling of the whole event by law enforcement and city officials.
"I love how the city, the mayor, the churches and the law enforcement took charge. (It's a) great model for others to follow," Kathy Thomas wrote.
Edwin Torres wrote that he'd like to see Newnan become an example of how to prepare for similar events in the future.
"Over-prepare and meet these groups with a huge law enforcement presence," Torres wrote.
The outcome could have been entirely different, wrote Pat Stanfield.
"It took so many to have such a good ending to the story," Stanfield wrote. "I sincerely appreciate everyone's work. I think Newnan treated everyone with dignity and respect. Also – we showed the nation how to do a rally."
"Peace through strength," wrote Carol Wilson. "Love prevailed."