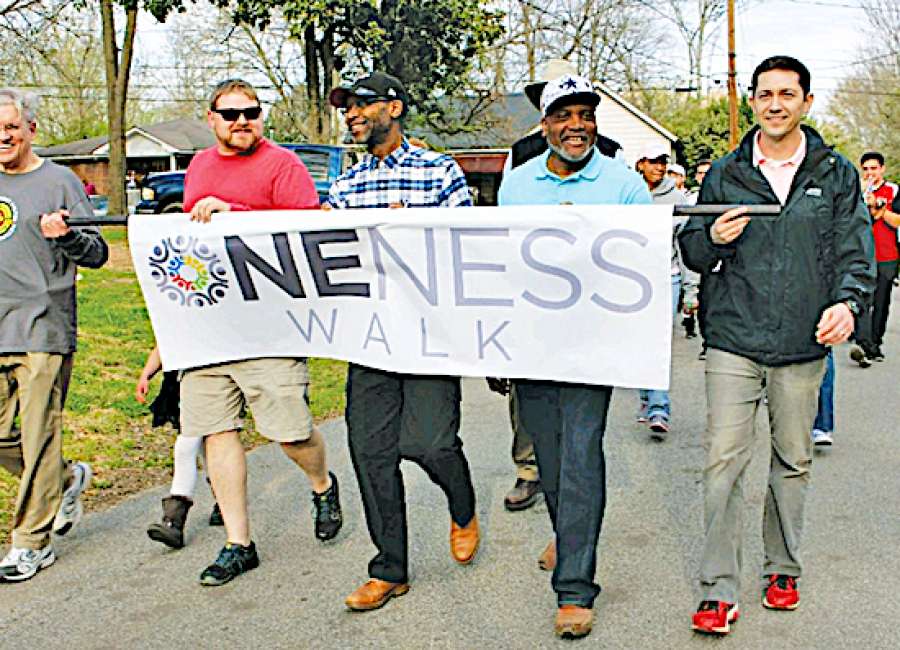 "The devil's really mad right now."

That remark was made by Bishop Billy Avery to Dr. Jimmy Patterson during the Oneness Walk. Avery, longtime African American pastor in the local area, leads the flock at Emmanuel Worship Center.
Patterson, who is white, pastor of First Baptist Church, which anchors a block of real estate in downtown Newnan. The two were among a number of pastors – black and white – who took part in the April 24 walk, planned by Patterson and Chris Carlyle of Purified Living Ministries.
"We are inviting the community out – both black and white – uniting with us on this 1.2 mile walk to promote racial harmony," Patterson said prior to the event.
Carlyle and Patterson got the idea for the Oneness Walk as fellow members of the Newnan Kiwanis Club. "It was excellent," Patterson said this week of the experience.
Other pastors, churches and members of the community got word about the effort to bring together Christians for a time of fellowship and worship. The event began with a picnic at Willie Lynch Park, followed by a 1.5 walk through several streets on the northwest side of Newnan.
RamCorps, a brass and percussion group from the University of Mobile, led the procession.
The Oneness Walk ended with a shared worship time at First Baptist. Carlyle brought the message, and RamCorps was among those providing music.
The Oneness Walk was intended to start an ongoing dialogue and relationships between black and white Christians in Coweta County. The effort has received an unexpected spark with the announcement that the National Socialist Movement, a white nationalist group, is planning to hold a rally at Greenville Street Park on April 21.
Newnan Police Chief Buster Meadows has called on local pastors to plan an alternative gathering for people wanting to show racial unity in the local area. That service has been set for 3 p.m. on April 21 and will be held at St. Smyrna Baptist Church, 68 Heery Road.
"This is a fight every generation has to fight unfortunately," Patterson said. Participants in the Oneness Walk events reported feeling uplifted by the experience and desiring more opportunities for people of all races to worship together.