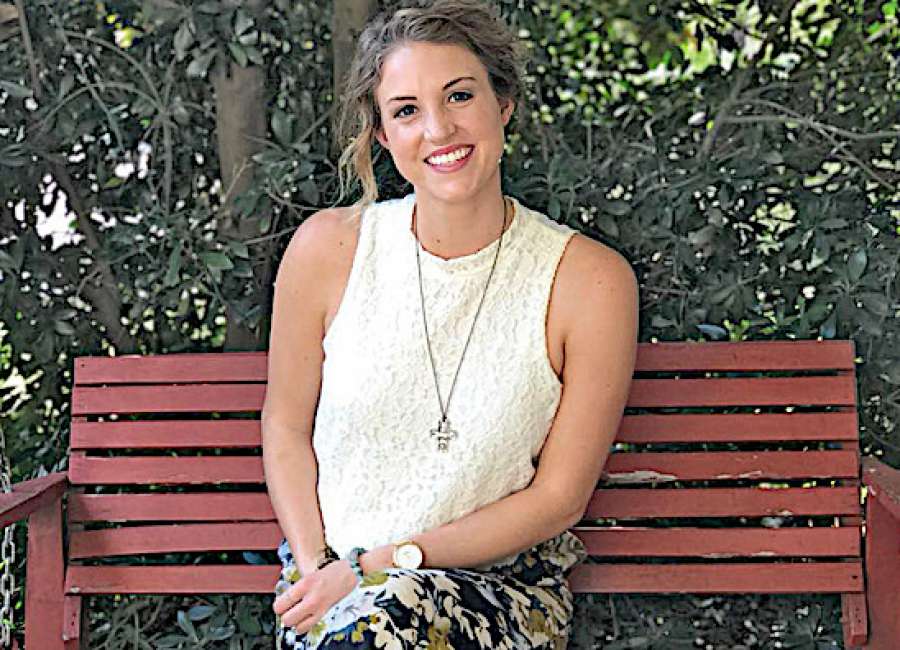 Five days a week, Abby Allen walks the oncology ward at Children's Healthcare of Atlanta and tends to the needs of youths fighting for their lives.

The hallways at CHOA are a familiar sight for the nurse and will be an integral part of her speech on Friday, April 27 at the annual Relay For Life of Coweta County.
Allen will be guest speaker at the event, sharing details of her battle against cancer with the crowd – a fight that started when she was 14 years old.
In 2009, as a freshman at Northgate High School, Allen was a rising star on the softball field. She played for her school and on a traveling team.
"While I was playing, my left knee started to hurt," Allen said. "I went for an MRI and my family was praying it wouldn't be cancer. When we found out it was, everyone was shocked. My whole world turned upside down that day."
Allen was diagnosed with osteosarcoma, a rare bone cancer. She immediately started chemotherapy at CHOA to shrink the tumor in her left leg.
After a few rounds of treatment, surgeons removed the tumor and a part of her quad muscle. Doctors then inserted a metal rod in her leg to replace the diseased bone.
Allen continued chemotherapy treatments after the surgery but she received devastating news from her oncologists.
"I found out I would never be able to play sports again," Allen said. "There were no options. After the treatments, I spent two years in physical therapy. I was so thankful for my mom and dad because they led me through those days."
Despite the setback, Allen said she made the most of her situation.
She went to Northgate's homecoming game that fall. Though most of her hair had fallen out during treatment, the then-teen accessorized and wore a bright, bejeweled satin head wrap to match her dress.
Allen finished her last chemotherapy treatment in November of 2009 and has remained cancer free.
The now-23-year-old said not being involved in sports was a big adjustment for her. But it also gave Allen a new purpose in life.
She decided to major in nursing and eventually graduated from Kennesaw State University. While at college, she met her now-fiance.
Allen also landed her dream job as a nurse on the oncology floor of Children's Hospital of Atlanta.
"I believe in divine intervention," Allen said. "(God) had a far better vision of my future than I did.
"It's a God moment to see how far he can bring you and bring you out the other side," she added. "You might not understand the whole story, but you get to see glimpses of how his vision is better than yours. God works in mysterious ways."
Allen said she tries to bond with all her patients and will sometimes share details of her own battle with cancer.
On Friday, Allen will tell her story to hundreds of fellow cancer survivors, caregivers and supporters at the Coweta County Fairgrounds during Relay For Life.
"Relay For Life of Coweta County really gives people a chance to support people fighting cancer. You feel like you're doing something," said Susan Duncan, co-organizer of the event. "As a caregiver, when my dad and brother were sick, (I tended) to feel helpless. But Relay For Life gives you a sense of empowerment. That you can make a difference in the community."
This year's theme is "Lights, Camera, Relay," and will focus on the dazzle of the Hollywood scene and bring popular movies, characters and actors to life.
The Relay For Life of Coweta County organization has a goal of raising $150,000, Duncan said.
"The money helps the American Cancer Society continue to support people going through cancer and funds more research for doctors to find a cure," she added.  
Some of the money may also be used to fund the Road to Recovery program in Coweta and Fayette counties. The organization will give cancer patients rides to and from treatments free of charge.
Allen said she hopes the Relay For Life of Coweta County reaches its goal. But she's also looking forward to feeling that special sense of camaraderie among fellow cancer survivors and supporters.
"You can feel the support and love. Everyone knows someone affected by cancer, whether they're fighting the disease now or passed away from it," she said. "I'm excited about sharing the event with my fiance, family and close friends."
Duncan said, there is still time to register for the event, which begins at 6 p.m.
For more information, visit  www.relayforlife\Cowetaga or the local Relay for Life Facebook page at https://www.facebook.com/relayforlifecowetaga/