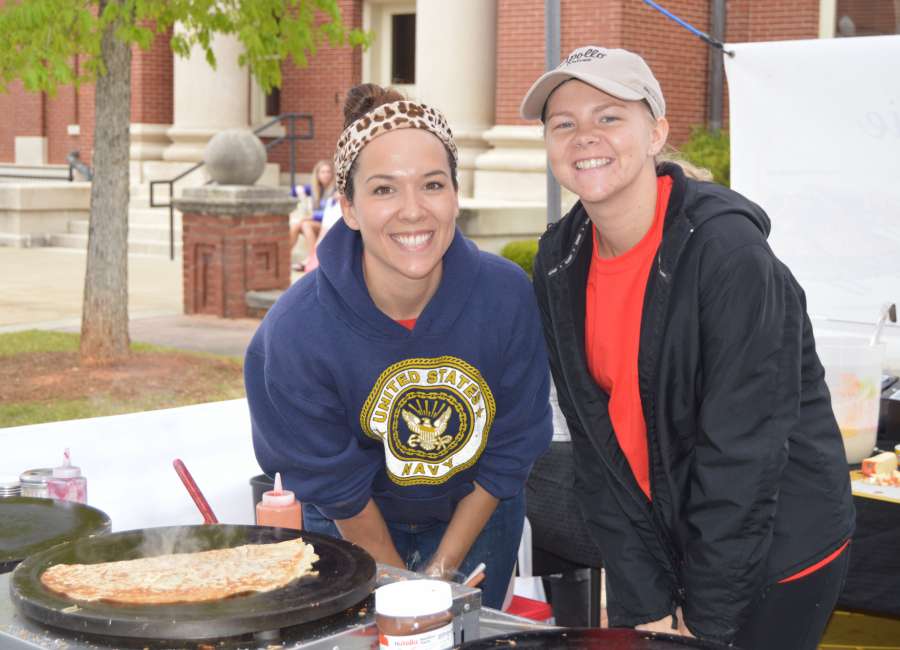 BY MELANIE RUBERTI
Lisa Roiret is an aficionado when it comes to creating authentic French crepes.
The Senoia woman was born in Nice, France and raised on the island of Corsica where she learned how to make the delicate, thin pancake.
Roiret moved to the United States in 1997, finished school, eventually joined the United States Navy and became a helicopter mechanic.  
But she longed for the authentic, exquisite taste of an authentic French crepe – something she could not find in the U.S.
After her four-year enlistment was up, Roiret followed her dream, moved to Senoia and started an online business and catering service called Lisa's Creperie in May of 2017.
Her menu is chock full of a variety of sweet and savory crepes that can be eaten for breakfast, lunch, dinner or dessert.
"We serve crepes filled with bacon, egg and cheese, to strawberry nutella to barbecued pulled pork with horseradish. We smoke our pork for 16-20 hours," Roiret explained. "We also offer gluten free options, vegetables crepes made with fresh herbs from our garden … You can basically create your crepes."
In addition to the Lisa's Creperie website and catering service, she and her employees also travel around and set up booths at different festivals, plus the Peachtree City and Newnan Farmers Market.
"I've done this so often, since I was a little girl, I don't measure anything. It takes me 2-3 minutes to make a crepe," Roiret said. "It's all about getting the batter really thin and being fragile with it. I pre-cut everything and all our fruits, veggies and herbs are fresh."
Roiret said the most popular requests are her strawberry and nutella crepe and a turkey, bacon, apple, brie, crepe with a touch of raspberry jam.
The Senoia woman said she was surprised by the all the positive feedback she's received since starting Lisa's Creperie.
Roiret will expand her business this summer.
"We have a food truck being custom built right now," she said. "It should be up and running this June. We'll be bouncing around different towns in it and set up near businesses during the week to serve breakfast and lunch."
For more information about Lisa Roiret, variety of crepes and her catering business, visit www.lisascreperie.com.