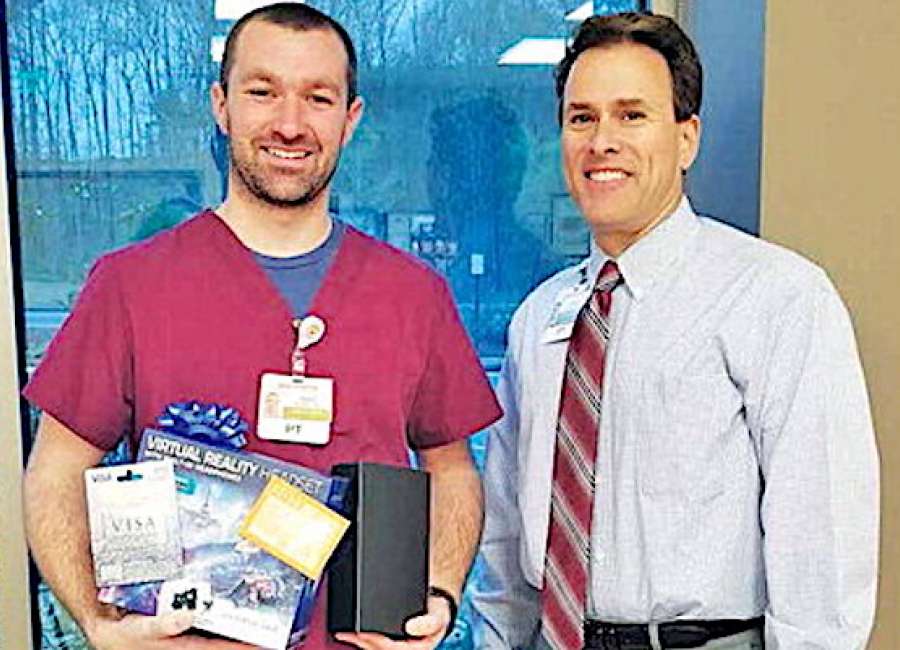 It's Ryan Morton's job to help people get back on their feet and moving again. 
"My main goal is to help them get out of bed and walking again, regain their strength and restore movement," he said. 
Morton is a physical therapist at the HealthSouth Rehabilitation Hospital of Newnan off Newnan Crossing Boulevard. 
 
He's worked for the medical center for more than three years - before the building officially opened their doors in Newnan. 
 
His hard work, positive attitude and determination has won over his patients - and fellow colleagues. 
 
Morton was recently named the HealthSouth 2017 Employee of the Year.
 
"I didn't expect to win it," he said. " … But it is nice to be recognized for doing a good job." 
 
"Ryan has many great qualities, but the one quality that stands out is he always takes the opportunity to go above and beyond for his patients and the staff," said Kent Buchanan, HealthSouth's director of therapy. "He has the reputation of going the extra mile and definitely has a heart of servitude."  
 
Morton previously won the quarterly achievement award. An employee is chosen for the reward every few months and is nominated by his peers. 
 
HealthSouth officials then choose the "Employee of the Year" from those designated winners. 
 
"For the staff to pick me, I guess I'm doing something right," Morton said with a smile. "To be nominated by my peers makes me feel good." 
But it wasn't just his colleagues that helped him take home the top award. His patients did too. 
"I'm consistently getting feedback about Ryan from them when he's not around. They'll say, 'Ryan is always attentive and professional and knows exactly what I need.' He takes time to get to know his patients and tailor a program specifically for them - and that makes a huge impact on them," Buchanan stated. 
"His patients love him. They tell us that all the time," added Renee Mansour McGraw, a human resource assistant with HealthSouth. 
 
Morton received his undergraduate degrees at Kennesaw State University and his doctorate degree from Georgia State University. 
 
But becoming a physical therapist wasn't Morton's initial career path.
 
"I played sports growing up and thought sports medicine would be interesting," he said. "But I got into physical therapy school and was in a hospital setting and I helped someone walk again. I helped them gain their independence and be able to return home. That was more fulfilling and rewarding for me." 
 
Morton joined HealthSouth in December of 2014, practically fresh out of college. 
 
According to Buchanan, Morton took it upon himself to learn all the equipment and devices within the hospital that can be used to help their patients regain their strength and restore movement in their limbs.
 
HealthSouth is a 50 bed in-patient rehabilitation hospital. 
 
On average, Morton assists at least seven patients through 1 ½ hour therapy sessions every day.  
 
He said he wouldn't have it any other way - award or no award.
 
"When you love what you do, you don't think about be rewarded for it," he said.