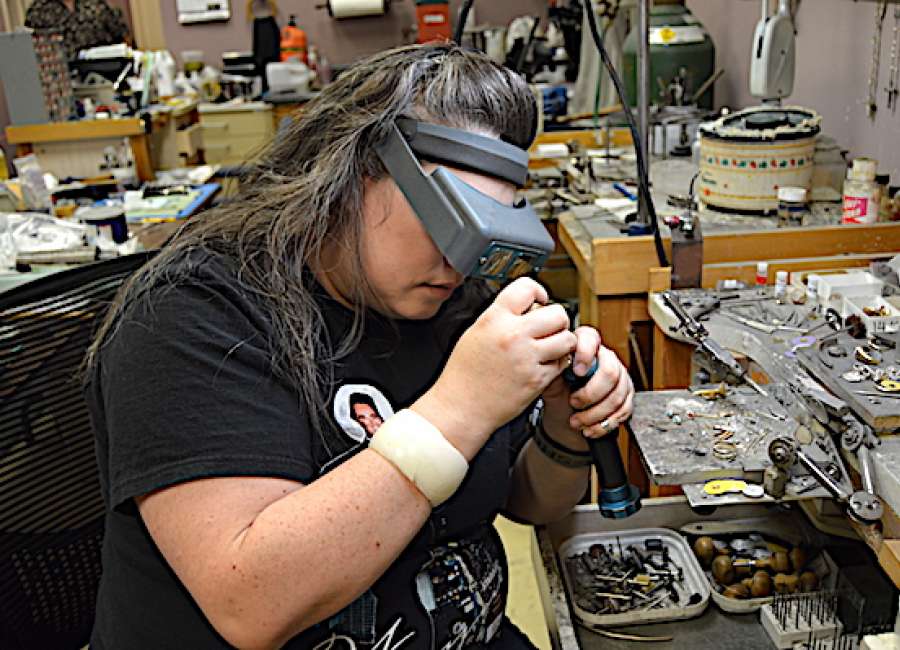 Meghan Proctor has an exquisite eye when it comes to creating jewelry for Hubbell Jewelry Design off Greison Trail.

Now, her intricate and delicate designs are being recognized throughout the state.
Proctor won first place and took home the "Jewelers Choice" award during the Georgia Jewelers Association Annual Design Contest at Callaway Gardens in early April.
She beat out more than 30 other jewelers for top prize.
"I didn't think I was going to win, but then they called my name," Proctor said. "I was so excited. I was almost giddy. It's nice to be recognized by my peers and other jewelers for my work.
"I was so excited, I actually hugged the presenter," she added with a laugh.
"I was super excited and very proud of her," said Rick Hubbell, Proctor's father.
The Newnan woman won the high honors with a handcrafted 14-karat white gold, diamond-encrusted pendant that surrounds a 27-karat aquamarine gemstone.  
According to Proctor, she designed the pendant, cast the wax molds and set every stone in place. It took her a week to create the pendant.
Proctor's skillful eye for jewelry began when she was 6 years old.
It's a trait she picked up from her dad, Proctor said.
"He started out doing custom jewelry work in the basement of our house. I would always go down there and hang out," she stated. "He taught me how to do a diamond layout … and it went from there."
"I knew she had talent at a young age," Hubbell said. "I'd give her pieces of jewelry to carve out and the tools and taught her the process behind it. She continued to progress. I was so very proud of her."
Thirty years later, Proctor love for the business remains in tact. Her niche is milgrain beadwork around the edges of the jewelry.
"I like jewelry that has different details on it. You can look at it and see something different about the piece each time," she stated. "I also like redesigning with older pieces of jewelry. I like being part of the transition into something new.
"I also like engagements," she continued. "It's an honor to be a part of people's lives in a more personal way."
The Georgia Jewelers Association Annual Design Contest was not Proctor's first competition.
She competed on a global level in 2017 in the "Battle of the Benches."
Proctor also designed a pendant for the American Cancer Society's annual Cattle Barons Ball. The jewelry was auctioned off for more than $10,000.
The ACS organizers were so impressed with Proctor's work, they asked her to create pieces for all their Cattle Barons Ball across the nation, she said.
The Newnan woman said she has also created unique jewelry for well-known sports stars, actors and singers such as, CeeLo Green, Nelly, Lil' Wayne, Ray Stevenson and Carmelo Anthony.
"It's fun and limitless. I like thinking outside the box," said Proctor.
In addition to her recent recognition, Proctor was given two plaques and a $500 scholarship to further her education.
She plans on attending classes to learn more about hand engraving jewelry.
Proctor said as of right now she doesn't plan on selling her award-winning pendant, but admitted that may change in the future.