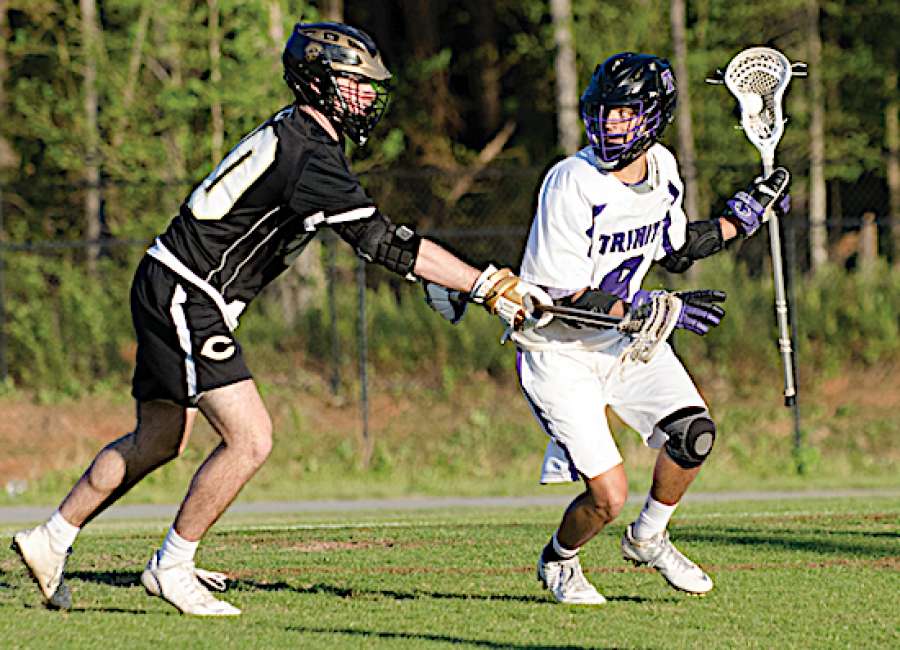 By CHRIS GOLTERMANN, CowetaScore.com 
Trinity Christian's boys lacrosse team aren't eligible the Georgia High School Association Class 5A-A state playoffs until 2019.

But after their first 13 varsity games, the Lions certainly know where they stand come next spring.
Trinity improved its inaugural varsity record to an impressive 12-1 by leading Carrollton from start to finish, with only a final blast of cold weather led by a nasty crosswind providing the Lions' biggest challenge.
A 16-6 victory on Monday at home had Trinity scoring the game's first five goals in the opening 13 minutes of play in a dominating effort that featured balance throughout the lineup.
Four Lions players each posted multi-goal games and a fifth also joined the group to posts a multi-point effort in the win. Freshman Logan Lundy made at least six saves while holding the Trojans to two goals in the first half while Trinity built a comfortable 10-2 advantage.
A Lions roster that includes one senior in standout attack Alex Seymour,  who posted his two goals and three assists by halftime, continued to look like an immediate state playoff contender in their debut.
The victory was Trinity's ninth by at least nine goals, with an 11-10 loss at Riverside Military on March 12, acting as the only blemish on the schedule so far in its debut.
The Lions finished with a scoring total on Monday just below a season average of 17, with sophomore Tanner Price and junior Zach Jones continuing to add to their team lead in goals.
Jones split his six goals equally between the first and second half starting with an immediate tally just 36 seconds into the contest off a feed from Seymour, followed by a second goal just 12 seconds later off the ensuing faceoff.
Price, meanwhile, led Trinity with nine points split between five goals and four assists while joining Jones in posting a hat trick by halftime. It began with a goal that closed a 4-0 lead after one quarter after faking a pass near the left post and slipping a shot past Carrollton goalie Jonathan Moore, who kept the game as close as possible with several key saves throughout.
Lundy set the tone, however, on the other end by making a save with his team man-down for two minutes early in the first quarter. A starting defense of Zach Seymour, Jayson Marx and Gabe Carroll helped keep Carrollton off the scoreboard in the first half outside of Jackson Cruz's pair of goals before halftime.
Trinity junior Ben Easley scored twice in the first half to help pace the Lions to an eight-goal advantage by the break, while Danny Baird added a goal and an assist after halftime while handling the bulk of faceoffs for the Lions.
Price upped his team-lead in goals to 70 in the win, while entering this week with 129 points and averaging double-digits per game.
Trinity closed out last week with double-digit wins over Brookwood (19-9) and Mount Vernon (20-7). Price had 15 and 10 points, respectively, over the two wins with scoring efforts of six and seven goals over the consecutive games on Friday and Saturday.
Jones is right behind the Lion sophomore with 62 goals while equally staying hot. In his last three games, the 6-0, 170-pound midfielder has dented the net 23 times after scoring 10 goals in Saturday's win over Mount Vernon.
Seymour's two goals now give the senior 20 for the 2018 season.
Up next for Trinity Christian is a trip to Lanier (9-5) on Friday. The Lions close out the season next week with four more games on the road.