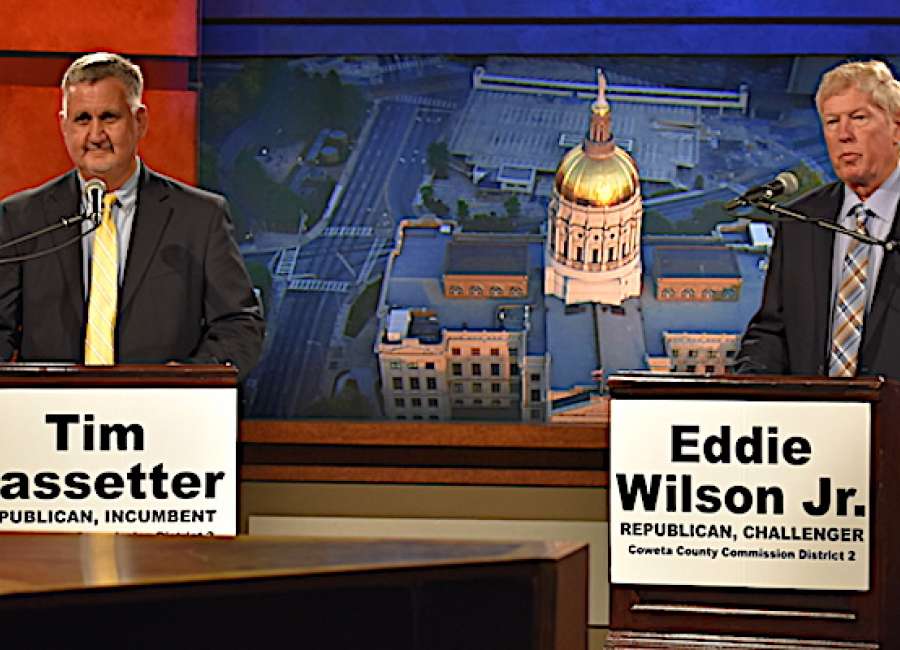 Coweta Commissioner Tim Lassetter and challenger Eddie Wilson displayed similar philosophies and ideas at a candidate forum Monday night.
Lassetter, who is serving his third term representing District 2 on the commission, is being challenged in the May 22 Republican primary by Wilson.
A forum, hosted by the Newnan-Coweta Chamber of Commerce, was held Monday at the Central Educational Center.
Lassetter is a lifelong resident of Coweta. In his opening statement, he thanked all who serve as elected officials in Coweta.
"I know how challenging it can be but also how rewarding it can be," he said.
"And I've got to mention how proud I am of the law enforcement and public safety individuals that worked this past weekend in preparing for what went on in our county," he said, referring to Saturday's white supremacist rally. The cooperation between Newnan Police Chief Douglas "Buster" Meadows, Sheriff Mike Yeager and other agencies through the state "was something we all can be proud of," Lassetter said. "The results speak for themselves."
There have been many changes in Coweta, and Lassetter said he hopes to continue serving as county commissioner "so that I can support business growth with job creation and balance residential growth as well, and continue to support county staff and all areas of public safety."
Wilson said he will continue to dedicate his time and resources to preserve the rural character of Coweta and help make the changes that will be needed for the county to compete in the future.
After serving in the U.S. Army, Wilson took at job with Delta Airlines and he and his family moved to Coweta in 1984.
"We thought it was a great place to live in and raise our family," he said.
At Delta, Wilson managed large projects and was known for bringing projects in on time and under budget, he said. He is now retired.
Wilson challenged Lassetter eight years ago, and attends commission meetings regularly.
"As a conservative Republican I review the budget and check our spending to make sure we spend money that helps Coweta County and our citizens," he said.
Wilson said he would work to make Coweta attractive for manufacturing and research and development companies.
Wilson said he doesn't own real estate or a business and is "unburdened in the decisions I can make for the county… I want a clear and transparent government accountable to the people."
The candidates were asked what direction the county should go with growth.
Lassetter said he was glad to be part of recent meetings on preserving rural character. It is difficult sometimes to balance the rights of property owners with restrictions on development, he said, adding the county has a great staff and commissioners will soon start going over the comments from the two meetings.
He said he thinks it is essential that the county have areas of redevelopment, such as the Newnan Cotton Mills project in East Newnan.
Coweta's growth is beginning to pick back up again, said Wilson. The recession slowed things down, "which gave us time to look and plan a little bit more," he said.
The county needs to be proactive because "once we have development running wild we cannot change it. We need to be very out in front of what is going on," Wilson said.
He said it's difficult to dictate what kind of buildings can be built, but they need to be compatible with existing structures.
In the recent meetings, people spoke overwhelmingly about how they moved here for the rural character and didn't want to see Coweta develop like other counties, Wilson said.
Lassetter said some things that are on the books now, such as density bonuses, may need to be tweaked, and there could be incentives for redeveloping mill villages.
When the economy was slow, the county lowered impact fees to zero. It's time to look at putting them back in, Wilson said.
As for economic development, Lassetter said it is important to have infrastructure in place to be able to handle growth.
The candidates were asked what they consider to be Coweta's biggest infrastructure need.
"Bullsboro is out of control," Wilson said. However, he said he is encouraged by ongoing improvements at the airport, and by plans to connect the Amlajack and Coweta industrial parks.
Lassetter agreed infrastructure improvements are necessary for Coweta to remain prosperous. People who live here need to have the ability to property move through the county, he said, and "if companies see we don't have the infrastructure, first of all, they are either not going to stay here or they won't come here to begin with.
"If we ever get behind on things like that it is difficult if not impossible to get caught up," Lassetter said.
"Let's be very proactive," Wilson said. "It takes so long to get transportation projects through," so planning needs to start years in advance.
Quality of life is very important to people in Coweta, Wilson said, adding that law enforcement and public safety are "great" and people feel safe – and that's the most important thing, according to Wilson. But transportation infrastructure is number two, he said.