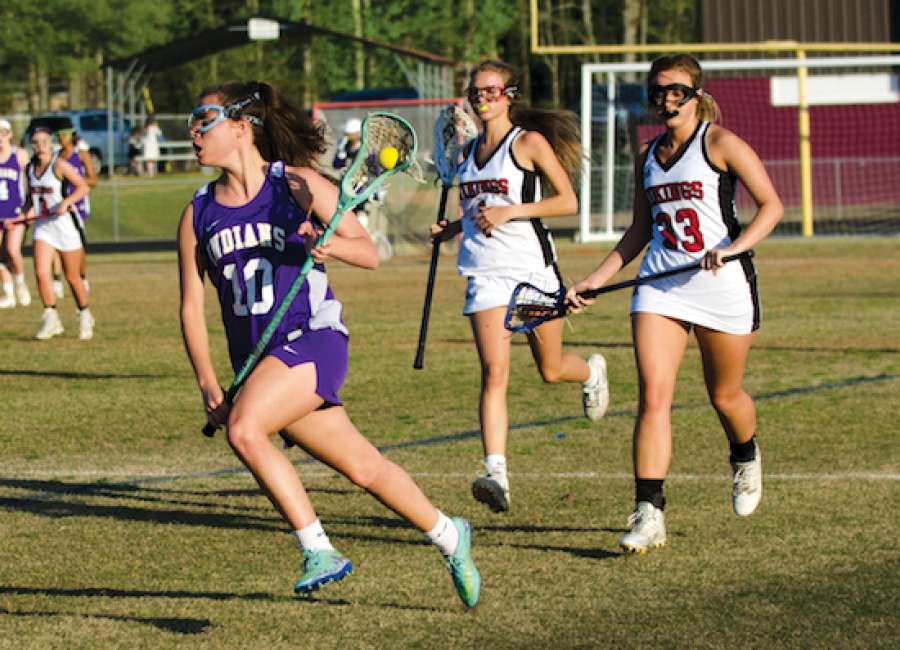 By CHRIS GOLTERMANN, CowetaScore.com
Goalies swapped key saves and respective defenses were on their toes in this year's Coweta Cup lacrosse opener between Northgate and East Coweta's girls lineups at Henry Seldon Field.
But Friday the 13th brought a contrast in execution offensively.
For the second time this spring, the Lady Vikings were a step ahead in creat- ing scoring opportunities, proving to be the key factor in an 11-1 victory in a game where possession was nearer to 50-50.
Led by five goals from Sydney Tuttle, who was among seven players that were honored at halftime on Senior Night on Northgate's home field, the scoring slowly became one sided.
A part of the Lady Vikings' lacrosse program since her eighth grade year, Tut- tle could also wrap up her varsity career by being a part of a fifth consecutive Cup title with fellow seniors Tina Sierra, Kayla Hamlett, Sadie Hare and Chaelyn Brewer.
Northgate hosts Newnan next Friday, with the Lady Cougars having a chance to take back the county crown for the first time since 2013. A much improved East Coweta girls program that has set a new school record for victories in a season, faces Newnan at Drake Stadium to close the Cup schedule on April 27 that will be even more important to the Area 2-6A/7A standings.
With the win, the Lady Vikings (9-3, 4-0) stayed undefeated in 6A/7A while controlling their playoff destiny. Northgate could also repeat as area champions with a win over Newnan next week.
Despite receiving goals from six players in Friday's win over East Coweta (8-6, 2-2), the Lady Vikings were as much at a standstill through the opening 15 minutes while nursing an early 3-0 lead.
Both Hamlett and East Coweta goalie Katie Owens made early saves in a defensive struggle where point-blank free position shots made up four of the six goals allowed by the two netminders.
One by Lady Indians senior Caitlyn Moore on a well-placed shot closed the team's deficit to 3-1 with 9:26 left in the opening half.
But Northgate countered by flooding its opponent's defensive zone with quick transitions and pinpoint passing to set up two rushes that resulted in free plays and goals by Morgan Robertson and Brewer just over a minute apart.
East Coweta held possession for a majority of the final five minutes before halftime, but struggled to get an open look at the net.
Trailing 5-1 at halftime, Owens kept East Coweta in the game with three solid saves in the first seven minutes of the second half before a well executed exchange of passes from Sierra and Northgate team- mate Kennedy Halpin provided a pretty set up that resulted in a goal.
A 6-1 game held until the final eight minutes when Tuttle connected for her third and fourth goals, the latter after patiently circling the cage while cradling the ball and then finding an opening after rounding the left post.
Robertson and West added goals in between Tuttle's fifth over the final 5:30 as the Lady Vikings pulled away.
LADY VIKINGS 11, LADY INDIANS 1 EastCoweta10—1 Northgate 5 6 — 11 Goals: Northgate — Sydney Tuttle 5, Morgan Roberson 2, Chandler West, Tina Sierra, Chaelyn Brewer, Kennedy Halpin; East Coweta — Caitlyn Moore.