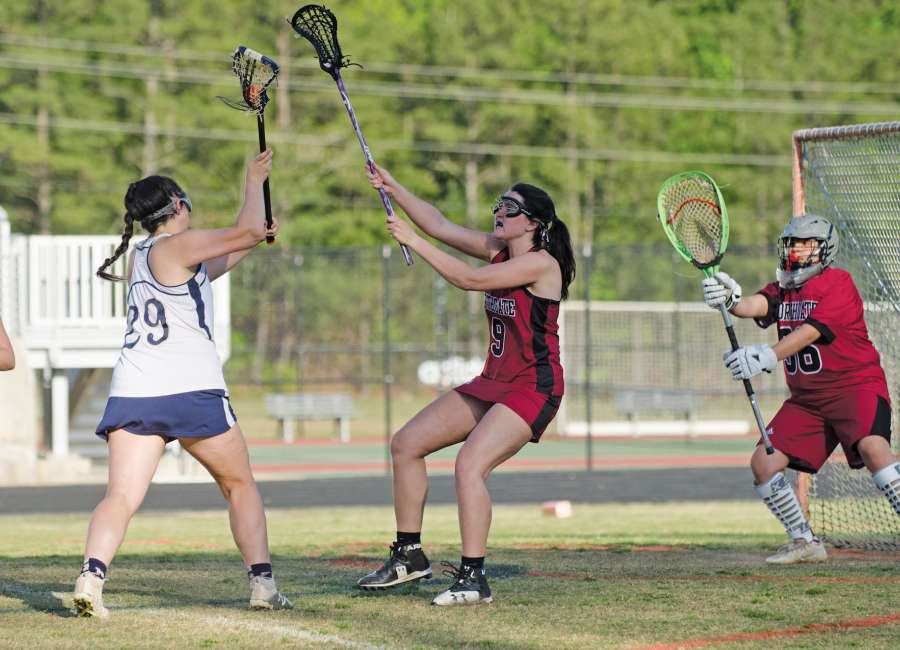 By Chris Goltermann / Coweta Score
Northgate's girls lacrosse program won its fifth consecutive Coweta Cup title after holding off Newnan 15-6 at Drake Stadium. The Lady Vikings also clinched a second straight Area 2-6A/7A championship and will host a first-round state playoff game. The Lady Cougars, who were led by three goals from Mallory Williams (below), can also clinch a playoff berth with a win on Senior Night against Pebblebrook Monday at home. 
At Senior Night last week, Northgate's Sydney Tuttle listed the Lady Vikings' four previous Coweta Cup lacrosse titles as one of her favorite memories, having witnessed each of them after being in the program since the eighth grade.
On Friday, she made sure there was one more to celebrate before graduation.

Tuttle's five goals, three of which came after halftime, helped lead a balanced effort throughout the lineup as Northgate kept a firm hold on both a county and Area 2-6A/7A crown with a 15-6 victory over Newnan at Drake Stadium.
Eight Lady Vikings contributed goals and a defensive effort led by senior goalie Kayla Hamlett did its best to keep the Lady Cougars at a distance after taking a 8-2 lead into halftime.
Newnan senior standout Mallory Williams, coming off Wednesday's heroics in a last-second win over Carrollton, scored a team-high four goals, three of which came after halftime.
They included an off-balanced shot that found the net after being checked in front of the crease by a Northgate defender.
But Northgate remained in control, ahead 11-4, after getting off to a 4-0 start behind two of senior Tina Sierra's four goals in the first half.
Senior Chandler West also scored for the Lady Vikings, who will be looking for a breakthrough playoff win for the program after hosting a postseason game and winning a region title for the first time in school history last season.
While seniors have been at the center of this year's 10-4 season while also improving to 5-0 against region opponents heading into Tuesday's 2-6A/7A finale against Pebblebrook, a nucleus of underclassmen have made major contributions.
Friday's scorers for Northgate included goals from sophomores Callie Dubose, Macy Woodruff, Lexi Whiddon and Kennedy Halpin. Mia Griswold, who was a leading scorer on this year's JV squad, added a goal off a free position play with 1:38 left to also get on the scoresheet.
Hamlett was tested, but managed to hold an opponent to five or fewer goals for the seventh time this season. Opponents have also yet to score in double digits against the Lady Vikings.
Newnan senior Sarah Dougherty also scored twice for the Lady Cougars, who can finish third with victories in two area games next week including the Coweta Cup finale at home with East Coweta on Friday.
Newnan hopes to have senior Savannah Cochran back in action by next week's showdown against the Lady Indians, who need a win to clinch a state playoff berth.
East Coweta would be eliminated with a loss.
LADY INDIANS EARN WIN ON SENIOR NIGHT

East Coweta welcomed Southwest DeKalb in a late schedule change during Thursday's Senior Night. Due to delays with Campbell's bus for an Area 2-6A/7A boys contest, the girls game was held with a running clock.
East Coweta made the most of a shortened outing with senior effort that included four goals from Adelyn Ryan, three from Caitlyn Moore and two goals and an assist by Katie Morganroth.
Maura Ray also scored three goals and Kendall Buttry had two. Ansley Gunter earned the win in goal.