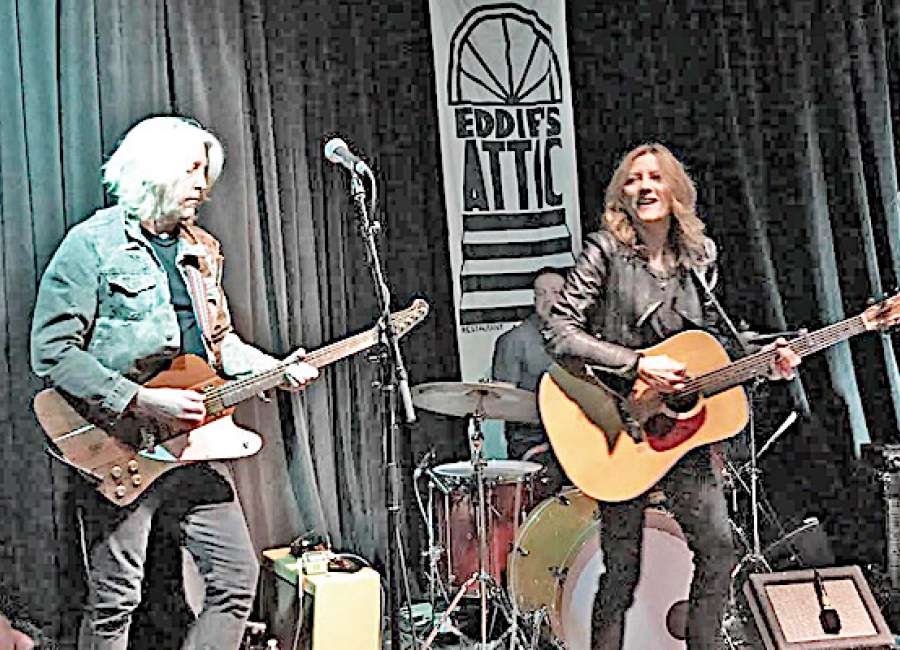 Doug Kees will hitting the road this May with his electric guitar and some high-profile names. 

The owner of Musicology off Spring Street in Newnan, Kees will perform alongside his friend, singer/songwriter Michelle Malone and fellow musicians as the opening act for the Indigo Girls.
"For me, it's a great chance to stretch and challenge my abilities. To find my role in a new combination of players," said Kees. "I've always liked that 'side role' …. help her (Malone) feel confident, cut loose and do her thing. The challenge is, there's a lot of songs to learn and you want to play them without really thinking about it." 
Malone will debut her new record "Slings and Arrows," on the tour. The album officially launched on March 2. 
The bluesy, rock-n-roll album has already landed on the Billboard Blues chart, said Malone. 
"It is s really an Americana Blues rock record," she said. "Most of the songs were written with intent to inspire people and bring them together. There's been a great divide in our country within the past year and half or so. I want to bring people together, no matter what side of the aisle you're on, no matter the political or religious affiliation. I wanted to be part of solution, not part of the problem." 
Malone, a Georgia native and two-time Grammy-nominated artist, described "Slings and Arrows" as a Georgia record. Almost everything affiliated with the album – from the studio it was recorded in to the visual arts designers – are located in the Peach state.
"Why do I need to go somewhere else? Everything I need is right here," Malone said. "This is where I feel the most comfortable. The 'Georgia sound' comes out of me naturally and I don't want to change that." 
The state designation also encompasses the musicians who worked on the album – including Kees.  
"About this time last year, she reformed an earlier band of hers which was signed to Arista in early 90's (Drag the River). But the guitar player didn't want to come back, so I took his place," Kees said. "She said, 'I have a new album I need to work on, but no concept.' So, she came down and we played some of the songs."
Kees, Malone and the rest of the band eventually made their way into studio and recorded the entire "Slings and Arrows" album in just four days. 
"I like that it's all real instruments, no computers or drum machines," said Kees. "This is four people, standing in a room together, playing and responding together. It's such an organic thing these days."
A Musical past
This is not the first time Kees has collaborated with Malone. 
The two met in the 1980's on the campus of Agnes Scott College, where Malone was attending school at the time. Kees and his band were there to play a show.
Malone and Kees both continued working towards musical careers and ran in the same circles. 
Eventually, their two paths diverged. Malone and her band signed with Arista records, while Kees decided to focus on teaching. 
Not that Kees is not a high-profile name in his own right. 
Kees began giving guitar lessons in Newnan a few times a week in the late 1980's. He eventually moved to town and opened Musicology in 1993. The business includes sound studios and provides musical lessons for a variety of instruments.  
In addition to running Musicology, Kees is band director at The Heritage School and also teaches music lessons at the Central Educational Center. 
But he never let go of the thrill that comes from performing live. Kees still plays gigs in Newnan and throughout Georgia, which is how he reconnected with Malone in 2017. 
After the duo worked on the album, they, along with bassist Robby Handley formed the trio the Hot Toddies in December of 2017. The group performed a series of holiday-themed shows around Georgia, including several performances at The Cellar in Newnan. 
Those shows were so successful, the Hot Toddies are already booked for more performances in December of 2018. 
The tour & the future
Meanwhile, Kees, Malone and the band continue to rehearse before joining the Indigo Girls – Amy Ray and Emily Saliers – on the New England leg of their tour in May. 
Malone said she knew Ray and Saliers in college before either group had a record deal.
"They consider me a satellite member," said Malone. "I've been touring and writing with them for awhile now. They've been really kind and kept me in the fold. I have so much respect for them and how they have navigated the music industry."
Malone, Kees and the band aren't forgetting their Georgia roots, or some of their biggest fans.
The group is performing a series of live shows around the state. 
The Michelle Malone Band will play and host a CD release party at the Brickhouse Tavern off Hwy. 34 East in Newnan on April 14. 
"We're going to have a damn good time," Malone said with a laugh. 
"I'm thrilled. This is exciting for me," said Kees. "This is great, interactive music and a great band. It's a great change to play with musicians I admire and respect."
Though the guitar player has had to shuffle around some music lessons, he said everyone, including The Heritage School and CEC, has been great in allowing him to join Michelle Malone and the Indigo Girls tour. 
Kees said he believes his experience will only enhance his students' education too. 
"I can bring back real-life experiences to the folks at CEC and say, 'Hey, this is how it is on the road,'" he said. "It thrills me to no end that I can get out, play music with folks like Michelle Malone and still teach students. It's rewarding and gratifying." 
Kees and the Michelle Malone Band will return from the tour in early June. 
For more information about the band, album, tour or the live performance at the Brickhouse Tavern, visit www.michellemalone.com .