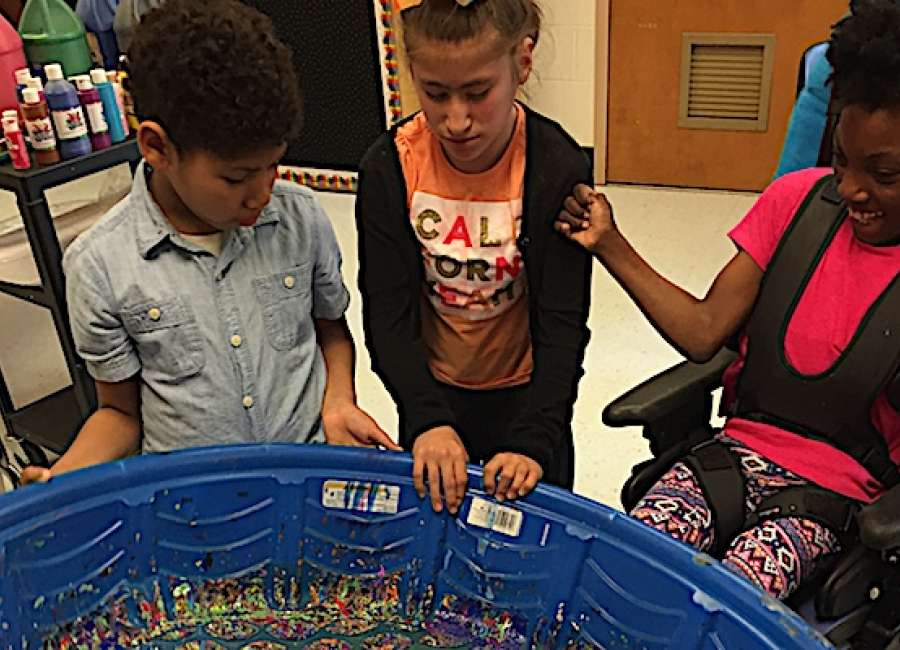 Students at Jefferson Parkway Elementary School recently learned about the life and art of Jackson Pollock by creating large-scale art using a kiddie pool and golf balls.

"Hands-on learning provides students with sensory input through fun, educational activities," said art teacher Rebecca Watford, who led students in grades K-5 in the activity, which involved students figuring out a way to move the pool as a group so the golf balls could create color combinations. "We were able to combine art history with a little science, talking about inertia and Newton's First Law of Motion."
The project was especially meaningful for Jefferson Parkway's special education classes, Watford said. Jennifer Power, who teaches in one of the school's self-contained classrooms, agreed.
"We believe in promoting student achievement and improving the quality of life through exposure to diverse cultures and fun educational activities"  Power said.
"Jefferson Parkway strives to include all students, no matter the ability," said Anna Mitchell, who teaches in another self-contained classroom. "Our students get excited to learn new concepts and ideas."
Many of the supplies and activities completed in the art room and the special needs classes are funded through donations on the website donorschoose.org. Through the website, classroom teachers create a project they would like for their classroom.  
Projects can range from class supplies, snacks, flexible seating, technology, STEAM (science, technology, engineering, art, and mathematics) sets, and specifically themed projects such as caterpillar houses, butterfly nets, and magnifying glasses. To see what teachers in the community need, visit www.donorschoose.org .