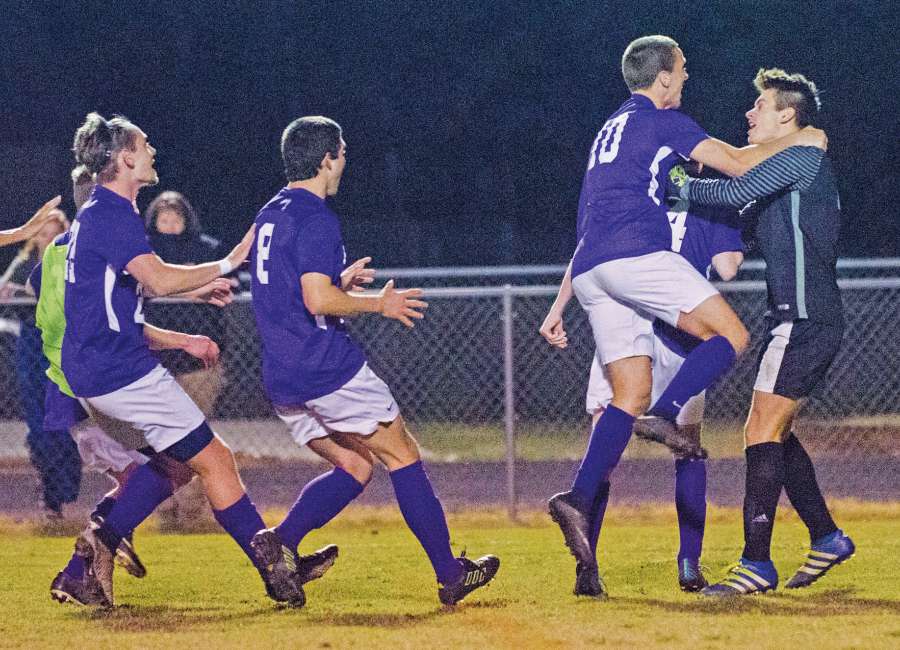 By Chris Goltermann / Coweta Score

East Coweta earned this year's Coweta Cup boys soccer championship after defeating Northgate in penalty kicks 5-4. It was the second straight year that the Coweta Cup came down to PKs between the Indians and Vikings, last year's champions. Noah Shumake had the game-winner for the Indians with Sam Briggs (below with Shumake) getting the win in goal. Bottom picture: Northgate's Austin Anderson and East Coweta's Baylor Asher converge near midfield. 
It's said you can't turn back the clock and most opportunities rarely come around again.
They did, however, for East Coweta's boys soccer team on Thursday.
Another year and another tie game with Northgate heading past overtime into penalty kicks with a Coweta Cup title on the line was something the Indians weren't going to let slip away.
Just as it seemed the Vikings were ready to continue its hold of bragging rights with the county's soccer crown for the second straight year, a game where nobody on the field could find the net in 90 minutes of regulation and two short overtime sessions gave way to a 5-4 victory in penalty kicks for the Indians.
Denied again by a stingy effort in goal from Northgate keeper Kyle McLaren, who made PK stops to help the Vikings defeat East Coweta for last year's Cup title, the Indians found a way at the finish behind successful attempts from both Francisco Duarte and Noah Shumake in between the latter of two misses from the Vikings.
It was enough for East Coweta to pry away this year's county championship in a contest that nearly followed the script of Thursday's scoreless battle between girls teams, also won by the Lady Indians in PKs.
"I don't ever remember it in the Coweta Cup," said East Coweta head coach Todd Beldon of the back-to-back victories in penalty kicks. "We had our chances. Their keeper did a nice job back there to stop us."
Both McLaren and Indians counterpart Sam Briggs were tested at a steadier rate than what seemed a chessmatch between girls lineups where most of the play was in the midfield.
East Coweta dominated possession in the first half while forcing five of its six corner kicks. All too often, however, McLaren — Northgate's All-County football quarterback — picked serves toward the net out of mid air like a receiver.
But Briggs was challenged more on the back end of 90 scoreless minutes in a final surge from the Vikings that had the East Coweta keeper punching shots over the crossbar.
With the clock ticking down, Northgate rushed to get off a final corner kick as a wave of Vikings rushed the net upon the serve seconds before the overtime horn sounded.
Unable to find a way past either keeper with play in motion, teams seemed to have an easier time succeeding in penalty kicks, with nine of a combined 12 attempts succeeding.
A solid strike by Northgate's Miguel Hernandez clanged off the crossbar for the opening miss at 1-1 after successful tries by teammate Josh Burks and East Coweta's Ismael Aguirre.
From there, the lineups traded four straight attempts on successful PKs by Indians co-captains Peter Walker and Baylor Asher as well as Northgate's Stephen Anderson and Keshav Laul.
McLaren, however, successfully anticipated the next attempt by East Coweta captain Wyatt Palmer, breaking two steps to his left well before the shot to tie the series at 3-3.
Teams then traded two more successful tries from Vikings senior Austin Anderson and Duarte of the Indians before East Coweta got an opportunity to close out the win following a Northgate miss.
Shumake didn't hesitate, burying his attempt to clinch the win and the Coweta Cup title as the Indians improved to 10-5-2 heading into Friday's season finale at home against Whitewater.
East Coweta, which finished as the No. 4 seed in Region 2-7A after a head-to-head tiebreaker with Wheeler, travels to face 1-7A champion Colquitt County (14-3-1) on Wednesday.
The Packers held off Lowndes in a tiebreaker to win Region 1.
Despite the loss, Northgate found itself with a consolation prize after finding out mid-game that Region 5-6A champion Hughes lost to Alexander while resting players for the upcoming state playoffs.
The win by the Cougars prevented a three-way tie between Northgate, Alexander and Tri-Cities that would have left the Vikings on the outside of the state-playoff picture.
Instead, the Vikings (7-11) return to the postseason after a year's absence as the No. 4 seed from 5-6A.
Northgate travels to face Region 6 champion Dalton on Wednesday.