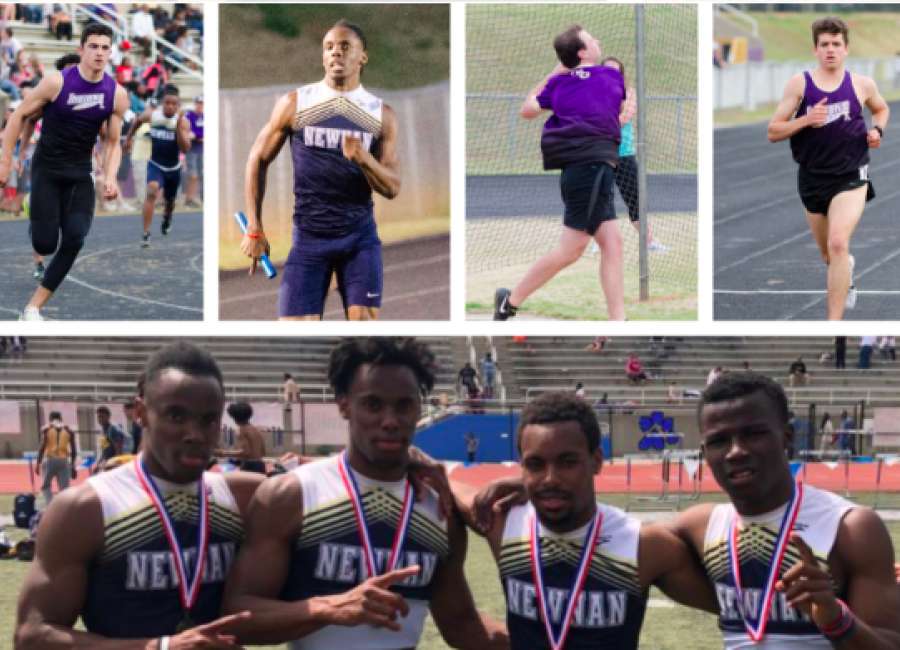 This year's Region 2-7A boys track championship came down to the final event, the 1,600-relay, before meet host Westlake could catch East Coweta at the finish for a slim 163-158 victory.

But a long list of qualifiers for this week's state sectionals should have the Indians to improve on last year's 10th place finish at 2018 GHSA championships.
East Coweta had athletes advance in 12 of 16 events and the maximum of two in all but one in the field heading into Saturday's Class 7A Sectional 'A' meet at McEachern featuring Regions 2,3, 4 and 5.
The Indians were led by junior Brayden Carey's 25 ½ points while scoring in five events including both relays. Individually Carey won the 400 in 48.31 seconds and finished second in the long jump (23-2 ½) behind only Westlake's Cameron Murray, who won at 24-8 with what would have been a top-10 all-time performance at the state meet.
Carey also finished third in the high jump while tying with teammate Amari Strickland and Westlake's Caleb Dixon with top marks of 6-2.  
Strickland and Carey were joined by Kyle Harkabus (800, 1,600), Joshua Render (shot put) and Ethan Brown (discus) among event winners for East Coweta's boys.
Newnan's boys, meanwhile, won the 1,600, while finishing just four points behind third-place Wheeler. The Cougars scored 86 points led by 20 1/2 from Tyriq Hussie, who was second in both the 100 and 200. The junior set a season best of 10.84 in the 100 while finishing behind only Wheeler's Javaughn Moore (10.58).
Hussie then set a PR in the preliminaries of the 200 in 22.15 before again taking second to Moore in a photo finish with marks of 21.53 and 21.77.
In addition to the 1,600 relay victory with a season-best of 3:19.30, Newnan's boys were also second in the 400 relay with another PR in 42.08.
Hussie and brother Malik were on both relay efforts along with Janei Sewell and Elijah Williams. Malik also advanced individually in the 400 by placing second behind East Coweta's Carey.
Both local girls teams in 2-7A also had athletes advance to sectionals. East Coweta placed third overall with 64 ½ points behind Westlake and Campbell, which finished in a dead heat in a tie for first at 195 apiece.
London Fowler and Holly Hind advanced in two individual events to lead the Lady Indians. Rushunda Maddox also moved on in the high jump, taking fourth.
Fowler won the shot put for East Coweta's girls at 36-7, while also taking fourth in the discus (88-3 ½). Hind placed second in the 3,200 (13:02) and third in the 1,600 (5:43.59).
The top-four finishers from Saturday's region meet advance to sectionals.
Newnan was fifth in girls standings with 43 points. Freshman Kaylen Madrey advanced to sectionals for the Lady Cougars with a third-place effort in the high jump at 5-2. She also just missed advancing in the 400 while placing fifth.
The Lady Cougars also placed fifth in both relays while coming up just short of sectionals. A team of Madrey, Tamara Blake, Zahria Owens and Markia Talley crossed in 49.96, behind Pebblebrook (49.64).
Boys standouts at the region meet included Harkabus, who dominated the 800 and 1,600 for East Coweta. The sophomore standout won the 800 with a season-best of 1:58.94 ahead of Newnan senior Joshua DePeaza (2;02.26), who also qualified for sectionals.
Harkabus had a winning time of 4:31.21 in the 1,600 to finish 10 seconds ahead of second place.
Of East Coweta's 158 points, 98 came in the meet's six field events. Render, a senior who advanced to last year's state meet in the shot put, won the event at 54-0 ahead of senior teammate Will Underwood. Underwood also advanced by placing second at 45-8.
Indians senior Ethan Brown helped give East Coweta a sweep in both throws with a victory in the discus. Brown, who placed sixth at last year's state meet, set a season best of 154-5.
Christopher Moore placed third at 131-10 for the Indians while also advancing to sectionals with Newnan's Emmanuel Williams (4th, 114-1).

Konner Johnson and Jason Higgens placed first and second in the pole vault for East Coweta, each clearing 12-6 to give the Indians 18 points.
Locals also finished second through fourth in the long jump led by Carey and continuing with Newnan's Elijah Williams (3rd, 21-10) and East Coweta's Christopher Pitt (4th, 21-1/4). Pitt just missed advancing in the triple jump, finishing fifth, while Williams was seventh.
On the track, Dantarius Chunn advanced to sectionals for the Indians in the 100 and 200, placing fourth in both events.
Ahumad Williams also qualified for the Indians by placing fourth in the 110 hurdles in 15.03. He also scored in the 300 hurdles (6th, 42.25).
Scorers for East Coweta's boys also included Ramal Holston (6th, 110 hurdles, 7th, 300 hurdles), Braden Ray (6th, 3,200), Jacob Smith (8th, 3,200), Logan Ray (8th, 800) and Omarion Jackson (6th, triple jump).
Adding to the Cougars' scoring total were Bo Palmer (6th, 1,600), Gray Frederick (7th, 1,600), San Juan Warner (6th, discus), Mason James (5th, shot put), Ryan Hall (6th, shot put), Josh Stone (7th, high jump), Spencer Cain (7th, 110 hurdles) and Quinterrius Bowles (8th, 110 hurdles).
Efforts from the Lady Indians included Paishence Collier, who scored in the 100 (7th) and 200 (5th). Shannon Ferry was fifth in the 800 and Nahla Muhammad was fifth in the discus.
Also contributing to East Coweta's girls total were Aaliyah Phillips (6th, 100 hurdles), Jaliyah Elder (6th, shot put), Ashlynn Gray (7th, long jump), Katrianna Berg (8th, high jump) and Bonnie Stewart (8th, 300 hurdles).
Scorers for Newnan's girls included Zahria Owens (6th, 200), Markia Talley (6th, 400), Deja Melson (6th long jump; 8th, 800), Rachel Woods (7th, 800), Jeneche Vaughn (7th, 1,600), Aliah Beasley (7th, 100 hurdles, 300 hurdles) and Guadalupe Rodriguez (8th, 1,600)