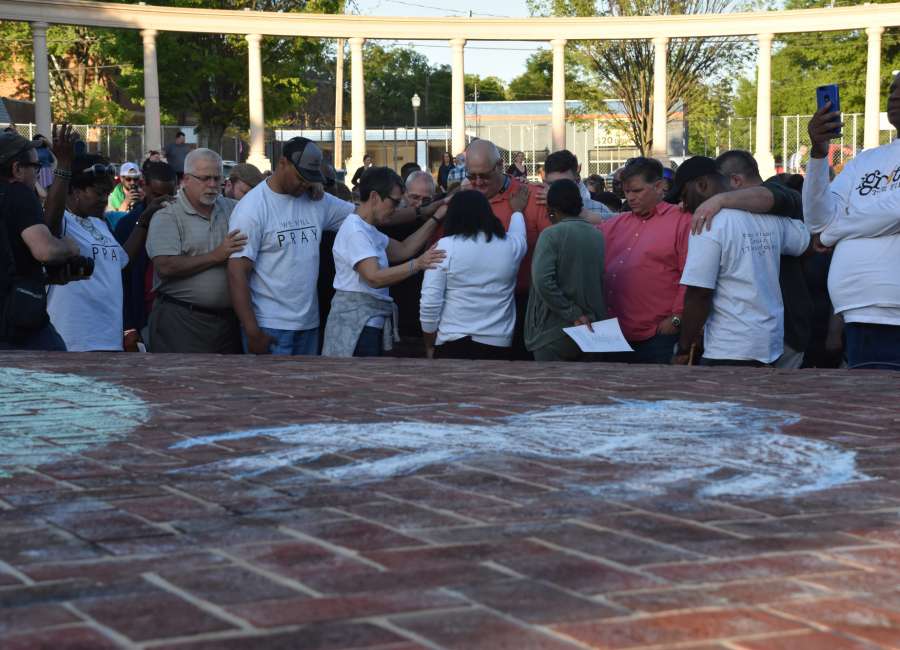 Hundreds of people surged into downtown Newnan on Friday evening – shopping, eating, praying, singing and using chalk to create messages of love and unity.

Click here for a photo gallery of images taken from downtown on Friday evening!
A prayer rally at Greenville Street Park, where a white supremacist group will hold a rally tomorrow afternoon, was preceded by an hour of families creating art with chalk. There were unicorns, rainbows, hearts in every hue and the occasional cross.
"We're here tonight to worship God, to pray together as one community as one city," said Emmanuel Brooks, who spoke before singing with an ensemble representing several local congregations. 
"There's no political message. There's no sermon. This is God's people crying out to him," Steve Bullard, pastor of Royal Baptist Church, told the crowd gathered in the amphitheater at the classically designed park.
"One of the things I've learned in my life is that there are times in all of our lives when God does things to get our attention." 
Bullard said people come to the end of their own resources "where we have not recourse but to come to Him."
The crowd at the park included families, senior adults and groups from churches. While the program got underway, children played in the park and adults and children continued creating chalk art.
Apostle Debra Harris of Kingdom Connected Ministries International organized the prayer rally. "We are living in a day and in an hour when the church must rise up and lead the way," Harris said.
"We stand together in this day and in this park … to say to the Adversary, 'you will not win,'" she added. 
She said the collective church must "show the love of Christ to all people."
The people of God come without knives, guns – or even fists. 
"We will fight the real enemy with prayer," Harris said. "Knowing that prayer is powerful, we can stand together and pray for Newnan, Ga. and know, in faith that everything's going to be all right."
Harris introduced Todd Slade, pastor of First Baptist Church in Moreland, who led a prayer for the many law enforcement officers coming to help with security on Saturday. Newnan Police Chief Buster Meadows stood as a proxy for all of those keeping the peace tomorrow. Pastors surrounded him several layers deep, placing their hands on his shoulders and praying.
Slade expressed thanks to Meadows and Sheriff Mike Yeager for their leadership in a difficult time. 
"Chief Meadows, you're in this position because you've been put there by the Lord," he said. "God is guiding you."
Music continued at the park, as many of the participants left to prayer walk the entire downtown area.
"We're not out here to entertain. We're here about the Lord's business," Harris said. "We want to cover the court square with prayer. God will protect us, every single one of us, tomorrow, in our respective places."