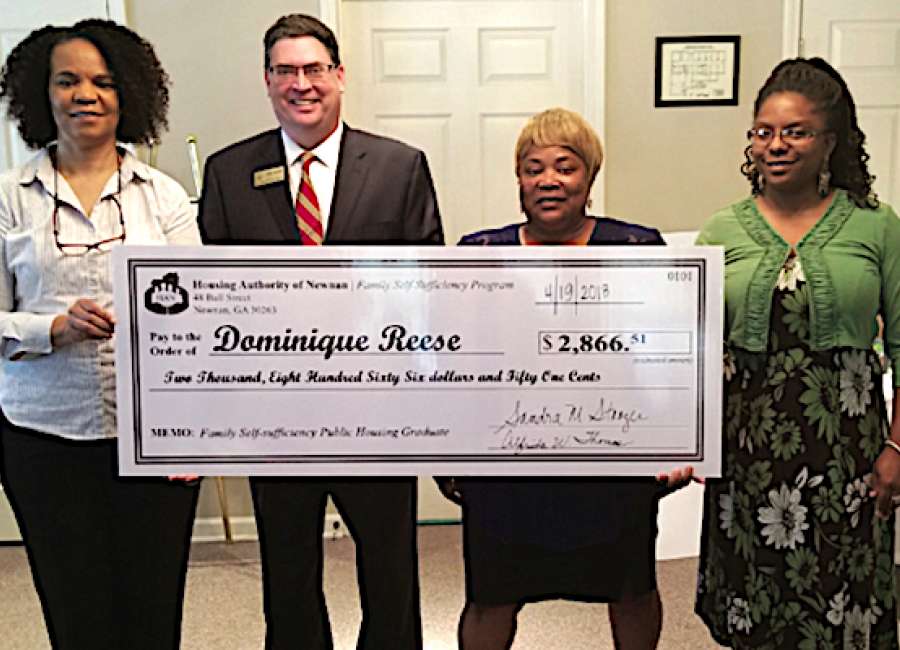 Locals who currently or previously had housing through the Newnan Housing Authority were rewarded on Thursday afternoon for their completion of the Family Self-Sufficiency Program and for reaching their outlined goals, including homeownership.

Three residents – Connie Alford, Dominique Reese and Taneshia Cox – were recognized for the completion of the program. Reese received a check for $2, 866.51, which can be used toward a down payment for a home.
Although Cox could not attend the graduation, a check for $ 17,142.67 was presented in her honor. Cox is a new homeowner, and the money was sent directly to her lender towards Cox's mortgage. Cox closed her home at the end of March. She has been in the program since 2013 and has since obtained her GED and steady full-time employment.
Alford did not yet qualify for a cash reward.
The authority is able to help willing residents transition to homeownership through its Neighborhood Stabilization/Family/Self-Sufficiency Homeownership Program, which involves residents either leasing a home to eventually purchase it within a certain time frame, or working toward purchasing a home.
The city of Newnan partners with the authority, Georgia Dream Program and the Georgia Department of Community Affairs with grants to purchase homes to be renovated for applicants to lease to own.
The authority has 440 units and 49 participants in the program, according to Family Self-Sufficiency coordinator Alfreda Thomas. Residents are not required to take part and are not penalized for choosing not to participate in the program.
Participants who participate in the rent-to-own program get back rent funds that were put into escrow.
Thomas said she acts as a counselor and meets with program participants once per month to help them with budgeting and setting and reaching goals. She said she hopes to increase the number of participants since she has been able to hire three additional employees.
"The program can take between four and five years," she said. "We don't force anyone to participate. It is an option. We help them with their credit scores, anything to help with the main thing, which is to be self-sufficient without any government assistance. Especially, when you purchase a home, you have to be self-sufficient. No matter what happens, the mortgage will still be due the next month. We try to help them get their credit score up to 640-plus."
Reese said the program has helped with homeowners' counseling to learn more about homeownership.
Chris Perkins, field representative for Sen. David Perdue's office, was also present at the event to meet the graduates and learn more about the program.
Perdue's office has field representatives across the state who regularly attend community events, meet with constituents and assist Georgians with a variety of federal issues.
The last FSS graduation ceremony was held in 2016.