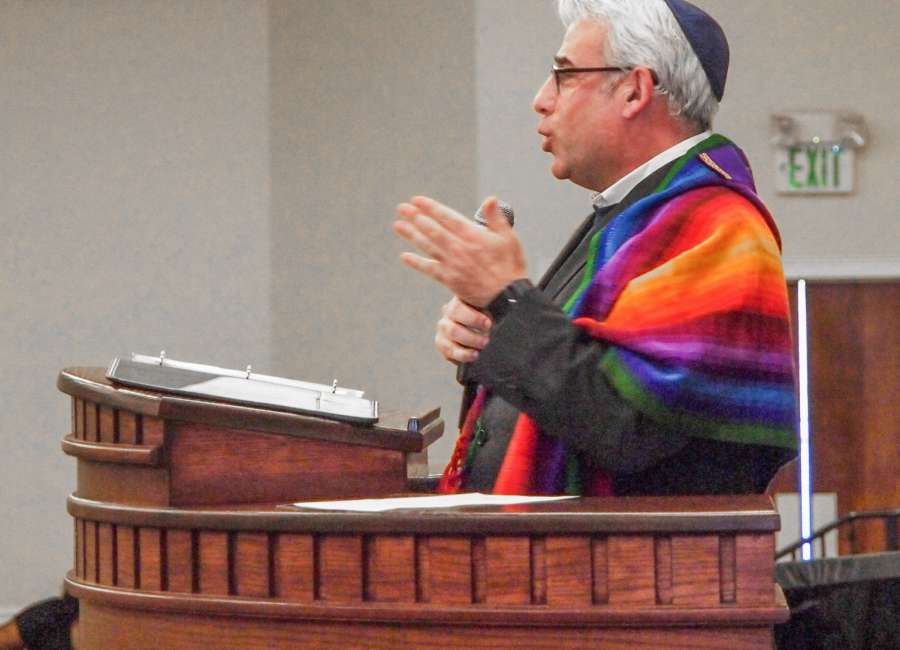 The National Socialist Movement, a white nationalist organization, had a brief rally with less than 40 participants on Saturday.

Word that the group was coming, however, galvanized Cowetans and led to a number of events including two services with both Christian and non-Christian participants. An Interfaith Rally held at Willie Lynch Park at 1:30 p.m. on Saturday included remarks by 
Rabbi David Spinrad and Nabile Safdar of the Muslim community.
At 3 p.m., a unity service was held at St. Smyrna Baptist Church on Heery Road. A Hindu lay speaker and a rabbi participated.
The Lynch Park event was the first time for non-Christians and Christians to worship together in public worship in Coweta, and the St. Smyrna service was the first time for such a worship experience to take place in a Coweta church.
In 2014, the Higher Ground Group from Atlanta spoke at Newnan Presbyterian Church. Higher Ground brought an imam, a rabbi and pastors together to talk about areas of commonality and challenge for followers of the world's major religions.
A 2011 report by Religion News Service, noted instances of interfaith worship had doubled in the United States during the first decade following the Sept. 11 terrorist attacks. At the same time, that article noted "more than seven in 10 U.S. congregations do not associate with other faiths."
Newnan Mayor Pro-Tem Cynthia Jenkins was a major force in organizing the service at St. Smyrna. She is planning to call a group of pastors who worked on the project back together in June to make plans to continue conversations that are crossing lines of race of denomination.
At a meeting on April 16 at CC's Wings on Franklin Highway, Jenkins expressed regret that she had not been able to connect with Latino pastors or leaders from one or both of the Korean language churches prior to the NSM's rally in Newnan. She does hope to include those congregations in future discussions about community unity.
She said attaining unity will require that people who disagree on some things sit down together. "We're going to have to learn how to navigate this," she said.
"We share a spirit of love and unity," Tamarkus Cook, pastor at St. Smyrna, said in welcoming the crowd of about 275 to his church on Saturday. In addition to speakers from different religious groups, the event also included music and was followed by an art project and a shared meal.
"This moment is for us to come together and focus on those similarities that exist," Cook said. "This is not a moment of instruction but a moment of fellowship."
Rabbi Joshua Lesser of Congregation Bet Haverim led those at St. Smyrna in singing a psalm that translates: "How beautiful and how pleasing it is when brothers and sisters can gather together in unity."
Lesser said the Psalm challenges people to reach out to people of other races, genders, orientations and ideologies.
Prophets from Bible times might ask today, "does it take such hateful groups to gather us together?" Lesser asked, or "are we the type of people who might commit to unity everyday?"
Really reaching out requires making sure "the most vulnerable in our community" are cared for and challenging antisemitism, racism and homophobia. "Then we will be called restorers of the pathways and repairers of the breach," Lesser said.
Bharath Shankar, a graduate student from Newnan who worships at the Hindu Temple of Atlanta, shared a Sanskrit Scripture that translates: "May all beings in the world be happy."
Shankar said the service at St. Smyrna sent "a very clear and very strong message of inclusion." He talked about Newnan and "the diverse people who make it great."
The people gathered at St. Smyrna, though from many traditions, "are not that different from one another," Shankar said. "We have to open ourselves to share our personal and cultural experiences."
At St. Smyrna, Harry Barrow and Gene Tyre, downtown pastors for years, were recognized for reaching across racial lines in years past. A Oneness Walk recently held in Newnan and planned by a local black pastor, Chris Carlyle, and white pastor, Jimmy Patterson, was mentioned.
The Ignite the Fire movement and a prayer event at the Greenville Street Park organized by local pastor Debra Harris also came in for praise.
"Have decided to reject hate and proclaim that we are community of love," Jenkins said at St. Smyrna. "Yet, we realize we have work to do."
"My challenge to you today is that you commit to do what love requires," Jenkins said. "We must live up to the standard of love by how we treat each other, how we protect each other and how we really live for each other."