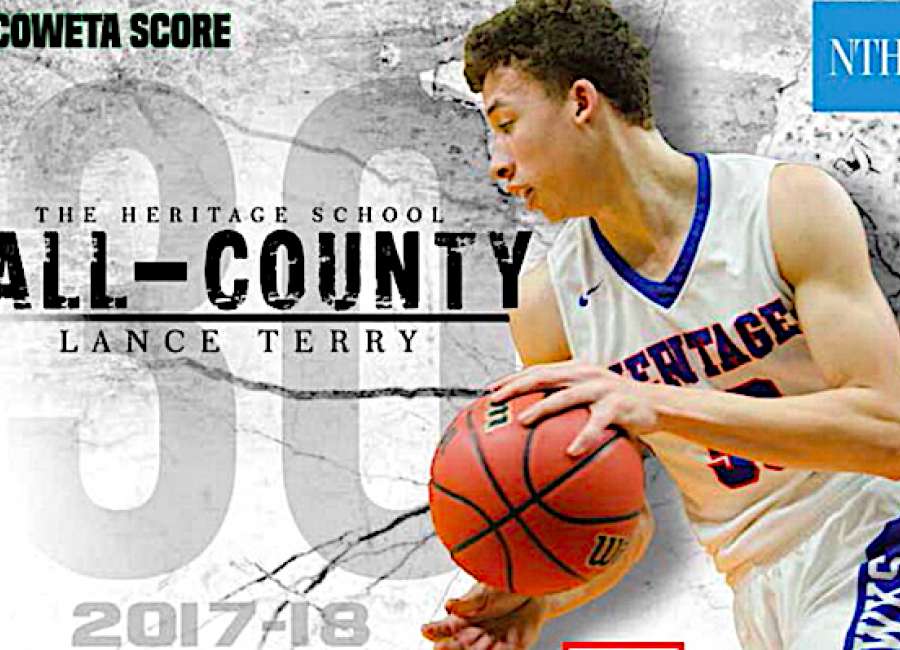 By CHRIS GOLTERMANN, CowetaScore.com

Basketball may still not be able to crack the top-two when it comes to popularity among high school boys athletes in Coweta County among the big three with football and baseball.
But when it comes to consistency and progress, the level of success of the county's varsity programs is right on par.
Yes, a GISA state title for Heritage School and Trinity Christian remained just out of reach, and GHSA locals fared no better than a year ago when trying to battle their way into an elusive state berth.
But among win totals and young talent, a 201718 All-County Team as selected by media members from both CowetaScore and The Newnan Times-Herald, this season looked to be a stepping stone to even brighter days ahead.
For the second straight year, an underclassman led Coweta County's top honors with Heritage School junior Lance Terry earning MVP honors after helping lead the Hawks right back to a rematch with defending GISA champion Holy Spirit.
And he had plenty of company when it came to sophomores and juniors elsewhere that made an impact.
Among 17 players honored between Terry's top accolades along with First, Second and Third Team selections, nine were underclassmen.
All four Hawks named to the All-County Team
finished with scoring averages in double digits led by Terry's 19.6 points-pergame. He also averaged 4.4 rebounds and 2.5 steals.
Terry was joined by First Team selection and sophomore center Ebenezer Dowuona, as well as Second Team honorees Jake Canter and Kasen Jennings at guard among Hawks earning All-County nods.
Dowuona, at 6-foot-8, make tremendous strides defensively in his third varsity season having started as an eighth grader at Heritage. Along with 3.3 blocks per game, he averaged a double-double with 10.4 points and 11.4 rebounds.
In Canter's final varsity season the senior came up huge during the Hawks' run back to the GISA state finals. It was capped off by a 21-point effort that kept Heritage within range against Holy Spirit.
For the year, Canter finished with a 14-point scoring average while hitting 43-percent of his threepoint attempts. He also averaged 5.1 assists.
Jennings, a sophomore, was steady throughout the season while giving Heritage three starters capable of handling the ball at any time. He finished with averages of 13.5 points, 4.2 rebounds and 3.8 assists.
Trinity Christian in Region 1-AAA, which came four minutes and an overtime loss by Loganville Christian from monopolizing all four state semifinalists in this year's GISA tournament.
The Lions equally were on a mission that had the program take another step forward before making their impending move to the GHSA starting with the 2018-19 school year. Trinity equally didn't back down from competition, posting a 28-7 record that included only one loss outside of region rivals Heritage and Holy Spirit.
Trinity went 6-1 against GHSA opponents this season while getting ready to make the move to Region 3-A. The Lions' roster featured four All-County performers, three of which in their final varsity seasons.
Seniors Jamir Williams and Erick Valdez each landed First Team selections while Daevon Platt earned a nod on the Third Team.
Williams, who transfered from nearby East Coweta, led the Lions with an impressive 21.1 scoring average that had the 6-3 senior guard shooting 54-percent from the field and 40-percent from beyond the arc. He earned All-Region and All-State accolades.
Valdez equally added a big man as a 6-8 senior transfer. He averaged a double-double with 11.4 points and 10.6 rebounds to go with three blocks per game as an All-Region 1-AAA honoree.
>span class="Fid_10">Trinity's underclassmen were led by sophomore Brady Burnett, who was named to the Second Team. The 6-4 newcomer received All-Region honors in his first varsity season, averaging 9.7 points and 4.3 rebounds.
East Coweta equally matched a county-best four selections while nearly matching last year's win total while continuing to battle the likes of Pebblebrook, Wheeler, Westlake and Campbell in Region 2-7A.
All four are underclassmen for a starting lineup that will be untouched by graduation after posting a 13-13 record.
East Coweta has now finished with an overall mark of .500 or better each of the last two years, a feat the program hadn't accomplished in the past 15 seasons.
Standouts for the Indians included First Team honorees Mandez Jones, a junior, along with sophomore Chris Youngblood.
Jones led East Coweta with a 19-point scoring average and was an All-Region 2-7A Second Team selection. The 6-0 junior also averaged three rebounds and two steals for the Indians.
East Coweta made a push to reach the state playoffs in a region tournament thriller with Westlake that had Youngblood scoring a season-high 40 points to go with 10 rebounds and two steals. The Lions managed to survive on a buzzer-beater.
Youngblood averaged 16 points and five rebounds in just his second varsity season along with two steals per game.
Another sophomore, Brandon Stroud, was named to the Second Team for East Coweta while coming in just shy of a double-double average. Able to play multiple positions along with Youngblood, the 6-3 standout finished with per-game averages of 14 points and 9 rebounds along with four assists and a steal.
Joining a group of four Indians earning All-County honors was junior Derrick Emory, who landed a Third Team selection among a deep crop of talented players in the county.
Watson was named to the All-Region 2-7A Second Team after posting averages of 12.4 points and 10.2 rebounds.

Senior Will Gates, who averaged 9.4 points for the Cougars, was named to the Second Team while sophomore Keith Williams was a Third Team selection.
Northgate was represented by a pair of seniors honored on the All-County Team while playing a demanding Region 5-6A schedule that included two-time state champion Langston Hughes.
Senior guard Perez McLaughlin, who led the Vikings with a 12-point scoring average, received a nod on the Second Team.
Equally, senior guard Jermariki Cunningham was named to the Third Team after leading the Vikings in three-point percentage and assists. He also finished second among Northgate players in steals-per-game and drew the toughest defensive assignments among opponents while referred to as "the ultimate glue guy," by coach Mo Smith.
All six county programs including Central Christian had representatives among All-County Honorable Mentions.