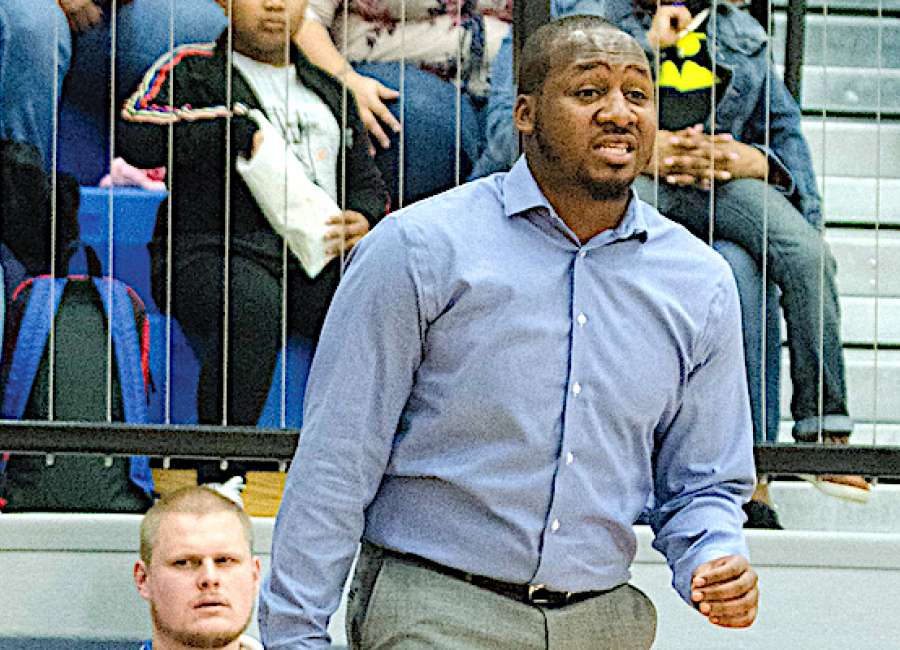 By CHRIS GOLTERMANN, CowetaScore.com
The Heritage School will have a new head boys basketball coach when it hits the floor in 2018-19 with its focus still centered on winning an elusive GISA Class AAA state title.
But it's someone who again has shared in the Hawks' desires to give players a taste of his own experiences — namely winning a state title.
Heritage announced on Thursday that boys basketball assistant Joab Jerome has been promoted to succeed Mark Lieberman as head coach.
Lieberman, who arrived with an extensive resume at both the high school and collegiate level including prep state titles as head coach of Monsignor Pace outside Miami, Fla., said he had made the decision to step down in order to be closer to family in the Kentucky area including young daughter, Emery.
"It's just the right time to be with Emery," said Lieberman, who has received interest from a prep program nearby. "It's just difficult for me being away from here, so that's the most important thing for me."
It's as much bittersweet after Heritage made consecutive trips to the GISA state finals the past two years, both times coming up short to Region 1-AAA rival Holy Spirit.
The Hawks went 64-26 over three seasons under Lieberman including this year's 23-9 mark. The 2017-18 campaign also saw Heritage post four wins against GHSA opponents.
"I loved my experiences here. I think the world of the school. I think the world of the kids. It's was just the right time for me," Lieberman said.  "I'm really happy for Joey. He's a great leader and the kids love him."
Jerome is equally no stranger to winning high school titles during a playing career at Wheeler while coached by Georgia prep coaching legend Doug Lipscomb.
Lipscomb, who won over 600 games and six GHSA championships with the Wildcats from 1992-2016.
Jerome has also coached at the Elite AAU level prior to arriving at Heritage.
The Hawks' run to a second-straight state finals appearance during the 2017-18 season included a dress rehearsal for the head job when Lieberman fell ill prior to Heritage's first meeting with county rival and eventual state co-semifinalist Trinity Christian on Jan. 12.
In front of a capacity crowd at The Heritage Center, Jerome led the Hawks to a 63-49 victory in the first of four meetings between Coweta's two GISA basketball powers.  
"I was nervous," admitted Jerome following his first taste as Heritage's acting head coach in January. "I've coached a lot of games before, but not with this many people. I looked up at the tip and I was like 'wow.'"
This year's Heritage lineup included two senior starters that will need to be replaced in All-County Second Team guard Jake Canter and three-sport standout Anthony Williams, who is headed to Jacksonville University to play football for a staff that includes former Heritage defensive coordinator Jake Copeland.
Three key underclassmen could comprise the core of next year's lineup again after earning All-County honors.
Two-time All-County MVP Lance Terry is coming off a junior year where he averaged just under 20 points a game.
Terry's single-game efforts this year included two wins over rival Trinity where the talented guard rallied the Hawks while scoring in double figures after he was held scoreless in the first half.
Standout 6-foot-8 sophomore center Ebenezer Dowuona was a All-County First Team honoree after averaging 10.4 points and 11.5 rebounds per game. The third-year starter made even bigger strides defensively while also averaging three blocks.
Sophomore Kasen Jennings, a Second Team All-County selection, averaged 13.5 points, 4.2 rebounds and 3.8 assists.
Lieberman held high praise for Jerome throughout last season, including his work breaking down game film through the GISA Final Four. The Hawks assist showed players clips of every basket Holy Spirit had scored against the team during three previous meetings in 2017-18 prior to the state finals.
"I sing his praises because I'm been a college coach with prep work," Lieberman said of Jerome following the state finals.