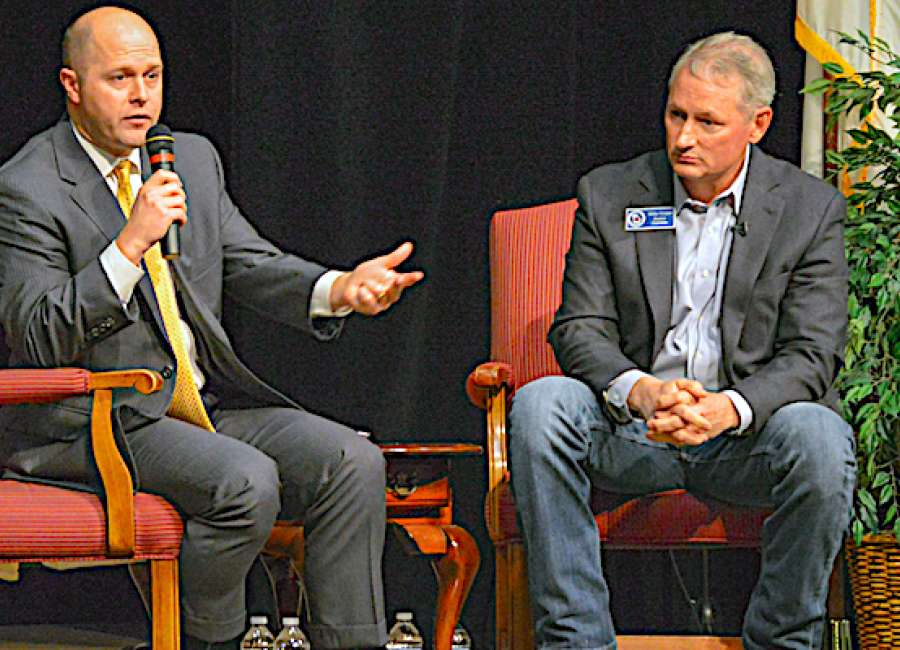 Nearly two dozen local and state candidates and campaigns turned out to meet voters – and each other – at a meet and greet and governor's forum jointly hosted by the Coweta County and Fayette County Republican parties.
GOP candidates for governor were invited to attend the forum, though only Hunter Hill and Mark Urbach were in attendance. Instead of a forum with all candidates answering the same questions in turn, the candidates were invited to take the stage one at a time, give an opening presentation, and then have a conversation with District 3 GOP Chairman Mike Crane. Questions were then taken from the audience.
Partisan and nonpartisan candidates were invited to the meet and greet, and while most were from Coweta or were running for statewide office, some candidates from other counties were present, as well.
There were over 20 candidates or representatives from campaigns, said Amy Emerich of the Coweta party..
"The meet and great was open for any candidtes," she said. "We didn't care what party you're with."
"It's important to educate everyone" on who candidates are and what they stand for. "We don't want people voting for someone because they have the biggest sign," Emerich said.
"If you don't know who you're voting for, it can't be a confident vote."
There was also a fundraising straw poll for governor, lieutenant governor, secretary of state and U.S. Congress District 3. Each straw vote cost $1.
In the governor's poll, Hill received 15 votes, Michael Williams received four votes, Casey Cagle received three votes and and Clay Tippins received one vote. Brian Kemp and Mark Urbach received no votes.
For U.S. Congress, incumbent Drew Ferguson received zero votes to challenger Phillip Singleton's nine votes.
For the secretary of state's race, Sen. John McKoon of Columbus received 16 votes to Buzz Brockway's 1 vote and zero votes for Brad Raffensperger.
For Lt. Gov. David Shafer received 37 straws to Geoff Duncan's two votes and zero votes for Rick Jeffares.