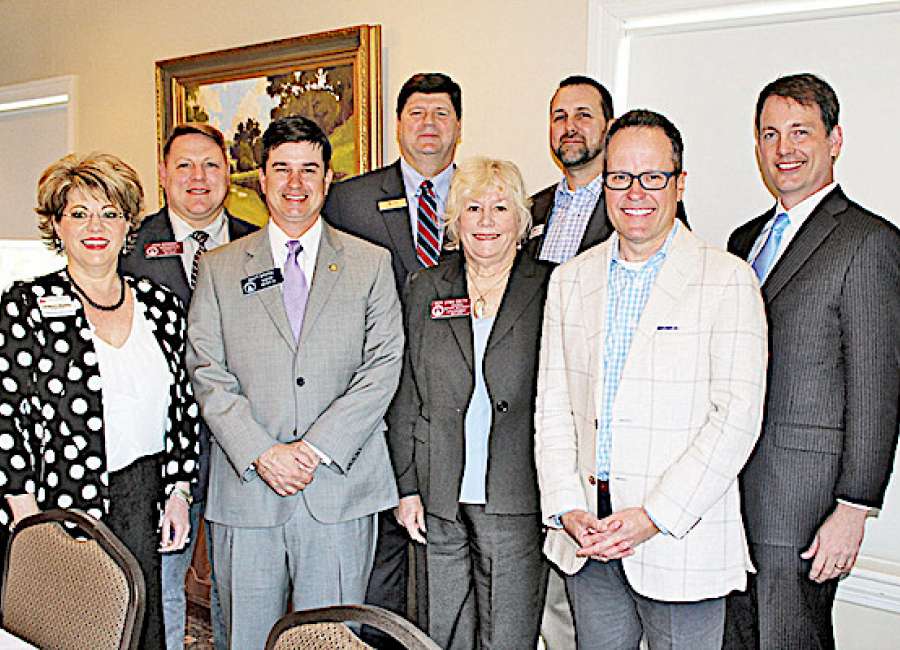 Coweta's state legislative delegation and Chris Clark, Georgia Chamber president and CEO, say the general assembly did make some progress regarding legislation, despite it being a election year.

The Newnan-Coweta Chamber of Commerce hosted a Pancakes & Politics Breakfast, a post-legislative session wrap-up, on Wednesday morning at The Newnan Country Club on Highway 29.
Coweta delegation members – Sen. Matt Brass, Rep. Lynn Smith, Rep. Josh Bonner and Rep. Bob Trammell –  discussed what happened during the legislative session, which began in January and ended late March.
Clark said the session started on a good note, with the house and senate approving a Clean Adoption Bill, which makes it easier for Georgia parents to adopt. Clark said the bill has in been in the works for four years and was the first bill the governor signed this year.
"This was a very productive session for the business community and job creation in Georgia," Clark said. "We tracked about 428 bills."
Bills mentioned by Clark include:
-A sales tax cut, the first time since 1934, according to Clark and local delegation.
-The Mainstream Fairness Act, which monitors online sales tax. The item will be on the November ballad.
-A Transit Bill for Metro Atlanta, particularly to the northside of Atlanta. Clark said majority of businesses coming to Georgia are asking for access to transit.
-A mischaracterized bill on hacking, which puts some additional protections for business owners after being hacked. Entities still have some level of security, but the bill puts more emphasis to go after the hackers.
-A tax credit for the data center industry.
Smith said she enjoys working with her colleagues and the Coweta delegation works as a good team for the county.
"We like to brag on our county," Smith said.
Trammell said this year's session gave him an different look, as he was in his new role as the house minority leader.
"I got a first-hand look at how other delegations work, and we are blessed to have a team that works collaboratively," Trammell said.
Trammell said the session was unforgettable for him, noting his third child – a son – was born during the session.
Trammell commended Gov. Nathan Deal for finding funds to fully fund Quality Based Education and highlighted the Transit Bill – which could possibly bring transit to Coweta – and the Distracted Driving Bill. He said he hopes to bring healthcare to the forefront in 2019.
Bonner said an important bill was passed regarding domestic violence, which would allow domestic violence victims to break a rental agreement.
Brass said Georgia continues to have a business-friendly climate.
"Georgia has been the No.1 state to do business the last five years," he said.
Brass said the Distracted Driving Bill was also a big win for the state.
"Georgia is the second highest in the nation for insurance premium increases," Brass said. "Talking with insurance companies, most of that is coming from single car crashes. Nobody's going to like it, but it's the right thing to do."